Hope my readers in the States are having a great holiday weekend. Just please remember to decorate responsibly. (When I posted this on my Facebook page, Bonnie commented that it looks like the Griswold house decorated for the 4th. Ha.)
Thanks to Cindy for sending me this photo of a house that took its patriotism to a whole new level, via Flagandbanner.com.
To see more examples of "unusual decorating:" Bad MLS Photos.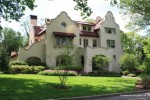 "There's no such thing as pure individual style in a home." -Alexandra Stoddard I've been reading the book Daring to Be Yourself and this quote…
I just took the Stylefinder quiz over at My Design Guide (my blog's newest sponsor). It was fun! You simply click on the photos that…