Welcome to Hooked on Fridays, a blog party I host at the end of each week to celebrate the things that make us happy. This week I'm hooked on house projects that we can do ourselves and save some money in the process–so I'm joining Remodeling Guy's Spring Round-Up party.
We all have projects that nag at us. Take my two-story foyer–please! (Ba-dum-bum.) You've heard me rant about two-story rooms and how they're really not my thing. Our neighborhood is filled with them–almost impossible to buy a house around here without soaring ceilings. We put a playroom upstairs where our two-story family room would've been, but we've still got a two-story foyer to deal with.
Before: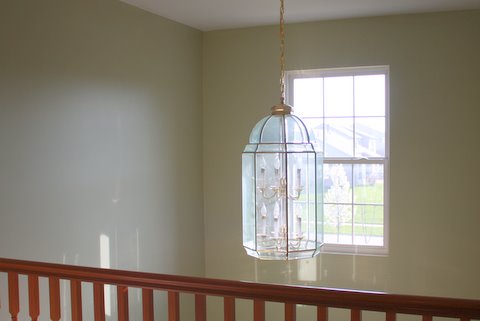 I wish we had enlarged the kids' rooms and added a bath between them, but this is what I got instead: some blank space with a window and a bright brass light fixture. I'd been wanting to do something about it for years and finally got around to it.
During: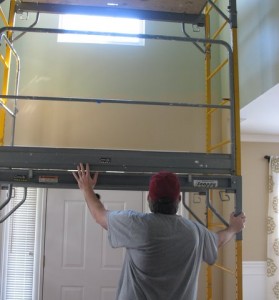 First, we rented some scaffolding and painted the foyer Eddie Bauer "Pecan" to match the rooms around it. I liked this soft green, but it made the house feel dark all the time. I was also feeling "boxed in" with that color, since you could see it from every room of the house. Painting it was a pain, but the scaffolding made it a lot easier (we used ladders last time).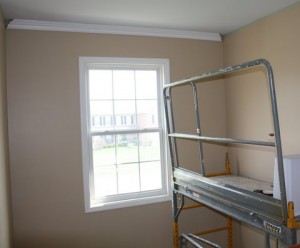 My handy husband Dave then risked life and limb to hang crown molding and trim around the window (to see other crown molding projects he's done around our house, click here).
Notice we took down the ugly brass light fixture. I wanted to buy a new one soooo badly. But we're trying to save our pennies like everyone else right now. So instead of getting my dream chandelier, I painted the old one instead. Now, for about $6 bucks' worth of spray paint, it looks (almost) new. Best of all, it finally matches the bronze fixtures in the rest of the house.
After: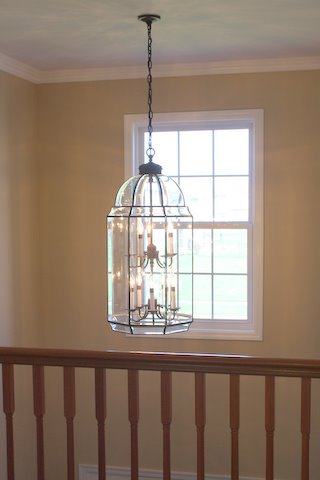 It's still not my favorite spot in the house, but at least it's an improvement! Be sure to visit Remodeling Guy to see the projects everyone else is showing us today (or enter one of yours–there will be prizes!).
Now it's your turn to tell us what you're hooked on. If you have something to share with us on your blog, then add your link below. Just please be sure to:
Add the permalink to the specific blog post, not your general blog address.
You can put what you're hooked on in parentheses after your blog name. You'll probably get more visitors that way! Ex: Hookedonhouses (Not So Big Houses)
Link back to the party from your post so that your readers can come and see what everyone else is talking about today!
Visit as many of the other participants as possible and leave comments! That's what a blog party is all about!
Double-check to make sure your link works and goes to the right page so it doesn't get deleted! If you come back and see your link is gone, re-read these rules and try again.
Hooked on Fridays Participants
Powered by… Mister Linky's Magical Widgets.
(Visited 22 times, 1 visits today)