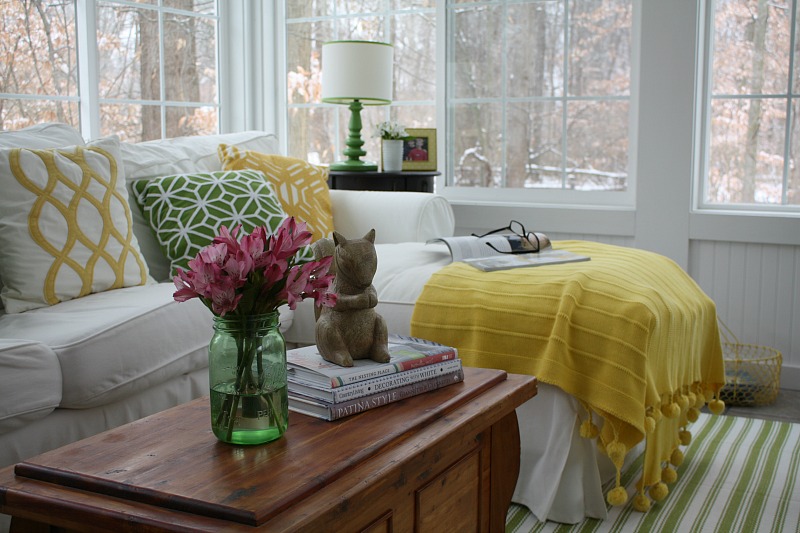 "To be happy at home is the ultimate result of all ambition, the end to which every enterprise and labor tends."
-Samuel Johnson
It's easy to feel dissatisfied with our homes, isn't it? To concentrate on their flaws and fantasize about the picture-perfect places we'd rather live.
Today I was thinking about ways I have found over the years to be happy at home, even when it was far from ideal.
Here are 10 ways to be happy at home:
1. Stop resenting what your house isn't and start appreciating what it is. There is always something to be thankful for!

2. Respect it enough not to clutter it up with things you don't really like or need.

3. Have a comfortable chair in a quiet corner where you can read and recharge.
4. Turn the TV off and your favorite music on.
5. Keep fresh flowers on your kitchen windowsill in glass jars or bud vases.
6. Try eating dinner by candlelight, with music, for no special reason. And use your best dishes.
7. Create character where there isn't any–crown molding works wonders!
8. Surround yourself with your favorite "happy colors," whether they're trendy or not.
9. Display something from your childhood that you treasure.
10. Don't try to replicate the look of a model home. Strive to create spaces that exude warmth, love, comfort, and peace.
What would you add to this list? I'd love to hear your ideas!
Check out my follow-up post with some of my