So far it looks like most of you want to buy "Sophia's Harbor." Let's see what you think about "The Artisan."
One thing to keep in mind–especially as you look at this house–is that Homearama homes are almost always over the top and a little ridiculous if you try to compare them to normal houses that are built for regular folk like us. It's like they're on decorating steroids.
Basically, you've got 10 homebuilders who all want to make the biggest impression, be the most memorable, and get the most votes. After the show, everyone who toured the houses votes on their favorites, and awards are given out to the homebuilders who got the most–sort of like what we're doing here this week! This one really went out of its way to get noticed.
House #6, built by Artisan Estate Homes, features a whopping 9,000 square feet and is on the market for $2.1 million. The home was planned, built, and decorated by Rick Seitz, who has won Best Interior Design awards multiple times at Homearamas past. (I think you can catch a glimpse of him in the kitchen.)
The home was intended to exude "an atmosphere of French and Italian lakeside living." Check it out for yourself and see what you think!
What do you think? Would you buy this house if you had $2.1 million? It's time to vote!
CLICK HERE TO VOTE AND SEE THE RESULTS SO FAR!
Okay, I saved the biggest house for last. Tomorrow you'll get to see Chateau Tourelle, which was designed as "an authentic French castle." No kidding. It's a lot of fun to gawk at. So be sure you don't miss it!
If You Missed Any Other Posts in the Homearama Fantasy Open House Series:
If You Missed Our Fantasy Open House Week in Birmingham:
If You're New Here: Hooked on Houses features decorating inspiration, celebrity house tours, fabulous before and afters, real estate news, fantasy open houses and more fun stuff. I hope you'll leave a comment and introduce yourself!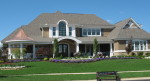 Ready for Day #4 of our Fantasy Open House week? I already showed you a few photos from this house in my earlier Homearama! post.…
Can you believe it's already the final day of our Fantasy Open House week? That went fast, didn't it? So far the only house the…