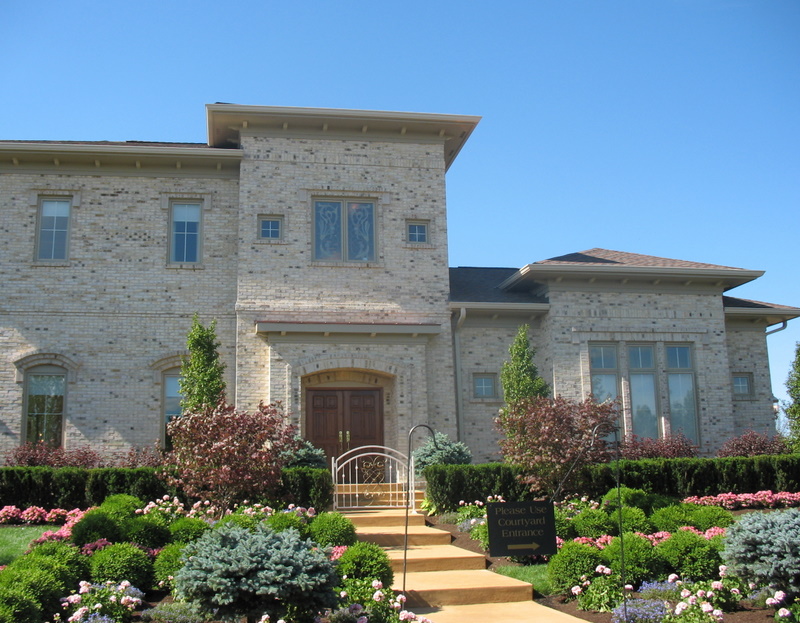 Welcome to the third day in our Homearama '08 Fantasy Open House series.
The name Pavan Kunj refers to "the purifying influence of the wind." The home's design originates from ancient Maharishi Vedic architecture, which requires precise proportions, orientation, and placement of interior spaces.
Built by Daniels Homes, the Pavan Kunj has 7,700 square feet and sold for $1.85 million.
The main entrance to the home is from the side courtyard. You step from the courtyard into a two-story central atrium, called the Brahmastan. Skylights, white walls and woodwork, and pale wood floors keep the home lighter and brighter than the other houses we've toured so far.
Well, you'll see. Go on in!
Your comments have been keeping me so entertained this week. You guys don't miss a thing! I love it when you point out something even I didn't notice. I also love how picky you are with your pretend money. I guess it goes to show that even if we had millions to spend, we still might have a hard time getting a house that's exactly the way we'd want it.
So what did you think of the Pavan Kunj? Now it's time to let us know if you want to buy it, sleep on it, or walk away!
CLICK HERE TO VOTE AND SEE THE RESULTS SO FAR
Come back tomorrow (Thursday) for a 2-for-1 tour day. I'll post one early in the morning ("Sophia's Harbor") and a second tour after noon ("The Artisan"). You won't want to miss 'em!
If You Missed Any Other Posts in the Homearama Fantasy Open House Series:
If You Missed Our Fantasy Open House Week in Birmingham:
(Visited 1 times, 1 visits today)