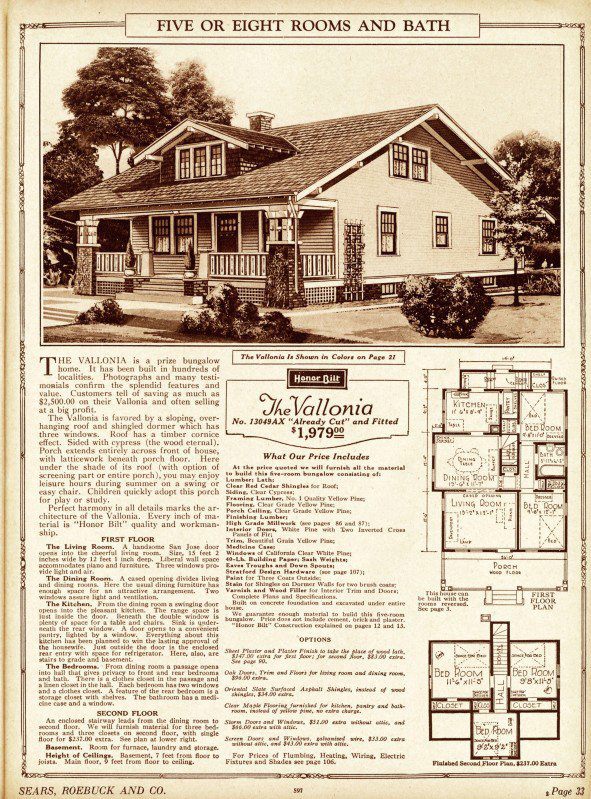 Can you imagine being able to flip through a Sears, Roebuck and Co. catalog full of house plans, choose one like this charming "Puritan" model, and buy it for as little as $1,500?
Sears sold Modern Homes kits like this one between 1908-1940. Each kit contained between 10,000-30,000 pieces with which you could build your house. They were shipped on boxcars, so you'd go to the railroad station to pick it up. Blueprints were drawn so that novice homebuilders could understand them and came with a 75-page instruction book explaining how to put everything together.
The catalogs assured customers that "a man of average abilities could assemble a Sears kit home in about 90 days." About half of the kit homes were built by professional homebuilders, but those who did it themselves saved about 30% off the cost of a conventionally built home. In 1908, a contractor charged about $450 to put a kit together. Even then it was considered a bargain.
The Sears catalog homes were made with the finest materials, including cypress for all exterior components like the window trim and clapboard, and first-growth, top-grade southern yellow pine for framing. Kitchen and bath floors were solid tongue and groove maple.
According to Rosemary Thornton, who writes extensively on the topic:
Over its 32 years of selling kit homes, Sears offered more than 370 house designs, including bungalows, Colonial and Tudor Revivals, Foursquares, Cape Cods, Prairie style and more. Sears sold about 70,000 kit homes from 1908–1940.
Increasingly complex house designs, the Great Depression and federally sponsored mortgage programs (FHA) were the three primary reasons that Sears closed their Modern Homes Department in 1940.
What fascinates me is how so many of these houses shaped our American ideas of what "home" should look like, even though the last one was built in 1940.