Just for fun, I thought we'd take a look at some unusual, clever, and downright bizarre bookshelves. The Skew Bookcase shown here, for example, was created by Swedish designers Smånsk. They're like giant Lego pieces.
I wonder how they'd look with real books on them? (Via The World of M.)
–
Check out these staircase bookshelves, which must've been created by someone with a very limited amount of space (photos via This Young House). It looks like they even organized them according to color as we saw in the (surprisingly controversial) post A Rainbow of Books:
This is a bed surrounded by bookshelves to look like a little hut inside a flat in Tokyo. How clever is this? "Uroko House" was designed by Point Architects in Tokyo. You can see more pictures of this interesting Japanese apartment makeover on Flikr (via World of M). One commenter pointed out that with all of the earthquakes they sustain in Japan, it may not be the best idea to sleep while surrounded by books:
Wouldn't this be a fun idea for an elementary classroom? It could be a little reading hut for the kids with beanbag chairs inside. Here's a view from inside the "bedchamber" as the room was still being constructed:
Now take a look at these "robotic" bookshelves. Someone got really creative! The biggest problem with these is that you'd have to find books that were the right size, shape and color for them (I couldn't find the original source for them, but they were posted here):
Finally, get a load of these Life-Sized King Tut bookshelves, sold at Skymall for $895 (via DesignBoner):        
According to the description on
Skymall
:
–
Measuring taller than most men (6 1/4) feet, our Sarcophagus of King Tutankhamen replica opens to reveal 14 storage shelves. Handcrafted of solid wood with resin details, and hand-painted in a regal palette of jewel tones, it can be mounted to the wall for added stability. 140 lbs.
–
–
This just in: Hooked on Houses reader Ali just sent me the link to some more bizarre bookshelves that I hadn't seen before. Get a load of these:
–
–
It's called the "Cave Bookcase for Urban People" by Sakura Adachi (via
Kont Rast
). According to the Kont Rast website:
–
In urban life, there seems to be a common understanding that people tend to consciously or subconsciously become wary of strangers surrounding them. They are always balancing a certain level of privacy with others. A bookcase CAVE provides a private reading space within its form. As a seat height is just above the floor, CAVE gives a feeling of hiding from others standing around it. Books can be stored on both sides. Therefore, CAVE can also functions as a partition of a room.
–
How wild is that? Thanks, Ali, for sharing those! My kids would love them. Heck, I'd probably be fighting for time to read in there, myself!
–
–
For more fun and unusual objects for your home, take a look at these:
Check out these amazing decals for the walls and ceilings of your home. Barcelona-based designer Mira En Tu Interior offers bold designs that can easily transform…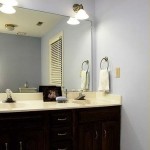 Have you got a flat, lifeless, plate-glass type of mirror like this in your bathroom? Have you ever wondered what it would look like with…