What do you think this young homemaker from the 1950s is thinking about?
"I wonder if that gold refrigerator I bought will look dated in a few years?"

"Should I hang that horse and jockey wallpaper in my kitchen?"

"If only I had a portable stereo in here!"
Write your own caption for her in the comments and tell us what you think she's got on her mind.
(I'm working through the weekend on a project deadline, so I hope you guys will come up with some good captions to keep me entertained while I'm slaving away. Come on–don't fail me now!)
Photo via DarkRoastedBlend.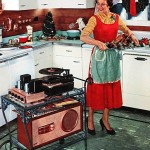 Dark Roasted Blend asks: "Now, do you appreciate your iPod more? In the 50s you had to carry the CART with you, wherever you went."…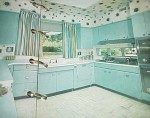 Remember this aqua-blue kitchen I showed you in the post about Retro Kitchens? It was a page out of a vintage Better Homes and Gardens…