1
Wow, what a week!
Nearly 100 of you threw your names in for the House Lust Giveaway. I loved reading all of your creative, funny, and heartfelt comments. I truly wish I could send a copy of this book to every single one of you!
Daniel McGinn, the author of the book, contacted me after finding this site and reading all of your enthusiastic responses to House Lust. He generously offered to send an autographed copy to the winner. How cool is that? I'm still giving one away, too, so the signed copy will be the 1st prize. And the winners are . . .
~~~~~~~~~~~~~~~~~~~~~~~~~~~~~~~~~~~~~~~~~
FIRST PRIZE: Amanda
SECOND PRIZE: Craig
~~~~~~~~~~~~~~~~~~~~~~~~~~~~~~~~~~~~~~~~~
Congratulations, Amanda and Craig! And thanks to everyone who took the time to stop by and enter the contest. I hope you'll keep coming back! You've helped this blog get off to a great start. I'm amazed that after only two weeks in the blogosphere, Hooked on Houses has had over 2,000 visitors.
In case you missed it: here's the original post that included my review of the book and an announcement of the new "House Lust Fan Club" (I have been named the unofficial president by the author. Check out what my first order of business will be!).
Here's what NPR had to say about House Lust (includes excerpt from the book).
Click "more," below, to see a roundup of some of the bloggers who entered the giveaway, and take some time to check their sites out. I've been discovering lots of great new blogs this week!
CHECK OUT THESE BLOGGERS' SITES WHO VISITED HOOKED ON HOMES THIS WEEK:
Turtle Journals – Adventures in Love & Travel
Life, the Universe, & Everything
50 Toes – There are 50 toes in her family!
Mind Games: Everything is Fun!
Outta My Mind With Worry (Margalit–my computer froze up when I tried to open your site. I'll try again tomorrow and link it if I can get it to work!)
I'll keep adding to the list as I have time to check out everyone's sites. It's always fun to meet other bloggers out there. Thanks for stopping by!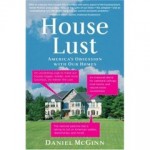 I love this new book, House Lust: America's Obsession with Our Homes, by Daniel McGinn. And if you're hooked on houses like I am, then…
I just discovered a fun new book called The House Always Wins by Marni Jameson. Not only is it filled with helpful advice for the…