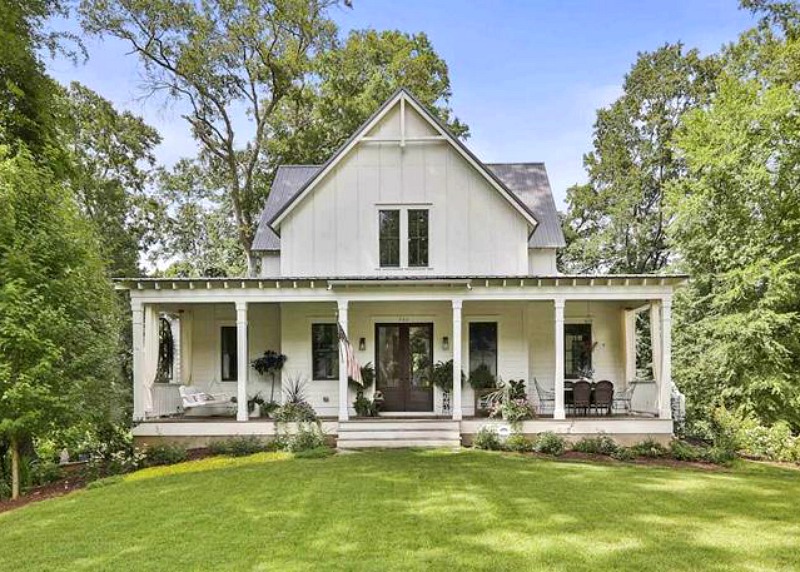 Since it's Valentine's Weekend, I thought I'd share some things I'm loving right now!
(Note: There are Amazon affiliate links in this post that may earn me commission.
I'm in love with Lauren's modern farmhouse seen above. Follow her on Instagram to see more of it!
*Update: It's for sale! See the photos*

I got this book for Christmas and found it really inspiring. This resonated with me: "Instead of passion, follow your curiosity. Your curiosities are clues you can follow. Curiosity is what keeps you working steadily, while hotter emotions may come and go." I couldn't agree more!
I've also been enjoying her Big Magic podcast, called "Magic Lessons." She takes reader questions and interviews interesting people like Brene Brown and Cheryl Strayed.

I make salads every day for lunch, so I use this a lot. The Salad Chopper (affiliate link) comes with its own bowl. You throw whatever ingredients you want into it and then use the double stainless-steel blades chop it all up. My current favorite combo is Greek salad dressing with tomatoes, red onion, red peppers, cucumber, carrots, and feta.
Dave says to let you know he uses it to cut cold butter into small pieces when he's baking. (He recently made this raspberry Danish and it was melt-in-your-mouth amazing.)

It's always been my dream to build a little vacation cottage for our family, so I've been following along as Jennifer builds one for hers at Rambling Renovators. It's fun to watch it come together, and I can't wait to see how it all turns out!

When we were looking into security systems, they were all very complicated and expensive with monthly fees. Then we found the Arlo camera (affiliate link), and I'm in love with this thing. It's tiny. It has NO wires. You can easily set it or hang it anywhere, even outside.
We have one on our front porch, so when the doorbell rings, I can check my phone to see who's there before answering it. It automatically records every time it senses "human movement," so you can see if anyone came by when you were away. Having the cameras inside the house makes it easy to keep an eye on our pets when we're gone, too. 🙂

This has become one of my favorite ways to donate money. It's a site where public school teachers post classroom project requests for whatever they need that they couldn't afford otherwise.
I recently helped a teacher in a high-poverty school district to create a "book nook" in her classroom. She was able to buy shelves, books, a colorful rug and purple bean bag chairs. The children wrote me letters telling me which of the books were their favorites. Loved that.
Visit the Donors Choose website to see if there's a project you might want to help with!

My book club read Me Before You (affiliate link) last year and loved it. I'm excited about the movie that's coming out in June. Have you seen the trailer yet? I wouldn't have thought to cast Emilia Clarke as Louisa — a definite departure from "Game of Thrones"!

I was going to tell you about this book (affiliate link) that has me riveted right now, too, but then I realized that it wasn't a very romantic suggestion for Valentine's Day (ha). If you love architecture and history, though, it's a fascinating read.
What are some of the things you're loving right now? I'd love to hear about them!