Last week we took a look at Samantha's house on the classic 1960s sitcom Bewitched, so I thought it would be fun to feature the charming California cottage in the 2005 movie remake, too. Nicole Kidman plays Isabel Bigelow, a real witch cast as Samantha in a remake of the series. Will Ferrell plays Jack, the movie star cast as Darrin. Take a look!

The "Bewitched" Movie Cottage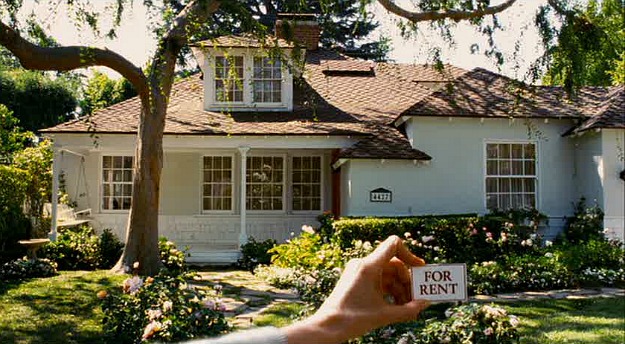 When Isabel sees the house she wants, she simply puts a "For Rent" sign out front (that's a kind of magic I'd love to have!).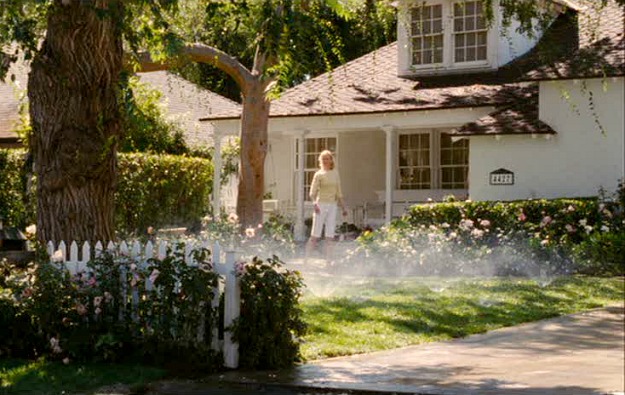 This house was chosen for Isabel by director Nora Ephron. It was one she had visited often as a child. Coincidentally, those friends were Larry Berns and his wife, Sandra Gould, who played the second, better-known Gladys Kravitz. (Alice Pearce, who played the first Gladys Kravitz, died after the second season.)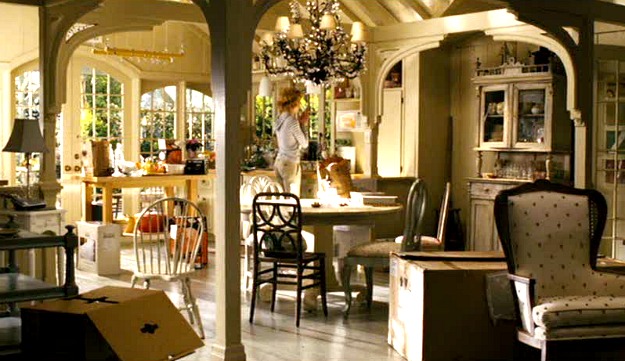 Isabel's home was set in a tree-lined Valley suburb of modest A-frame houses and white picket fences.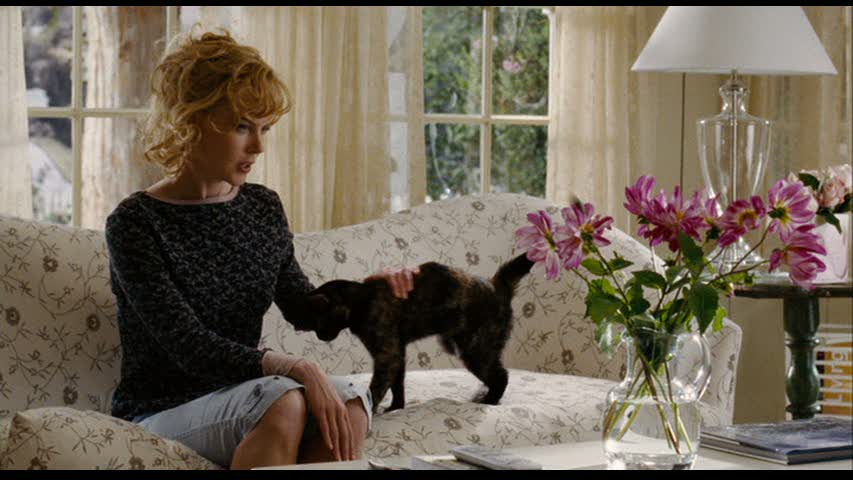 Isabel watches the pilot episode of the original "Bewitched" after being cast as Samantha for the remake: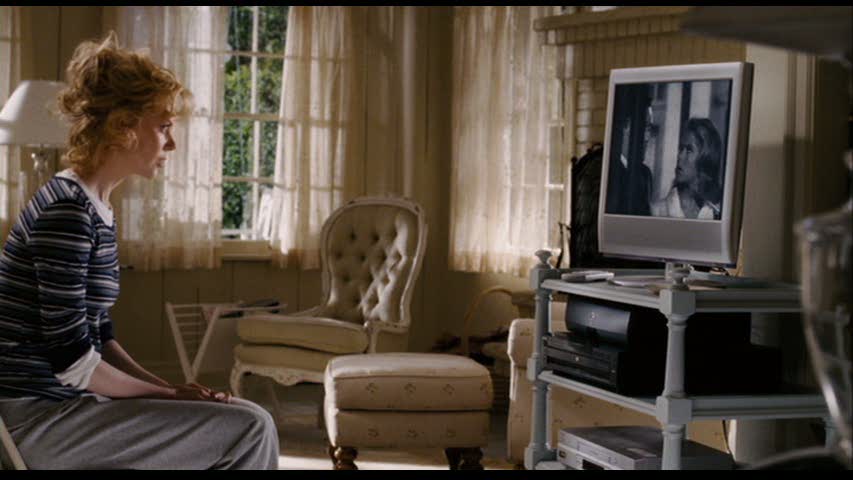 Nicole Kidman went to the Broadway musical "Wicked" and was so blown away by Kristin Chenoweth's performance as Glinda that she begged Ephron to create a part for her. She became Isabel's next-door neighbor Maria Kelly.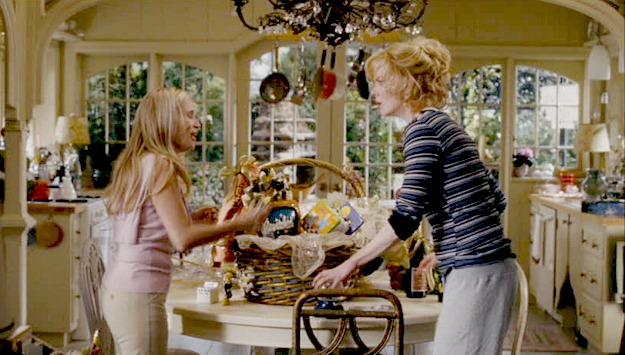 Production designer Neil Spisak explains the thinking behind the design:
Our idea was that since Isabel is desperately searching for normalcy, whatever that might be, she's moved into a charming, simple house in the Valley, finding a lovely place for her to start her life.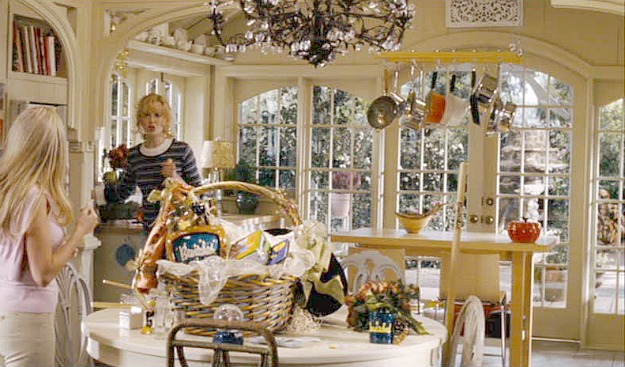 "Nora quite liked the exterior of the house we found and, based on that, we designed an interior. The concept was to maintain its simplicity but to play up a certain appealing femininity in the furnishings and details. So, like Isabel, her surroundings are a little naive, a place that is neutral but warm and comfortable."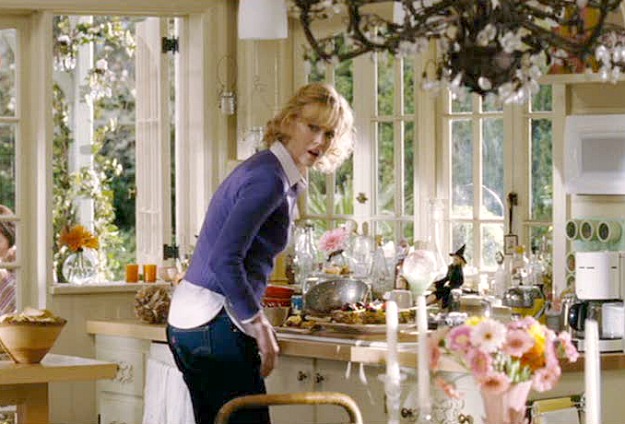 Brunch on Isabel's patio: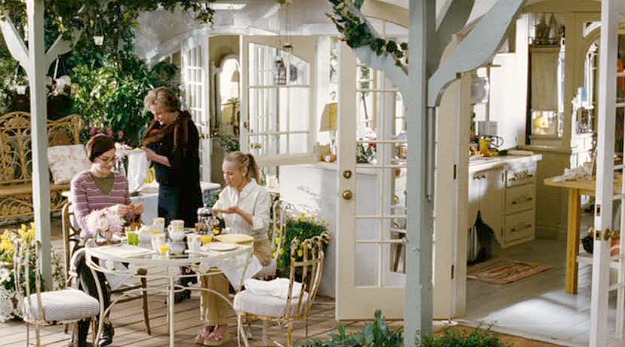 Isabel on the phone in her kitchen at night (why does this make me think of Drew Barrymore in Scream?):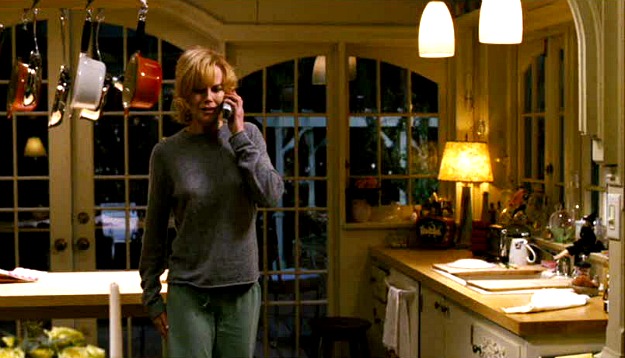 The role of Jack/Darrin was originally supposed to be played by Jim Carrey, which I think may have worked a little better. Can't you see him mugging the way Dick York used to? And Will Ferrell's Jack was funny, but he was too goofy to really take seriously as Isabel's love interest.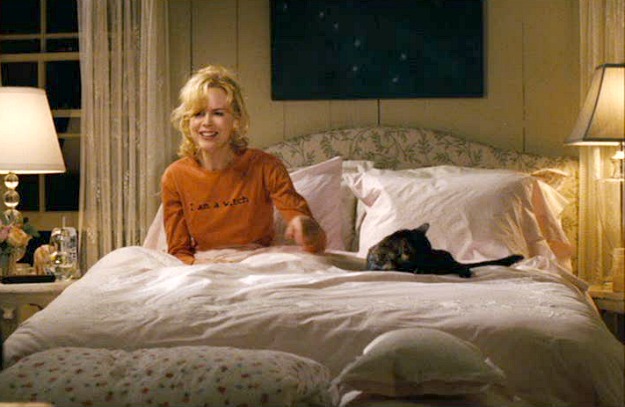 I read that they tucked a photo of Elizabeth Montgomery into the mirror frame, but I never saw it: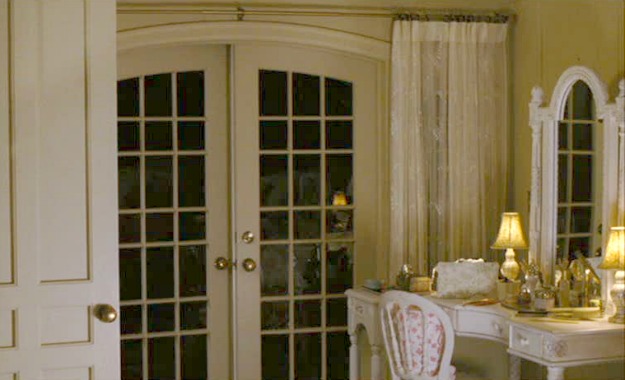 Isabel wears a heart-shaped necklace as Samantha on the remake, just like Samantha did on the original TV show: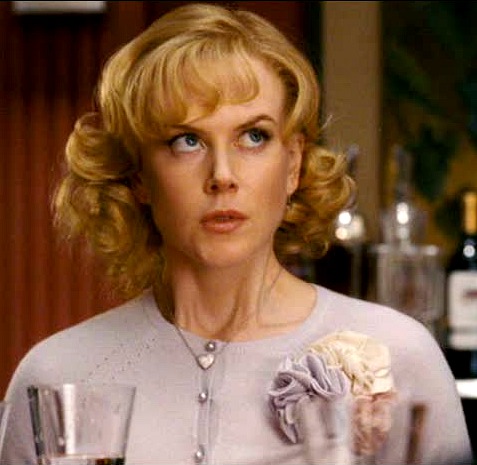 Elizabeth Montgomery as Samantha on the TV show wearing the heart necklace: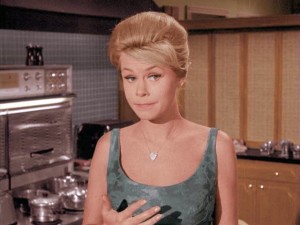 Isabel's living room: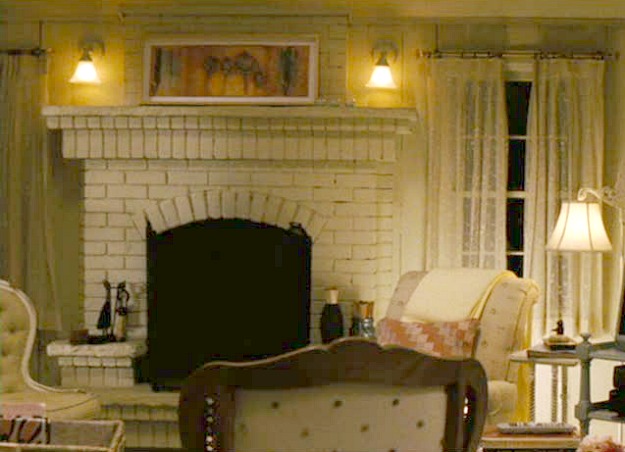 The roles of Iris (actress who plays Endora on the TV remake in the movie) and Maurice (Isabel's warlock father) were played by Shirley MacLaine and Michael Caine.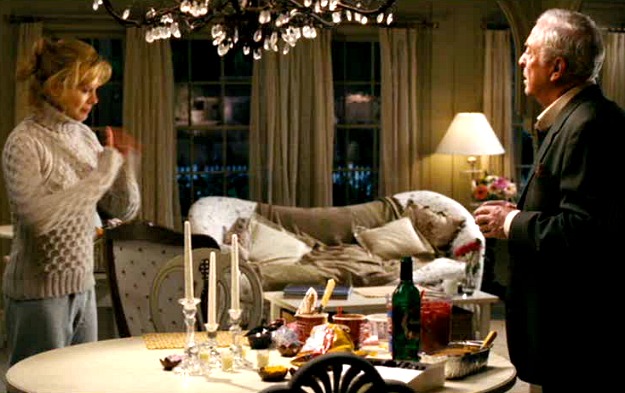 According to Bewitched fansite Harpies Bizarre:
The role of the warlock father was reportedly crafted by the Ephrons with only Michael Caine in mind. Shirley MacLaine told the press that she "wasn't much of a fan of the TV series," but had taken the film role because she "wanted to play a witch." It is assumed that Ephron catered to MacLaine's request and allowed her character to be a sorceress, since the April 2004 script copy had the Iris character just written as a mortal diva actress cast as the new TV Endora.
The exterior set of the "Bewitched" house for the TV show: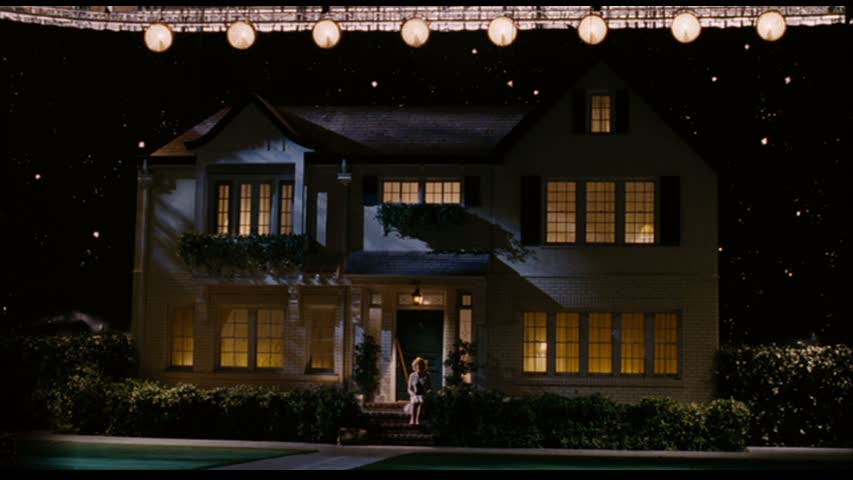 At the end of the movie, Isabel and Jack move into a home that looks almost identical to the one on their show: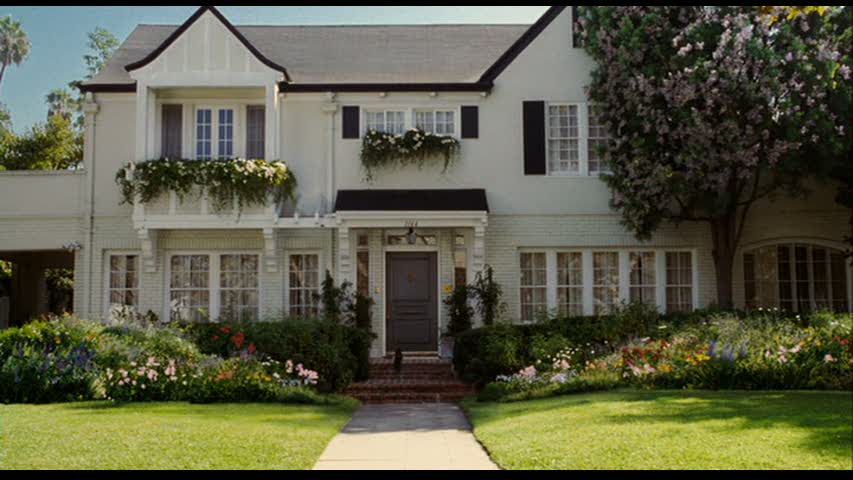 The address is 1164. Samantha and Darrin lived at 1164 Morning Glory Circle (Westport, Connecticut) in the TV series.
The house is a private home in the Hancock Park neighborhood of Los Angeles (via Seeing Stars):
Nicole Kidman said in an interview that her favorite TV show was "Bewitched," which probably explains why she chose to do this movie. BTW, you can take a tour of her country retreat in Australia here.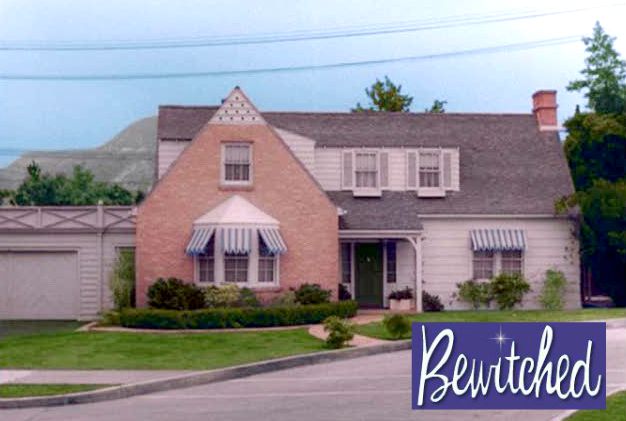 (Visited 41 times, 2 visits today)