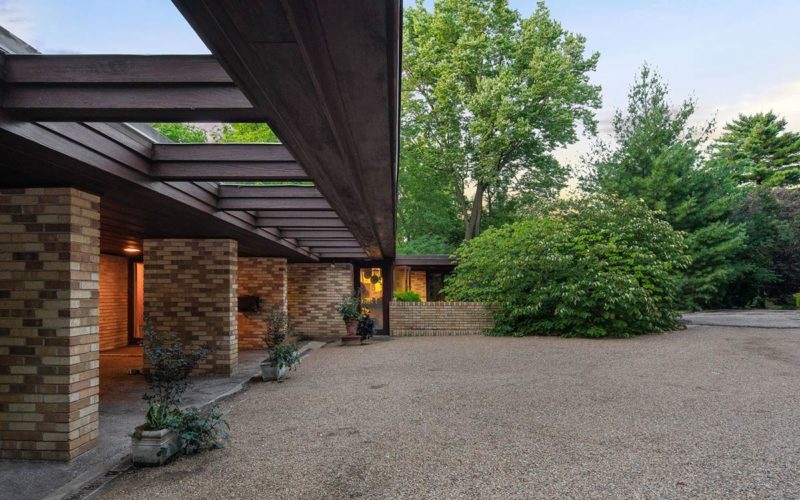 Frank Lloyd Wright fans, here's your chance to own one of his Usonian-style houses built in 1939.
The Sondern-Adler House in the Roanoke neighborhood of Kansas City, Missouri, was on the market for $1.6 million, but now it's going to be sold in a no-reserve auction this month.
Take a look!

Frank Lloyd Wright's Sondern-Adler House
 The L-shaped, 2,965-square-foot Usonian-style home is one of two that
Frank Lloyd Wright built in Kansas City.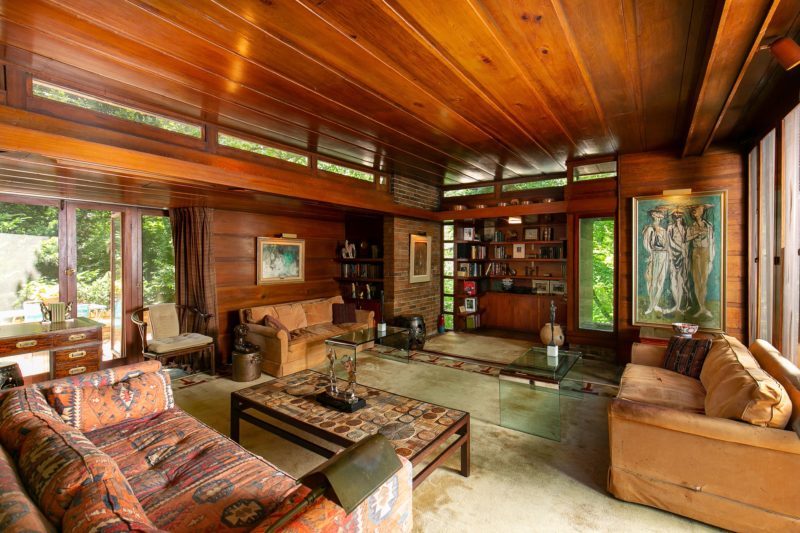 According to the Frank Lloyd Wright Foundation:
In 1939, Wright designed a 900 square foot home for Clarence Sondern in the Roanoke neighborhood of Kansas City, Missouri. Three squares connected the two wings of the L-shaped home with a workspace, laundry/heater room, and bathroom. There were two bedrooms, both with glass doors and openings to the terrace.
Nine years later, Arnold Adler, the second owner of the home, once again called upon Wright to design the addition to the home that would add on more than 2,000 square feet, which included another bedroom, additional bathrooms, additional living spaces and a carport.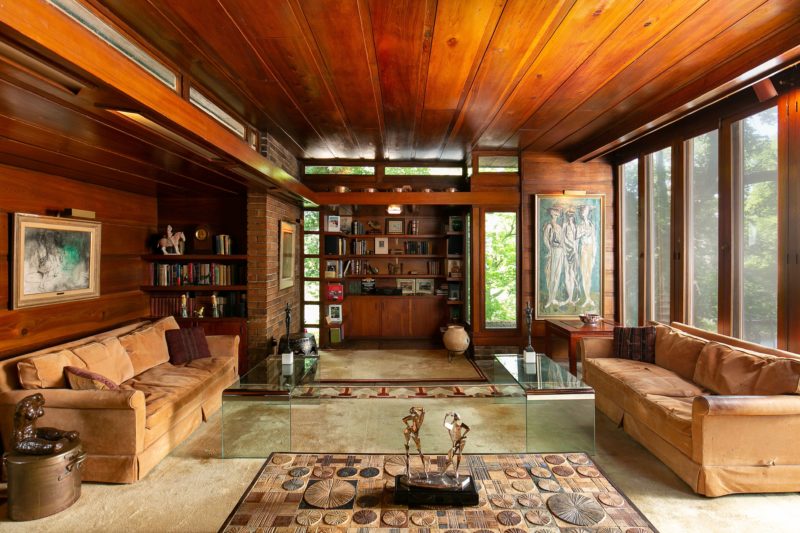 The listing states:
A cypress and brick exterior virtually melts into the surrounding wooded landscape. Enjoy seamless use of indoor and outdoor spaces with multiple terraces and floor to ceiling windows.
Admirers of Wright will appreciate the clerestory windows, welcoming fireplaces and intimate spaces created in and around the home with the use of local materials.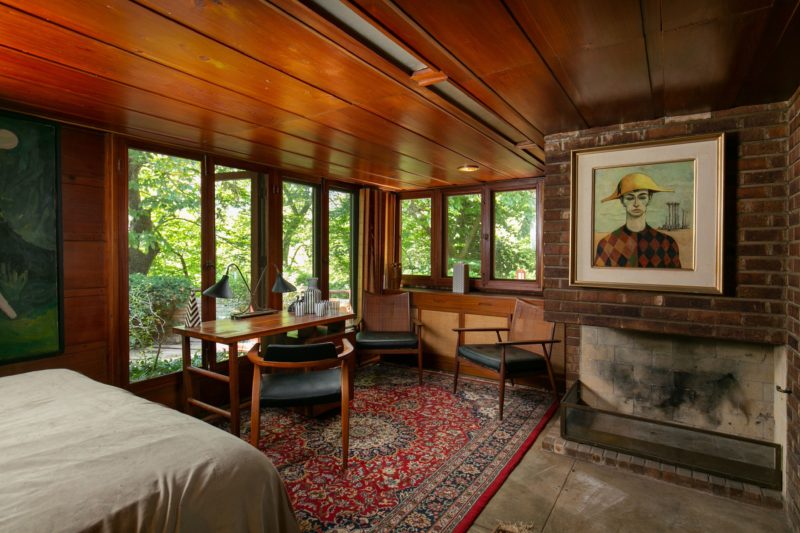 "This L-shaped Usonian home connects visitors to nature with a single cantilevered roof and walls of glass. A sunken living room is anchored by a massive brick fireplace and is at once spacious and cozy."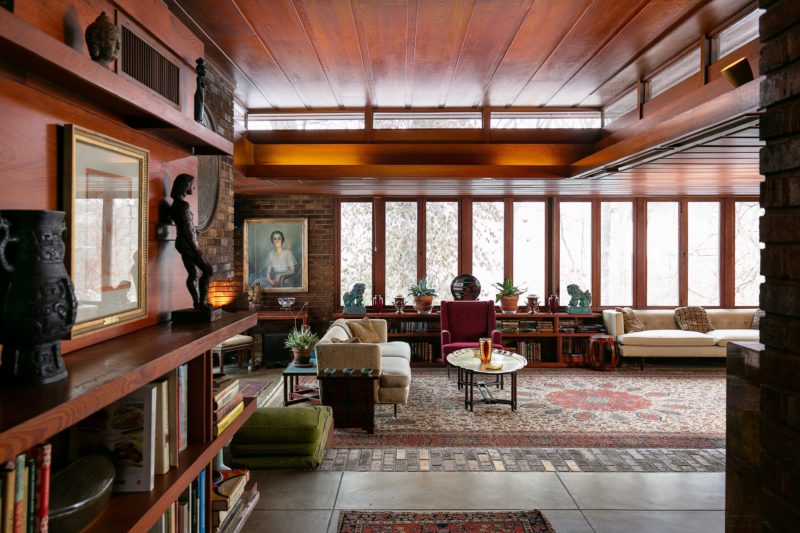 "The home's tidewater cypress ceilings and built-ins virtually embrace visitors by contrasting spacious rooms and private nooks. Wright's unique casement windows fully open and allow for natural cooling in the summer and expansive views."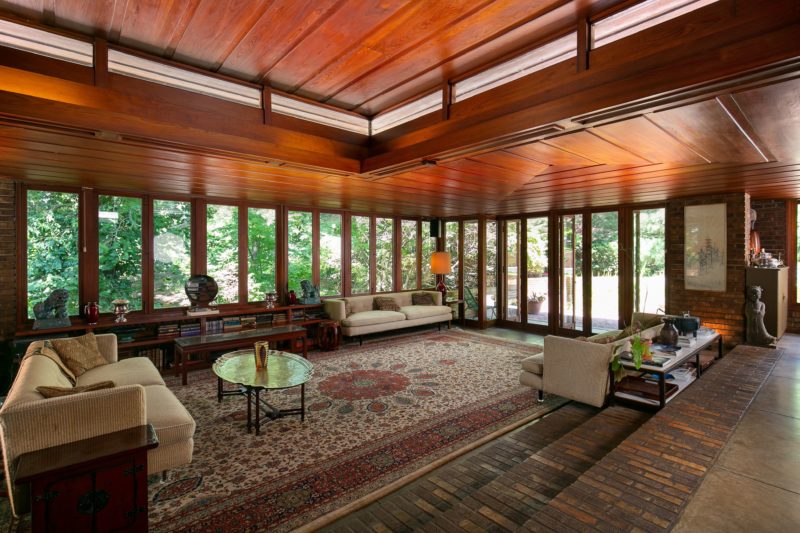 Some of the furniture that's original to the house will be sold with it.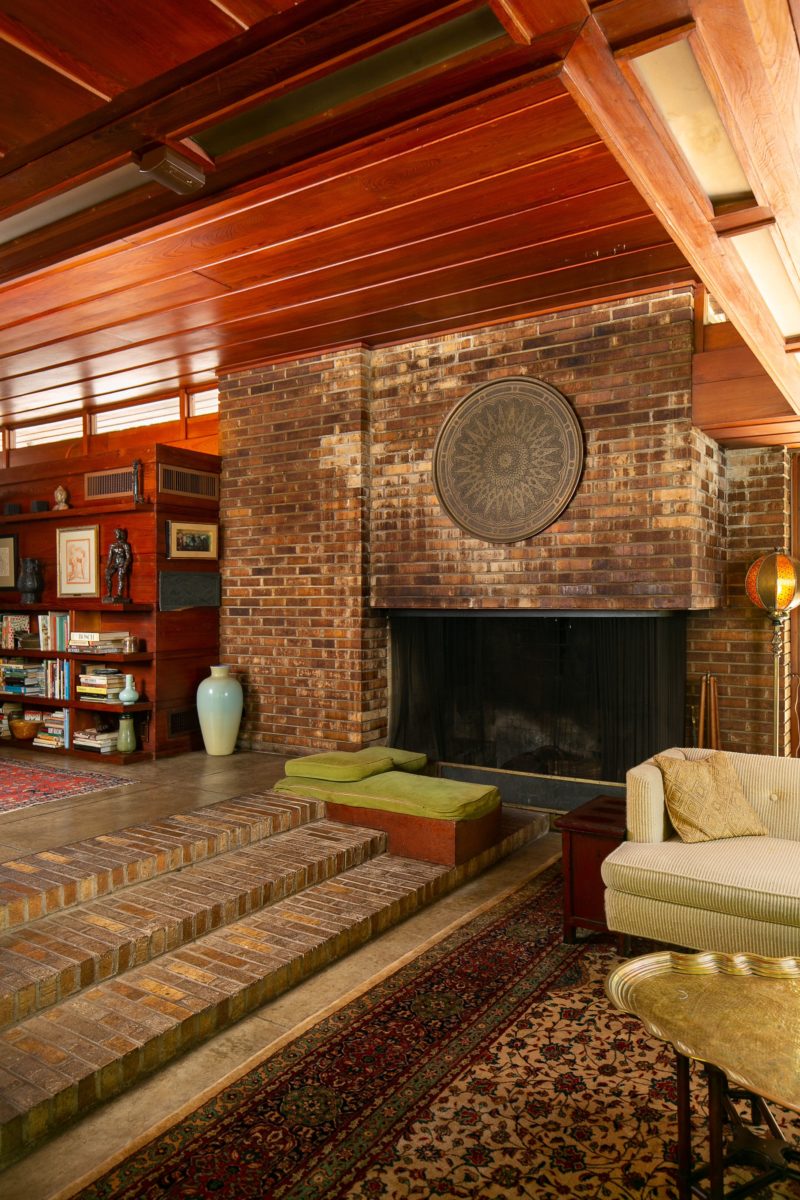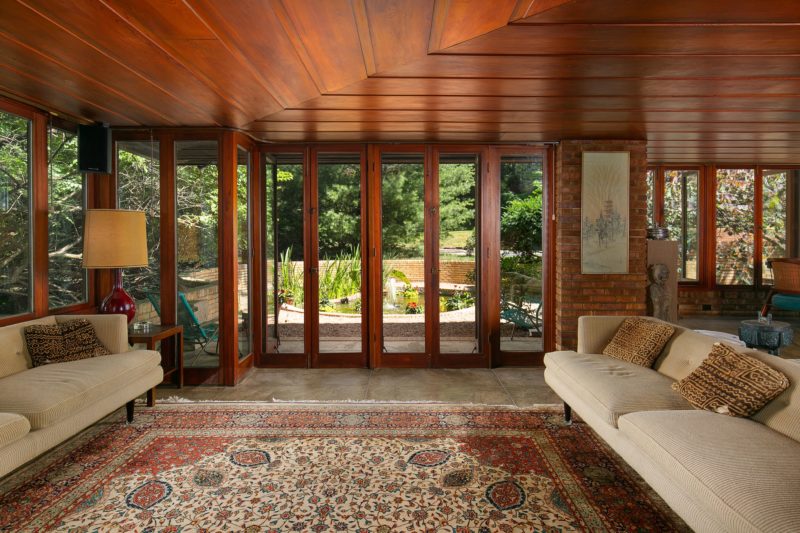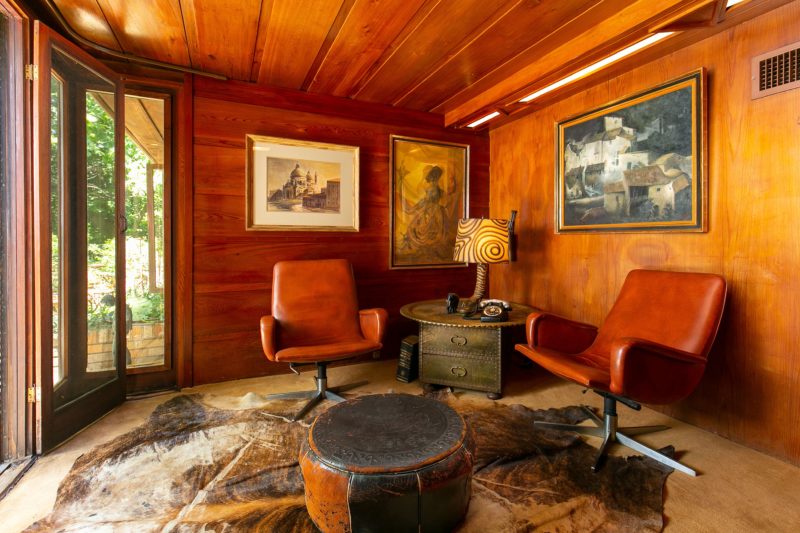 Floorplans for the Sondern-Adler House: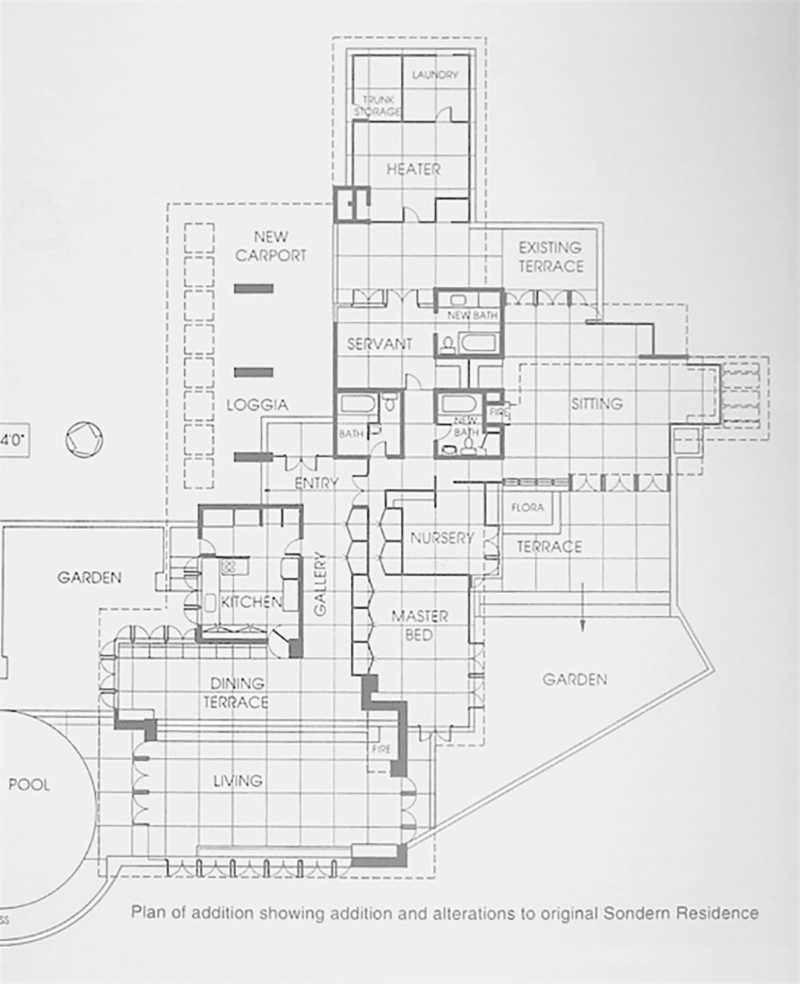 It sits on a large, 1.4-acre lot and isn't visible from the road.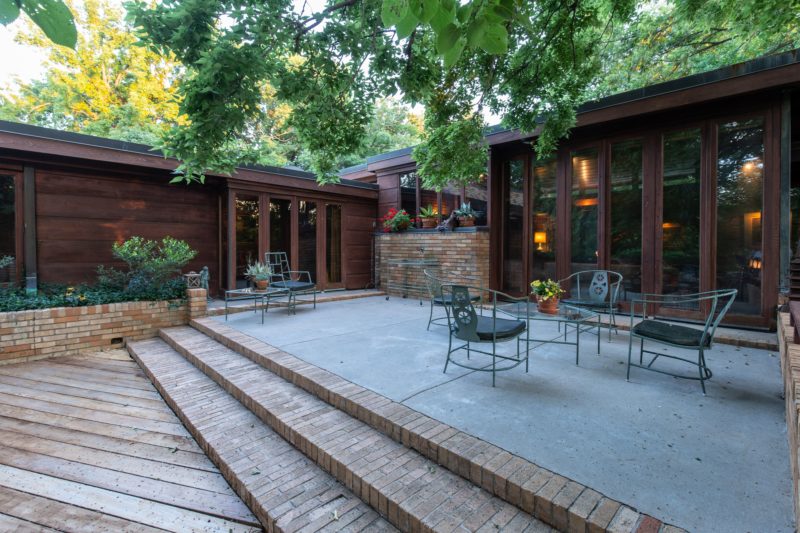 The auction house has some cool old photos of the house being built:
"The auction presents a tremendous opportunity for fans of Frank Lloyd Wright to own a masterpiece of design," says Nate Schar, Director of Luxury Real Estate for Heritage Auctions.
"The home hasn't changed hands often in its 80-year history, and its stewards have been careful to preserve as much as possible of Wright's creation."

The homeowner Jim Blair says, "This house is a piece of art. The fact that someone can invest in it at auction now is a great opportunity. It's like being able to buy a Monet."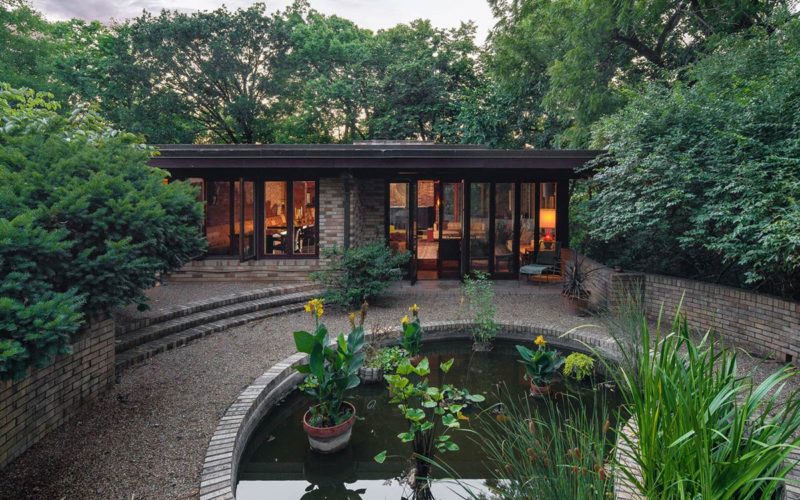 It has been operated as a short-term Airbnb rental in the past.
The house will be sold in a no-reserve auction, with no minimum starting bid, on August 12 at Heritage's Luxury Real Estate Auction.
Thanks to Heritage  for sharing the photos and details with me.