When designer Angie Hranowsky and her family moved into a traditional older home in Charleston, South Carolina, "It was nothing but beige." They were renting and couldn't make any major changes, so she transformed the rooms with color.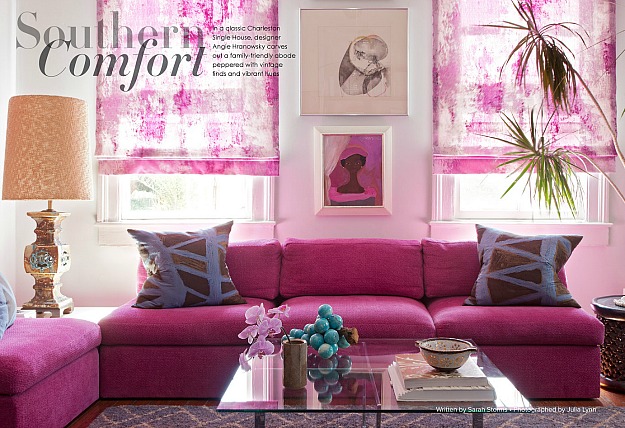 I've been craving more color in my house lately. That blue in the room below is similar to what I used in my home office, which I'll show you soon. I'm loving it.
The soft peachy tones in the bedroom below made me immediately think of Jennifer Lopez's featured in Veranda a couple years ago. When I looked back at those photos from 2011, though, I saw that hers was accented with beige and looked more neutral. Angie added pink in hers, which brightened things up:
Purple is kind of an unexpected choice for a kitchen. I like how she displayed her kids' colorful artwork in the nook next to the fireplace:
Have you been craving color in your house, too?
Check out the April 2013 issue of Lonny Magazine to read the article by Sarah Storms and see the rest of the photos by Julia Lynn.
(Visited 8 times, 1 visits today)