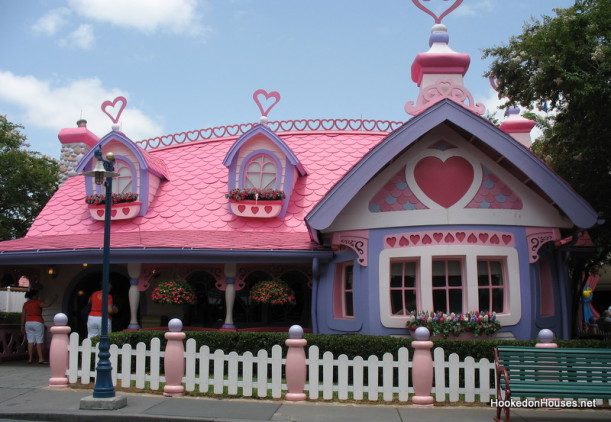 Yesterday we took a peek inside Mickey Mouse's house in Disney's Toontown Fair, so today I thought I'd show you the pink and purple cottage Minnie lives in right next door. This house is little-girl paradise, lemme tell ya. The whole place was packed from wall to wall with squealing little girls–including mine! It's like a giant cartoon playhouse come to life.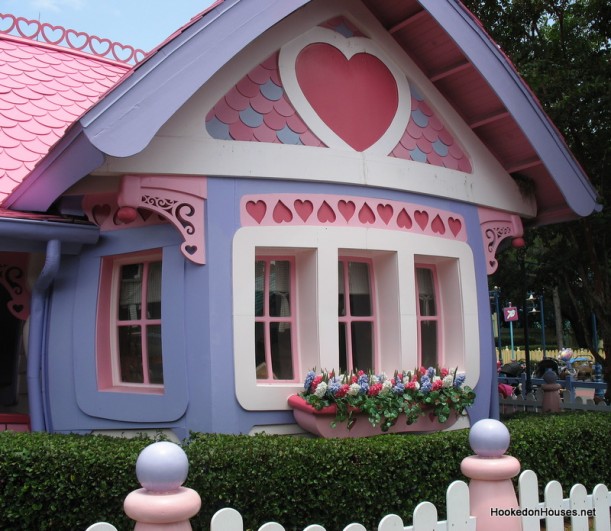 Minnie's fireplace has framed photos on the mantel (that's my daughter Lily standing in front of it–you'll see lots of her in this post!):
Unlike Mickey's house, Minnie's has no barriers blocking you from the rooms. You're allowed to sit on Minnie's chairs and open her fridge, and the kids love it. So many kids love it, in fact, that it's a challenge to get good photos of the rooms. Some of these photos were taken last winter when we were there and it was less crowded.
Sitting in Minnie's living room: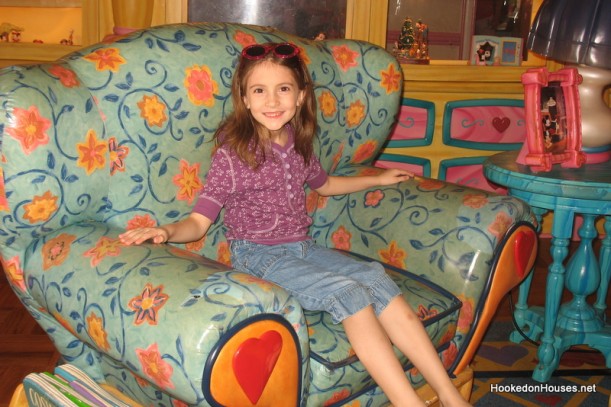 Looking up at the big, old-fashioned radio beside the fireplace:
Trying out Minnie's sewing machine:
The kitchen (Lily's watching a birthday cake rise in the oven):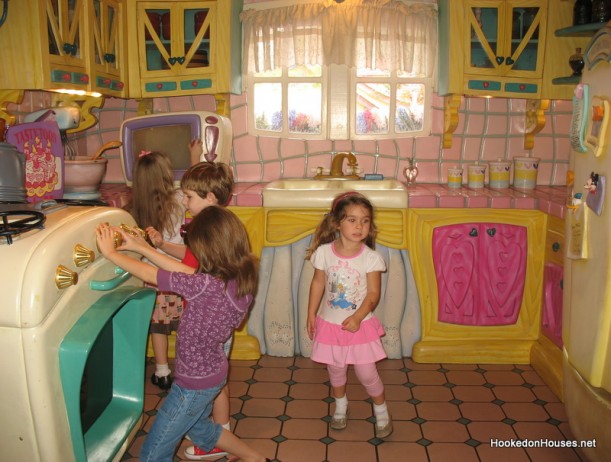 Lily loved reading all of your comments on her post Tuesday. She's already thinking about what her next one is going to be about. Someone suggested that she write a post once a month for me and she thinks that's a brilliant idea! 🙂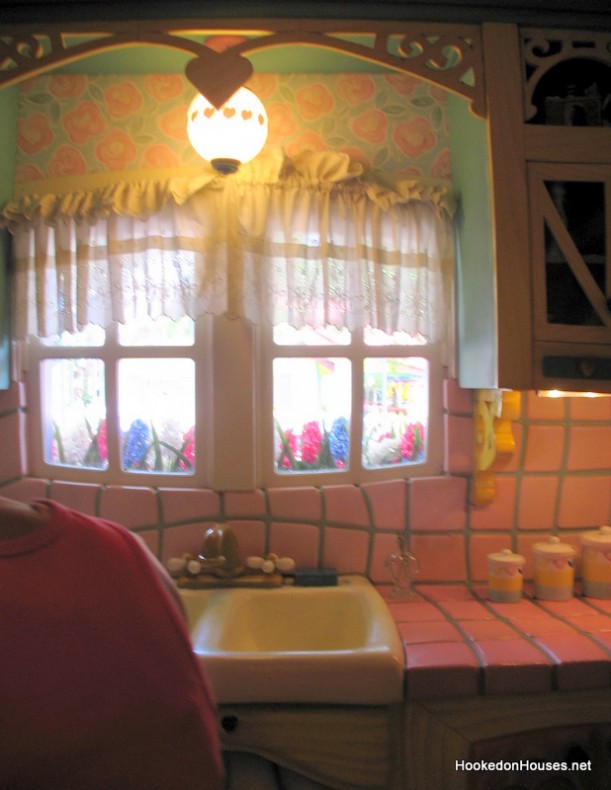 Minnie's "Westingmouse" refrigerator: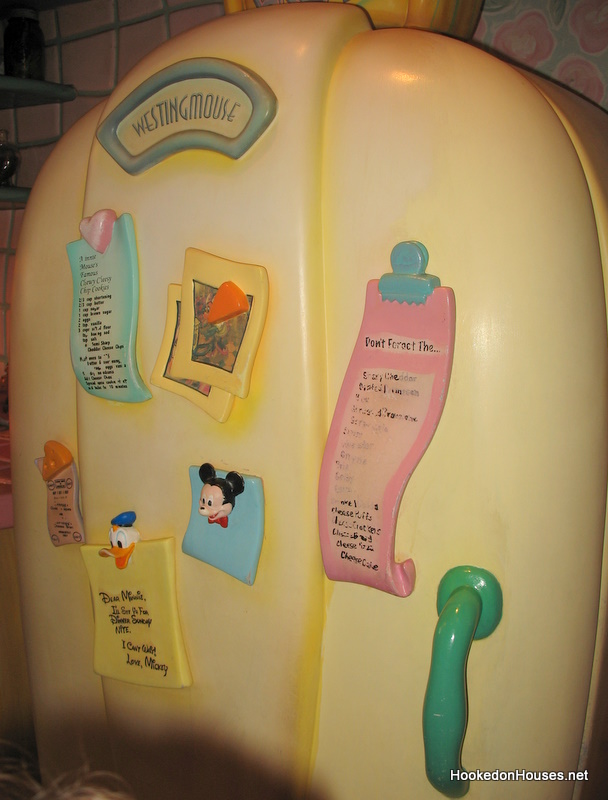 When you open it, you see that Minnie has stocked it with nothing but cheese. There's even some Cheese-Chip Ice Cream!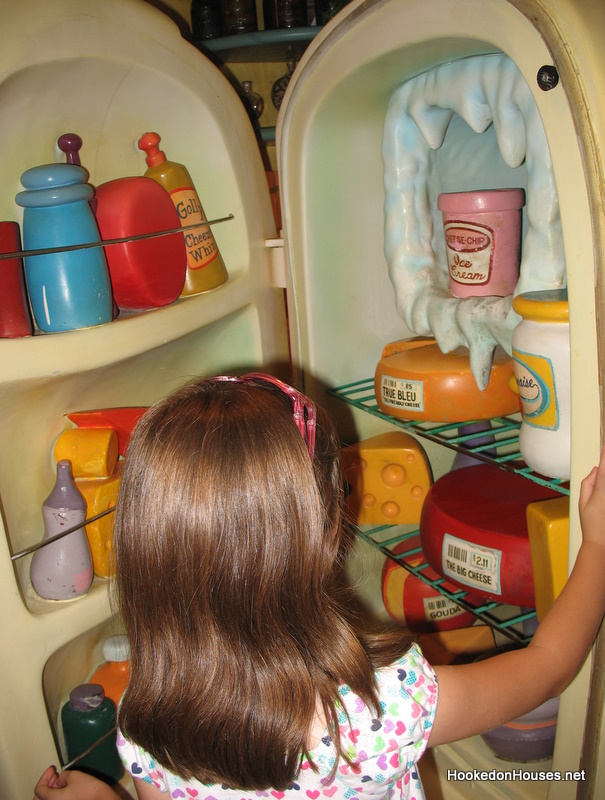 At the back of the house is Minnie's sunroom (with another photo from last December–which is why Lily's clothes keep changing!):
Minnie's Potting Station: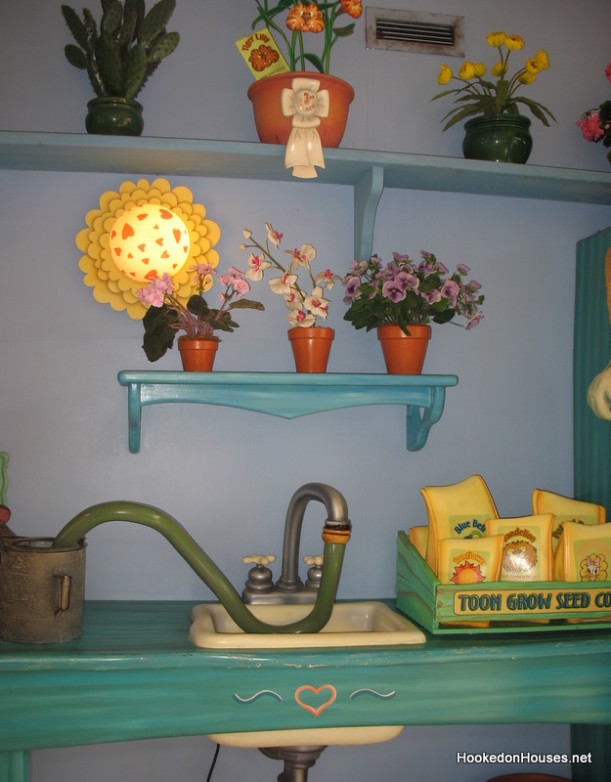 Pluto's dog house is out back behind the two houses, complete with his bowl and bone: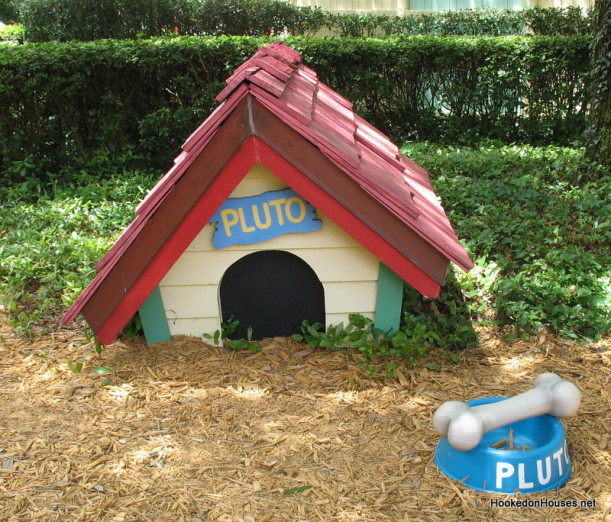 A backyard path leads from the two houses to a place where you can meet Minnie and Mickey in person. Last week the line was way too long, but we got to shake their white-gloved hands in December:
Here's another "house" we like to visit when we're at Disney World:
I still remember going inside Cinderella's Castle when I was Lily's age and being disappointed that it didn't look anything like the one in the movie.
We stayed at Disney's Yacht Club Resort (photo is from their website):

For those of you who like to see things like hotel rooms (I know I do!), here's ours. Note that they wrapped the washcloths into a Mickey-Mouse head on one of the beds for us:
I have to say we weren't really impressed by the room itself. For the prices they charge for them, you don't expect to find rusty faucets, stained marble floors (they weren't thinking about all the little boys who would be staying there!), cracked vanities, and loose doorknobs with missing screws.
We had a balcony but the door was off the track and it was too hard to open it. Only half of the outlets in the room worked–something we discovered the second morning when none of our phones or my laptop had recharged during the night. Errgh!
Many times during the week, we'd say, "Walt would not approve!"
But it was a free trip, as I explained yesterday, so we didn't complain too much. 😉
What we did approve of, however, were the beautiful grounds surrounding the Yacht Club, which included a sand-bottomed pool that was awesome, a lazy river we could float in while watching the fireworks from Epcot at night, and a lake with a view of the Disney Boardwalk.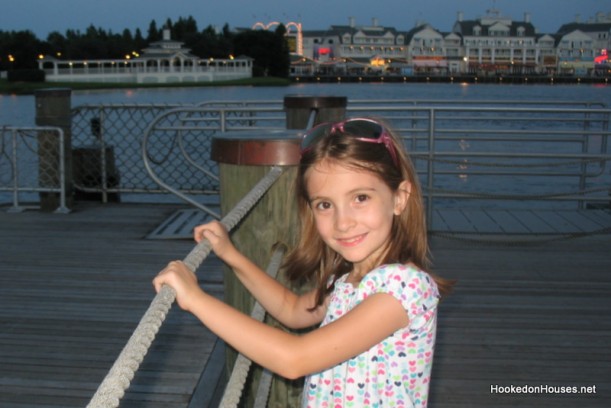 We could take a boat from this pier to get dinner on the Boardwalk, or to visit either Epcot or Disney Hollywood Studios. Loved that. We had such a wonderful time that we were really sad to leave.
(See how I tricked you into looking at my vacation photos? It's all I can do to stop myself from posting more of Lily feeding the dolphins at Sea World, or petting the goats at Animal Kingdom. Consider yourself lucky that I stopped myself when I did. Ha.)
Have you been to Disney World lately? Where did you stay? If you missed it, you can see my tour of Mickey's house, too.
(Visited 173 times, 5 visits today)