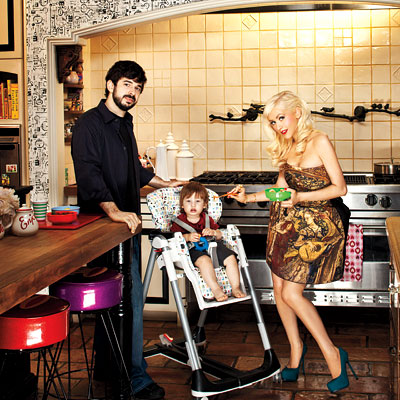 Christina Aguilera's Mediterranean-style home in Beverly Hills is featured in the pages of InStyle magazine this month, and I was excited to see how she redecorated the former Osbourne mansion.
This is the house that was featured on Sharon and Ozzy's MTV reality show back in the day. She reportedly disliked their style and was determined to erase all traces of the former owners.
The Grammy winner shares this 11,000-square-foot home her husband, music producer Jordan Bratman, and their 21-month-old son, Max.
According to InStyle:
Gothic, burlesque, Hollywood Regency and chinoiserie elements are juxtaposed with modern flourishes like graffiti artwork, Japanese anime and kaleidoscopic rugs. "I wanted every space to have its own personality," said Aguilera.
Christina has not one but two spacious closets:
"Everything on my shoe wall is grouped by designer—Louboutin, McQueen, YSL—all in their own little family," says Aguilera. "And there's room for boots up top."
The hyper-organized singer also has zones for her jeans, jackets, coats, skirts, sweaters and jewelry in the ultra-glam room, complete with a chandelier and leopard-print rug.
Photo credit: Doug Friedman.