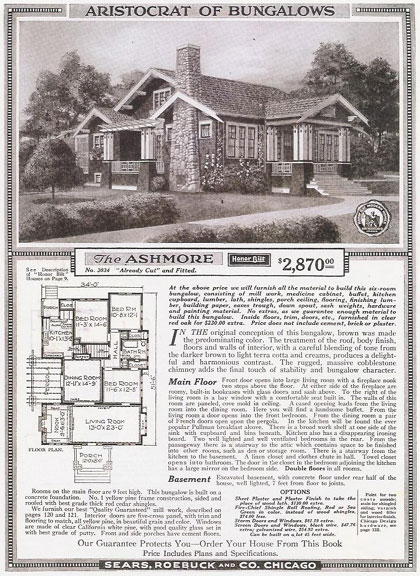 The Ashmore–the "Aristocrat of Bungalows"–was one of the Sears Honor-Bilt Homes sold through the catalog between 1916 and 1922 for between $1,648 to $3,632. It's considered one of the rarer models. Rosemary Thornton, who's a well-known expert on Sears Kit Homes, has been able to identify only three still existing in the United States.
The Convenient Old House followed the remodel of one that was built in the Bryn Mawr neighborhood of Minneapolis, Minnesota in 1917. For a bungalow of that era, the model is fairly large, with 6 bedrooms and a living room 23 feet long.
Here are the interior photos of the Ashmore from the original catalog. It came with a fieldstone fireplace, wood paneling, and a built-in buffet: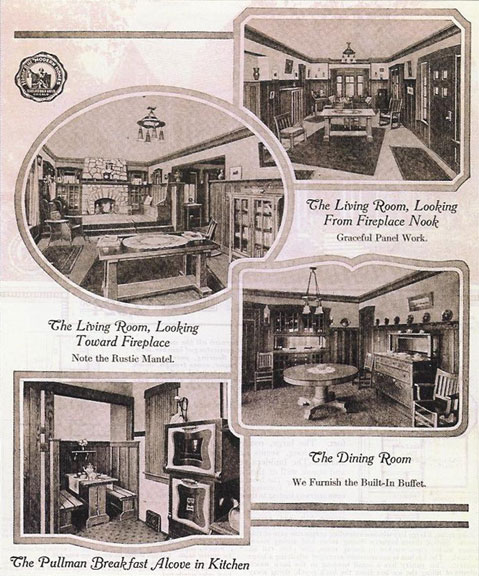 At the time, the kitchen was considered modern and, according to the catalog, "arranged to save unnecessary steps, planned with every thought for the minimizing of labor, with every care for convenience with the idea of intensive housekeeping always in mind. Everything has been placed within easy reach for the work at hand."
But the kitchen's layout would be considered cramped and difficult to work in by today's standards, with less than six and a half feet of counter space and minimal cabinet storage. The "breakfast alcove" was only big enough to seat two. This was the state of the kitchen when Tom and Carolyn Jensen bought this home in Minneapolis:
And here it is after being lovingly restored with the help of architect Joseph G. Metzler (SALA Architects, Inc.):
Did you see the picture of the "breakfast alcove" in the original catalog page (shown above)? Here it is in the Jensens' home, fully restored:
I think it's charming, don't you? (All photos belong to The Convenient Old House.) Read my overview of the Sears Modern Homes that were built between 1908 and 1940 if you want to see photos of various models then and now.
If You're Hooked on Sears Houses:
(Visited 7 times, 1 visits today)