Back in February I posted photos of 1950s kitchens from an old Better Homes & Gardens Decorating book I had just bought. It continues to be a popular post all these months later–apparently there are a lot of people Googling "retro rooms."
I had promised to show you more photos from the book "in weeks to come," but those weeks turned into months. I remembered my promise today, though, and scanned some more for you.
Today I thought it would be fun to look at some 1950s living rooms. Some look more contemporary (as in something you might see in a magazine today) than you'd expect. Others look seriously dated. Either way, it's fun to see what passed for fab fashion 50 years ago.
"Decorate Your Ceiling As If It Were a Wall," the book advises on the following page. "The pine paneling used on the walls makes a dramatic ceiling in a contemporary home, needs little or no repair or upkeep." Because, you know, ceilings are usually so high maintenance.
"Treat Windows Simply," it states. And I think they made the right decision in the "ranch-house" room below. Simple was the way to go.
"Sparkling color defines a gay, informal spirit." There was a lot of "gay" decorating going on in 1956, and a lot of colored carpeting to go with it. What I find interesting in the room below is that the walls look fresh and contemporary, but the carpet and sofa are. . .not.
"Do You Like Yesterday Combined with Tomorrow?" Check out the room below with the mod artwork hung next to a gold eagle. Would any professional decorator hang those two things together–and space them like that–on a wall behind a sofa today? Note the red chair in the corner, though, which still looks current.
"Are you a busy clubwoman–with an active family? Then you'll want to decorate your home for a minimum of housework," according to the page below. I just might start describing myself this way in conversation. "Ah, yes, I'm a busy clubwoman with an active family. . ." Apparently it's okay for busy clubwomen to decorate their family rooms with big orange fish cut-outs above the windows. Who knew?
"If Your Favorite Color is Yellow," then this book thinks you'll love the gold living room, below. "A view window without a view becomes the decorating center of interest, with a dramatic sweep of drapery and swag which has been used as a cornice. The window treatment provides a background for sofa grouping looking toward a fireplace. A touch of brown turns bright yellow into these elegant gold tones, blends them with the carpet." The gold blends with the carpet? Really? Is that what they were going for here? Interesting.
"Matching Prints Solve Decorating Problems" according to the following page. "A gay hobby pattern sets the theme for a family room. If you have a too-small room and still want lots of color and pattern . . . or if your room has many architectural faults you want to hide . . or if you just can't decide on curtains or draperies, consider using a patterned wall covering and fabric to match." I think it's safe to say you'd be hard-pressed to find any "architectural faults" in the room below, which are cleverly hidden in a pattern of pirate ships, feathers, and compasses:
There are so many fun pictures in this book. If you like these, I promise I'll try to scan more of them for you before another three months goes by.
If You're Hooked on Retro Rooms: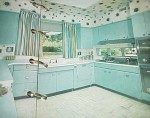 Remember this aqua-blue kitchen I showed you in the post about Retro Kitchens? It was a page out of a vintage Better Homes and Gardens…
What I should have been doing tonight: working on some of my writing projects that need attention. You know, for my real job that I…