This farmhouse for sale in Zionsville, Indiana, is a lot newer than it looks. It was just built on 18 acres that includes a charming timber-framed barn. Take a look!

A Modern Farmhouse on 18 Acres in Indiana
The listing says:
Welcome to the farm! Picturesque vistas back drop newly constructed modern farmhouse on 18 acres with peach and apple trees, timber framed barn, guest cottage. Horses & additional barn permitted.
A large front porch wraps around two sides of the house:
Staircase and barn door built from ash trees on property:
Fireplace with windowseats on either side:
Dining Area:
Kitchen:
"Bosch appliances, granite & marble counters, hand-hewn oak barn beams, and wood-burning stove."
Walk-in pantry:
Work station with additional storage off family room:
The house has 4 bedrooms and 4 baths.
Large bonus room:
Amish-built cabinets, transom windows, and shiplap add character.
First-Floor Laundry Room:
Mudroom:
Side Entrance:
Barn:
Zionsville is northwest of Indianapolis and a short drive to the city.
I love seeing new construction that was designed to look older than it is. This farmhouse fits beautifully into the Indiana landscape. Thanks to Mary Rose for telling me about it!
Check the Sotheby's listing for more information (photos by The Home Aesthetic). I used to live near here, and if I had the $1.379 million they're asking, I'd be tempted to move back to Indiana! 🙂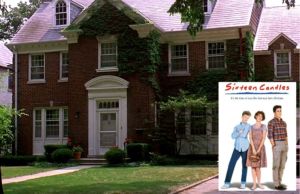 Remember Molly Ringwald's house from the classic John Hughes movie Sixteen Candles? She played an angst-filled teenager named Samantha Baker, whose family is so focused on…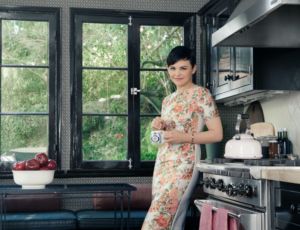 "Once Upon a Time" co-stars and real-life couple Ginnifer Goodwin and Josh Dallas are selling the charming older home she bought almost a decade ago…