Anyone recognize this house? It's the DeRose Windmill Cottage in East Hampton, New York, which was featured in the Michael Caine movie Deathtrap. It was built in 1885, and the listing calls it "A stunning example of nineteenth century windmill architecture."
The East Hampton Star explains:
In front of the property is the late 18th-century Jeremiah Miller House, which Edward DeRose bought in 1885 and behind which he constructed what has become known as the DeRose Windmill, a "faux" structure, but an accurate replica of an authentic East Hampton windmill.
According to Robert Hefner, the village's historic preservation consultant, its authenticity can be found in the "height of the octagonal tower, the width at the base and cap, the conical cap, the few small windows, and the windshaft and sails."
A Vintage Photo of the House:
The De Rose estate was referred to as "Millfield" in a 1903 article in Architectural Record.
Aerial View of the Property Today:
The Entry Hall in the Center of the Windmill:
The Living Room:
I found some older listing photos, too, and it's fun to compare the differences in the rooms. For instance, here's how the same living room looked before, from a different angle:
The Dining Room:
Bedrooms:
The house has 7 bedrooms and 6.5 baths.
The Kitchen:
Sunroom:
The sunroom photo below was from an older listing for the house with different fabrics on the windows and furniture:
Screened Porch:
Pergola-Covered Patio:
The Guest House:
The Pool:
The listing says, "Beautifully manicured grounds by Joe Tyree include extensive gardens that have been coordinated for color throughout the year as well as some of the finest trees in East Hampton."
It sits on 3.5 acres, "surrounded by brick garden walls and tall privet." The backyard has a 50′ heated gunite pool and all-weather tennis court.
Filming Location for the Movie Deathtrap
The Windmill House was featured in the movie Deathtrap with Michael Caine, Dyan Cannon, and Christopher Reeve in 1982. Here's how it looked onscreen:
Since then they added roughly 600 square feet to the house, which included a new dining room and mudroom.
Movie Interiors:
The interiors for Deathtrap were created on a separate soundstage. I haven't seen the movie, but the sets look interesting. Wish they'd add it to Netflix so I could see more!
The DeRose Windmill Cottage Today:
Thanks to Veryl for telling me about the house and its history! For more photos and information, check Curbed and the article in the East Hampton Star.

P.S. Visit Houses Onscreen to see more, including…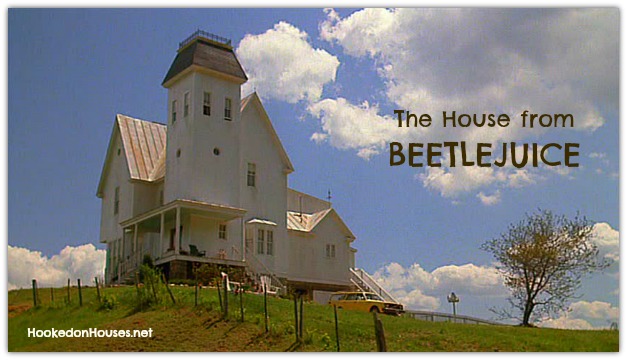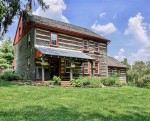 I love hearing from readers about their own houses. This updated log cabin from the 1790s in Berks County, Pennsylvania, belongs to Patrick, who bought…
This charming stone house called Owls Cote is for sale in Rhode Island "minutes from downtown Newport and the harbor," but it looks like a cottage plucked straight out…