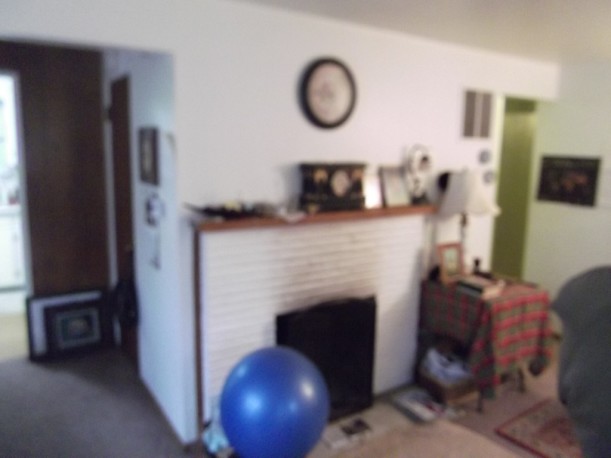 When we move into a new house, our eyes are wide open. We notice everything. We measure the rooms, take note of the way the light affects the color on the walls, agonize over furniture placement, and make lists of things we want to change. But have you noticed how our vision tends to blur after we've been living in the same place awhile?
That's why you can set a box of Christmas ornaments next to the basement door with the best intentions of carrying it down and putting it in storage, only to walk around it every day until March.
Or there's a piece of artwork leaning against the wall, waiting to be hung, but you get so used to seeing it on the floor that you forget why you put it there in the first place.
I started thinking about this phenomenon when a reader wrote:
One thing that fascinates me about having my own place is how quickly you just get used to seeing stuff and don't really think about it. For instance, a friend gave me a little red and gold knotted tassel for good luck at my wedding last year. When I came home, I stuck it on a nail on the door frame that has been there since the last tenant.
It's not centered and it's totally stupid hanging there, but I don't even see it now. It's just there. Ditto the space heater, fan, and my husband's corner of heaping receipts. It's just part of our lives now and unless I'm in super nesting mode, I don't notice.
I can definitely relate to that, can't you? I set something down and forget about it. Something that was supposed to be temporary becomes a permanent fixture in my house.
All it takes to open my eyes and clear my house vision is to have visitors, though. It's amazing how quickly everything comes into focus when I'm seeing things through their eyes.
Yikes, how long has that dead plant been sitting on the window sill? Is that a big cobweb connecting the foyer light to the upstairs banister? Why are those DVDs still piled on the coffee table when we watched them two months ago?
A camera is another great eye-opener. Try taking photos of the rooms in your house and suddenly you see all sorts of things that you had been blind to in your everyday life.

Keeping a House Project List helps, too. A couple times a year my husband and I walk through our house and analyze everything in it, room by room, and write down the things that need to be fixed, replaced, or banished altogether. It always amazes me how many things I notice during those walk-throughs that escaped my attention for weeks (or months) beforehand.
Are you blind to how your house really looks right now?

Walk through your rooms like you've never been in them before and see what you find!