If you love the modern farmhouse style with white board and batten siding and a metal roof, then take a look at this. This newly built home is for sale on six waterfront acres in Urbanna, Virginia, overlooking the Rappahannock River. The views alone could sell me on this one!

A Modern Farmhouse For Sale in Urbanna, Virginia
According to the listing:
Contemporary farmhouse-style home complete with Hardie board & batten siding, standing seam metal roof, mahogany double front doors, white oak flooring, screened porch with fireplace, and open cooking porch.
Joanna Gaines started more trends besides shiplap.
Thanks to "Fixer Upper," we're now seeing these kinds of double glass doors popping up everywhere:
I love the look of them but need more privacy. We get so many sales people canvassing our neighborhood these days that I only answer the door when I know for sure who's on the other side!
The two-story family room is open to the kitchen:
The house has 4 bedrooms, 3 full baths, and 4,137 square feet.
This spacious screened porch is where I'd spend every chance I got, enjoying those water views:
They really took the outdoor living aspect and water views into consideration when designing this house.
The listing says:
"This Brand New Elegant Coastal Custom Home was Built with all the Bells and Whistles! "Coastal Elegance on the Rappahannock" is sited on 6 pristine waterfront acres with expansive wide views and sandy shoreline. A Contemporary Farmhouse Style Home.
Want it? They're asking $1.497 million. Check the listing held by Amy Southard for more photos and information.
Are you on my mailing list to get my newsletters? Click here for more information if you're interested. It's the easiest way to make sure you never miss anything that's happening here! 🙂

P.S. If you like the Modern Farmhouse style, take a look at this one in Austin: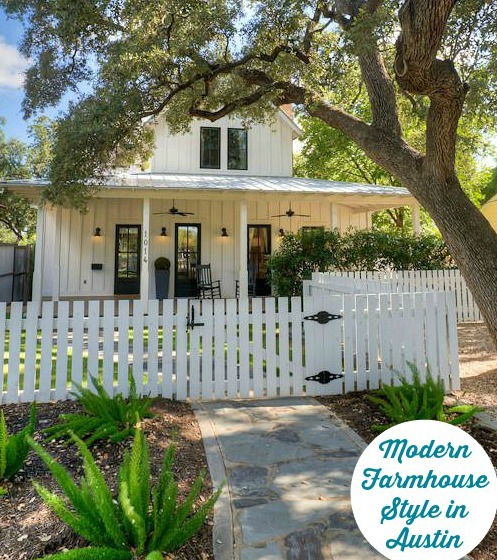 Have you seen the Cate Blanchett-Rooney Mara movie Carol? Then you might recognize the Barrett Estate in Hyde Park, a charming neighborhood on the east…
Bruce Willis and his wife Emma are selling their "Craftsman-inspired," shingle-style house in the country. It sits on 22 private acres in Bedford Corners, New…