Angelina Jolie, who is divorcing Brad Pitt, has reportedly moved with her six children into the Hidden Hills estate that Denise Richards radically renovated a few years ago.
It was on the market for $7.749 million in 2015 and is still for sale with a reduced price of $6.895, but you can rent it for $30,000/month like Jolie is.
This was one of the most dramatic celeb remodels I can remember seeing, so let's take a look!

Angelina Renting Denise Richards' Former Home
Jolie and her kids had been renting Bryan Singer's house in Malibu. This one is bigger with 8,300 sq ft.
This is how the staircase looked in 2008 after Denise moved in:

The house underwent an extensive remodel, and here's the staircase today:
The dining room in 2008, after Richards moved in:
It was re-located to another part of the house after the remodel:
The family room looked like this when she moved in:
Believe it or not, this is what the family room looks like now:
The listing says this room "boasts a back-lit onyx fireplace, wet bar, built in seating, and cathedral ceilings designed with an awesome lounge setting."
The Master Bedroom in 2008:
The Master Bedroom in the listing today:
The Master Bath before:
The Master Bath today:
It still has a fireplace, but the vibe is very different!
The original kitchen looked like this:
Today, it's an all-new space with a fireplace and a built-in pizza oven:
The Outdoor Spaces:
The listing says, "Two magnificent pools boast cascading water features, grotto, beach entry and more. There is also a custom-built 800-square-foot cabana, outdoor kitchen and massive lush manicures lawns. All in a beautiful private setting with mountain views!"
The back of the house was mostly grass in 2007:
Richards expanded not only the house and outdoor living spaces:
Brad and Angelina are parents to Maddox (15), Pax (12), Zahara (11), Shiloh (10), and twins Vivienne and Knox (8):
I have a feeling this water-park-like yard was a big selling point for the mother of six:
Brad & Angelina fell in love on the set of "Mr. & Mrs. Smith" (love the house from that movie):
They were married 2 years ago at their multi-million-dollar Chateau Miraval in France:
You can see more of the before and after photos here and check the listing for more information.
A question I get a lot is whether the "Mr. & Mrs. Smith" house was the same as the one from "Father of the Bride." You can see how similar the two of them are — and the differences — here.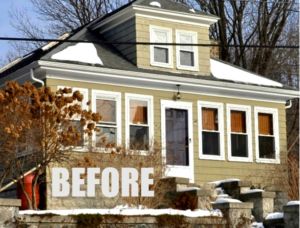 Laurel of SoPo Cottage is sharing their latest home remodel with us today. It's a 1927 bungalow in the Willard Beach neighborhood of South Portland, Maine, that spent…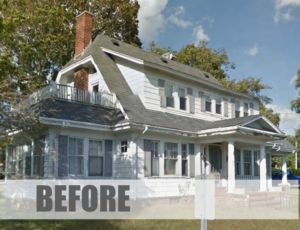 This broken-down and neglected old house in Massachusetts, was built from a plan found in the 1926 Home Builder's Catalog called "The Arstine." Thanks to Tom…