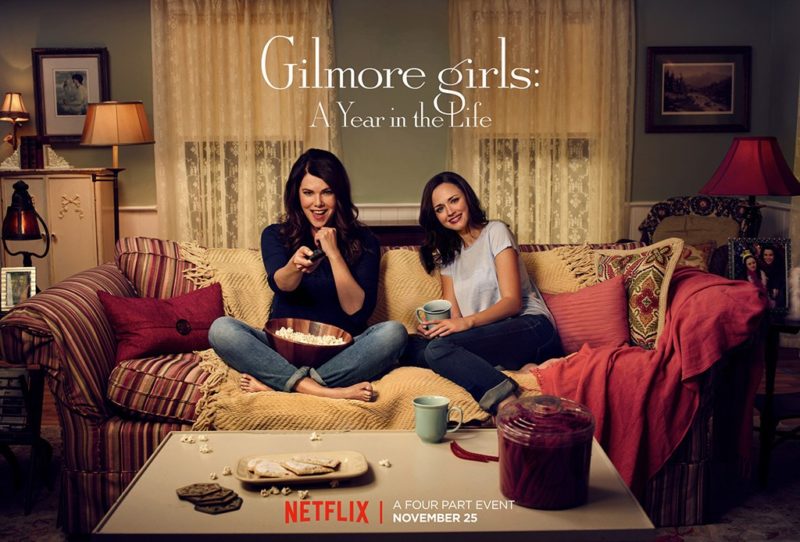 Raise your hand if you gobbled up the new "Gilmore Girls" episodes on Netflix after Thanksgiving! I couldn't focus on anything else until I had watched all four seasons of "A Year in the Life," and I loved spending some time in Stars Hollow again.
Let's take a closer look at some of the houses and other sets designed for our favorite small town in Connecticut and see how they've changed over the years.
(Warning: possible spoilers ahead!)
Note: There are Amazon affiliate links in this post that may earn me commission.

Welcome to Stars Hollow, Connecticut: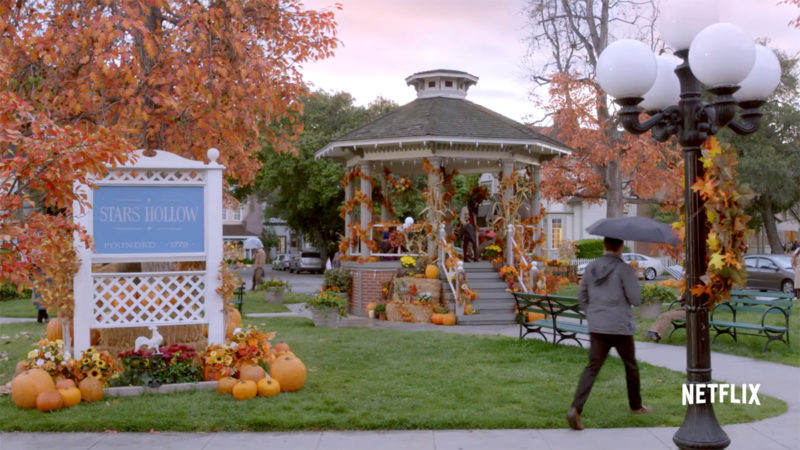 Creator Amy Sherman-Palladino was inspired to create Stars Hollow after visiting Washington Depot:
"I went on vacation to Connecticut. I stayed at an inn, and it was very charming, in a tiny town, and everybody seemed to know each other, and there was a pumpkin patch across the street.
"You go in a coffee shop and everyone knows each other, and they're going behind the counter and they're pouring themselves coffee. It seemed like a fun environment to write characters in."
Fans have pointed out that Washington Depot is nothing like Stars Hollow and wonder if she was actually visiting another town in the area, like Kent.
In the pilot, the town scenes were shot in Unionville, Ontario, where the actors didn't have to pretend to be cold!
They turned a place called Williams Hardware into Luke's Diner for the pilot (and worked its history into the story):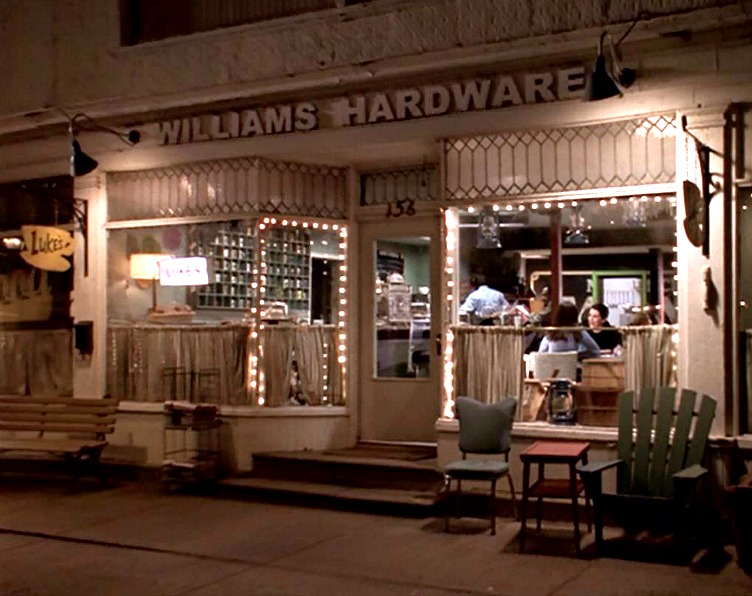 After the show got picked up by the WB, they began filming on a Warner Bros. back lot known as Midwest Street.
The fake town in Burbank, California, was transformed into Stars Hollow, Connecticut.

 Midwest Street has been used for all kinds of TV shows and movies over the years, including The Music Man: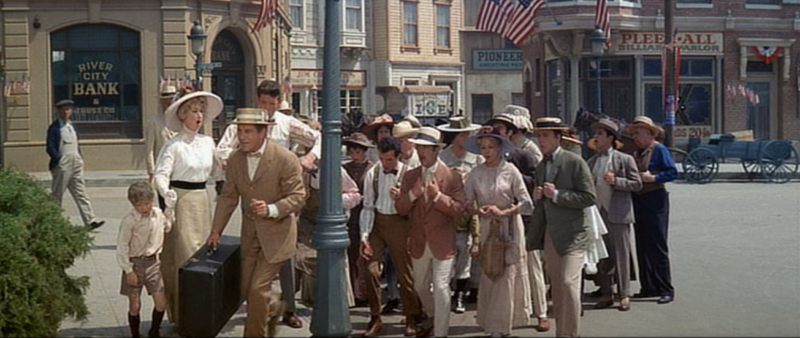 Some buildings, like Luke's Diner, are "practical sets," which means they film inside them.
But with others, like Lorelai's house, the interiors were built on separate soundstages.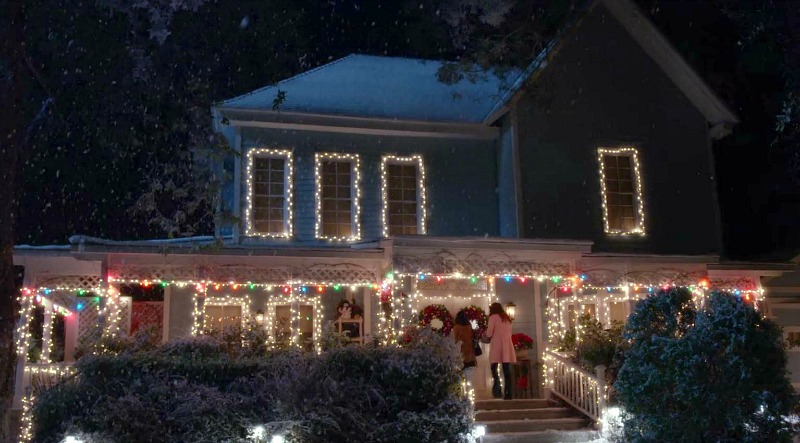 We've never seen the back of Lorelai's house, and for good reason.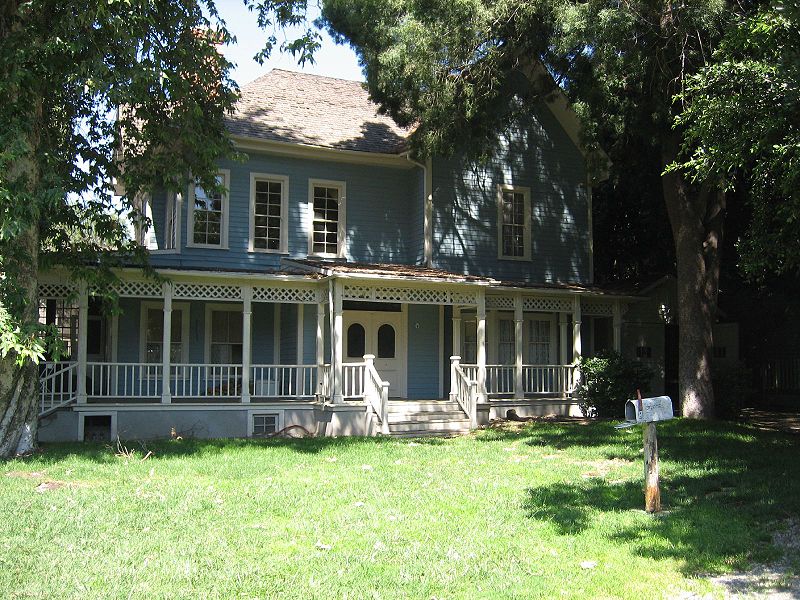 Oddly enough, the exterior of Sookie's house is on the other side of hers.
That's right, Lorelai's house and Sookie's are one in the same!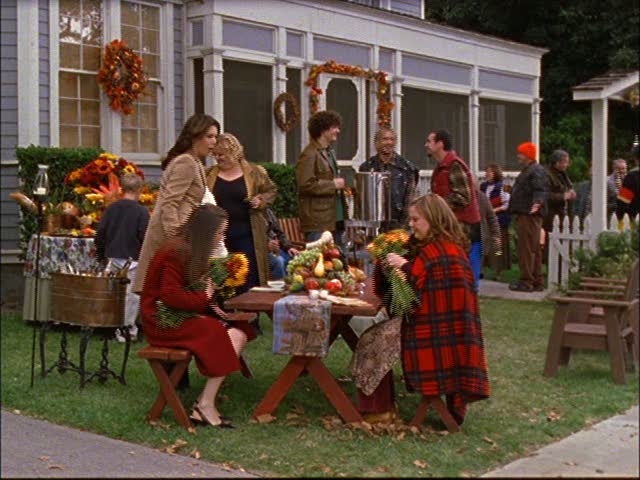 As Melissa McCarthy explained during a behind-the-scenes tour, you can step through Sookie's front door…

…and then walk through her house into Lorelai's foyer (which features a fake closet):
In "A Year in the Life," Sookie is MIA, and Lane is living here with Zack and the twins (and her drums!):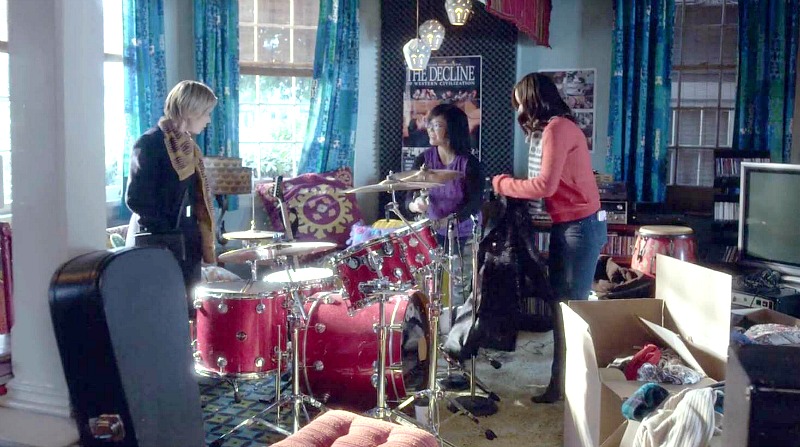 You can see photos of how it looked when Sookie lived in the house here.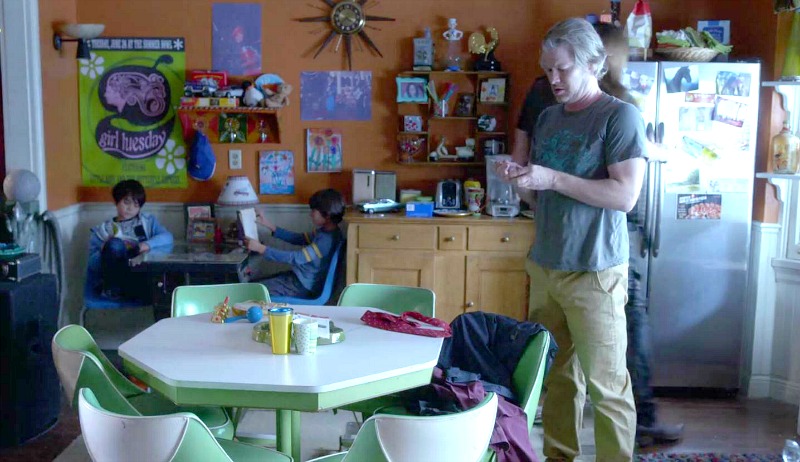 You may have also seen Lorelai's house on "Pretty Little Liars" because Spencer lives here (via Iamnotastalker):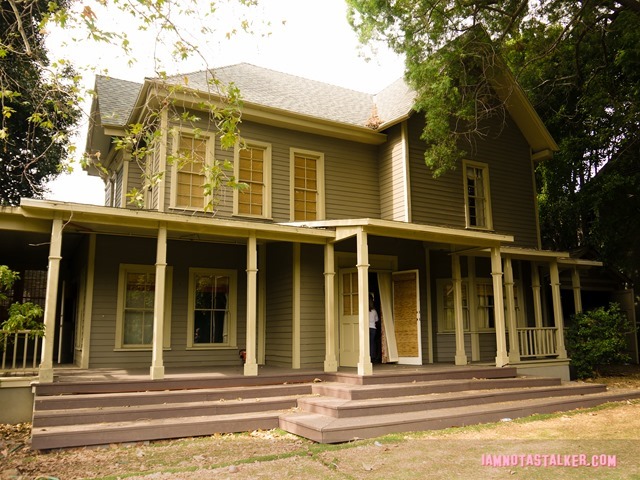 They put the railings back and surrounded the porch with overgrown bushes
to make it look like Lorelai's place again for "A Year in the Life:"

When the original series ended in 2007, the living room walls of her house were off-white: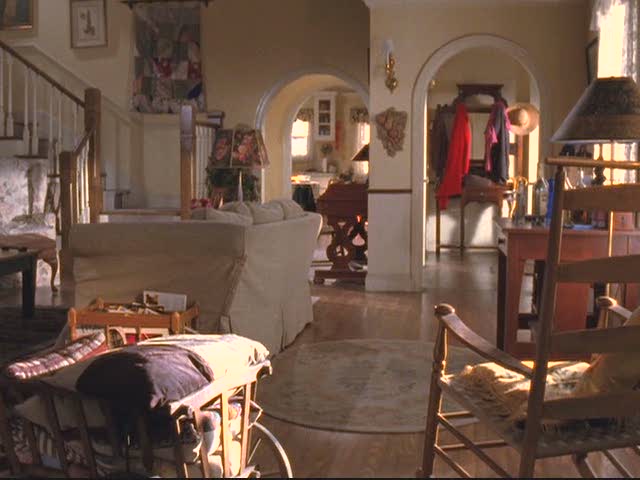 In the new episodes, they're a soft green: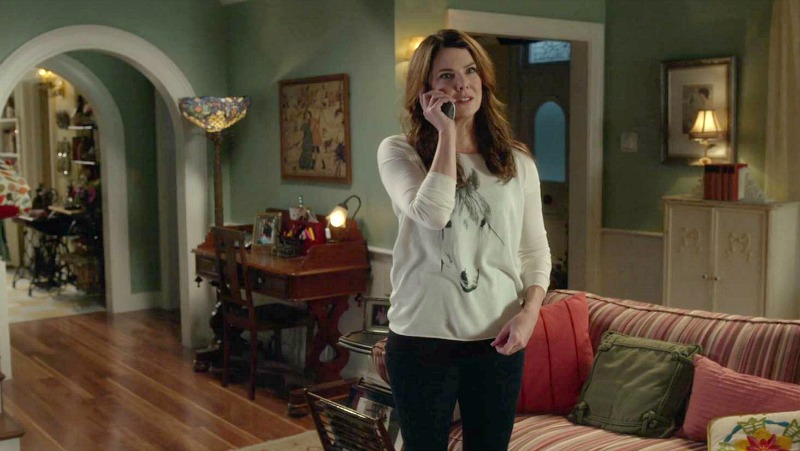 I like it! It makes the rooms look warmer and the woodwork stand out more.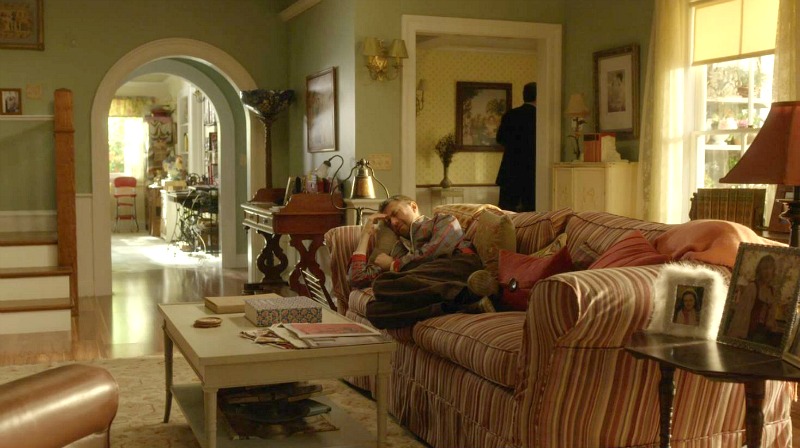 When we last saw the Gilmore Girls, they were watching their movie marathons on this small TV: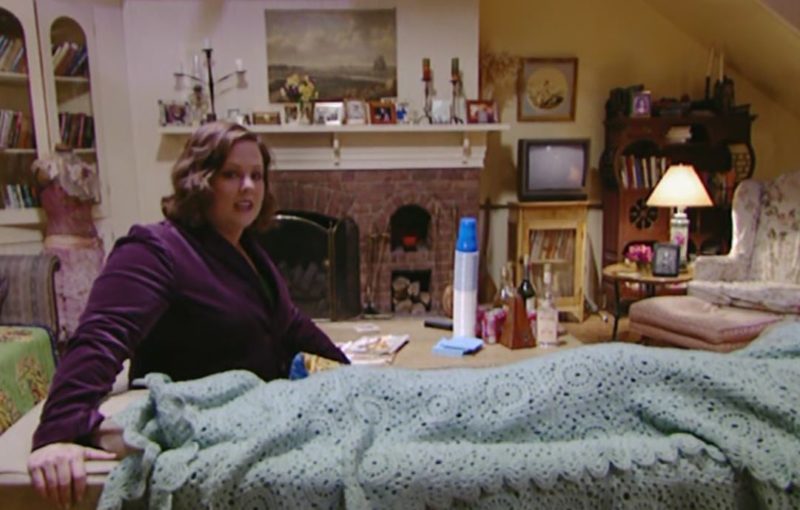 They now have a wall of built-ins that hold a flat-screen: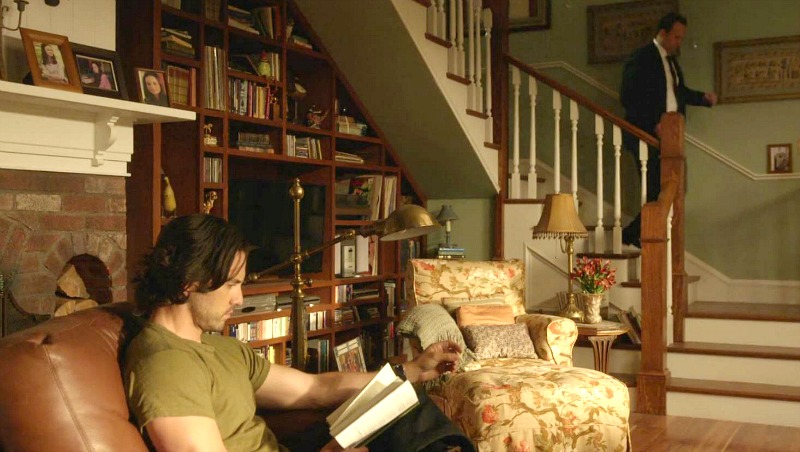 Lorelai's kitchen has been updated a bit, too: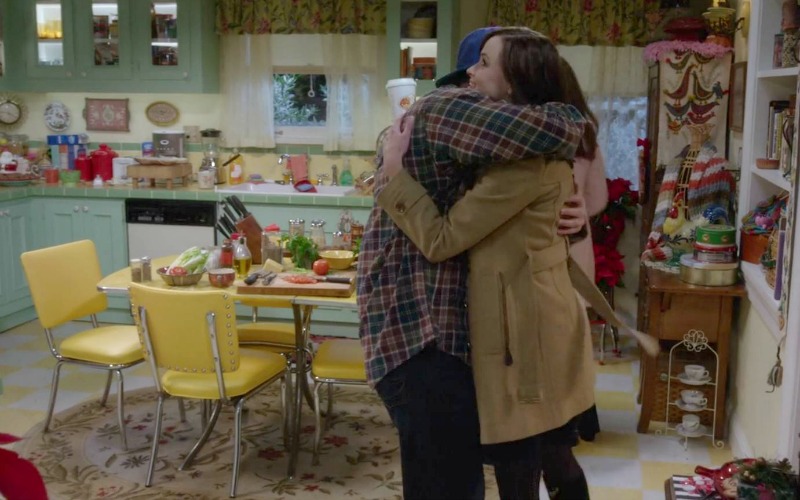 She has a new fridge since the original series (a Christmas gift?):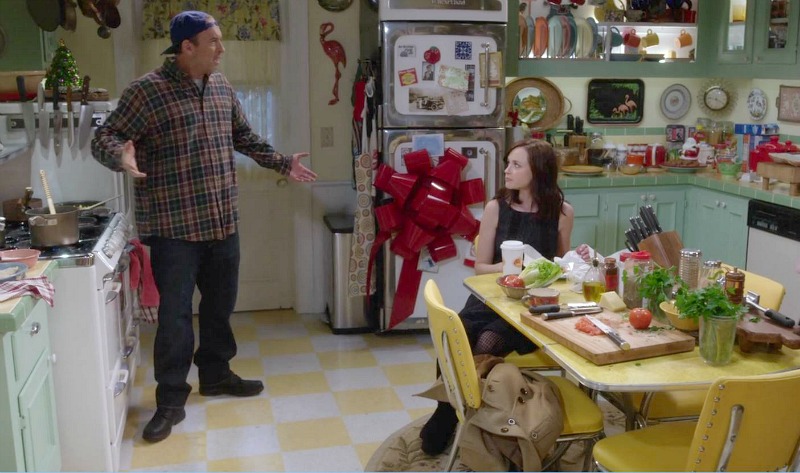 They had a basic two-door almond-white fridge before: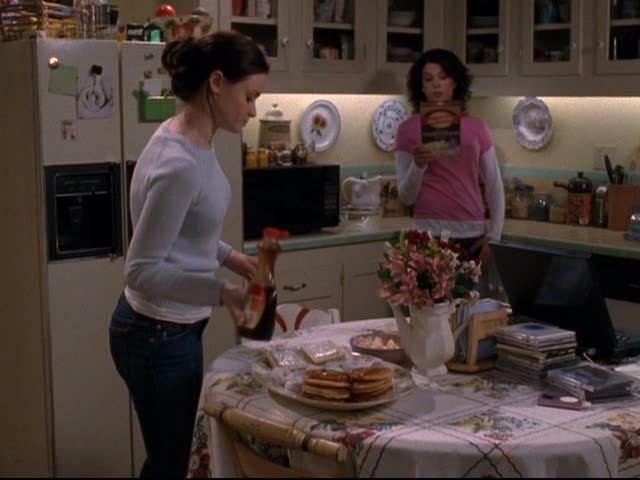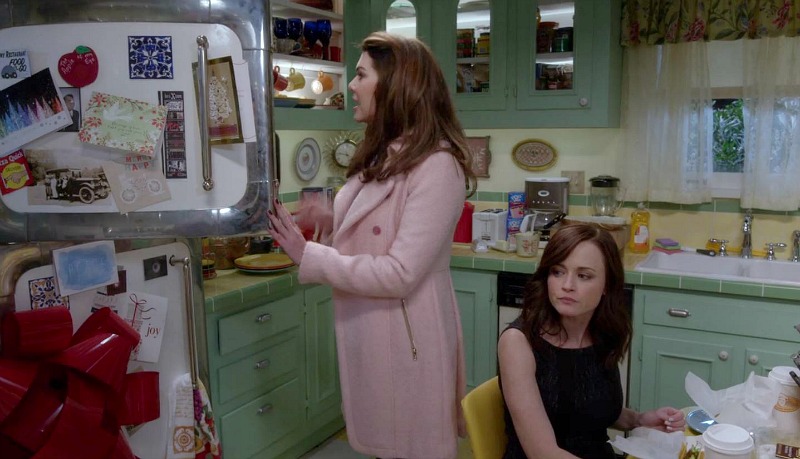 The kitchen also sports a bigger range, presumably because Luke is cooking in it now:
In early seasons of the show, the kitchen cabinets were white and the floor was wood-patterned laminate: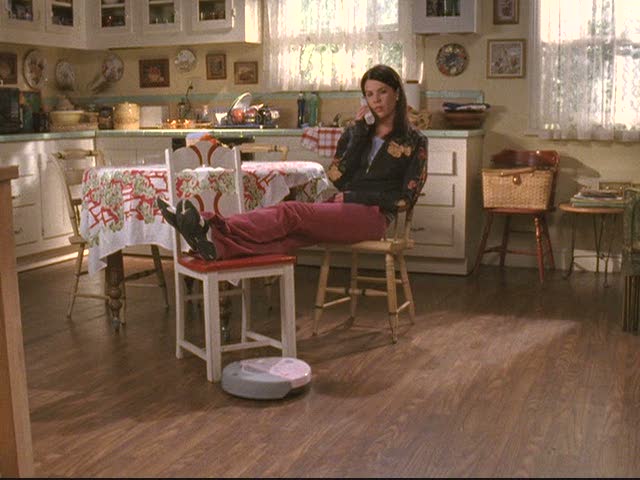 Now the cabinets are green and the floors are yellow and white: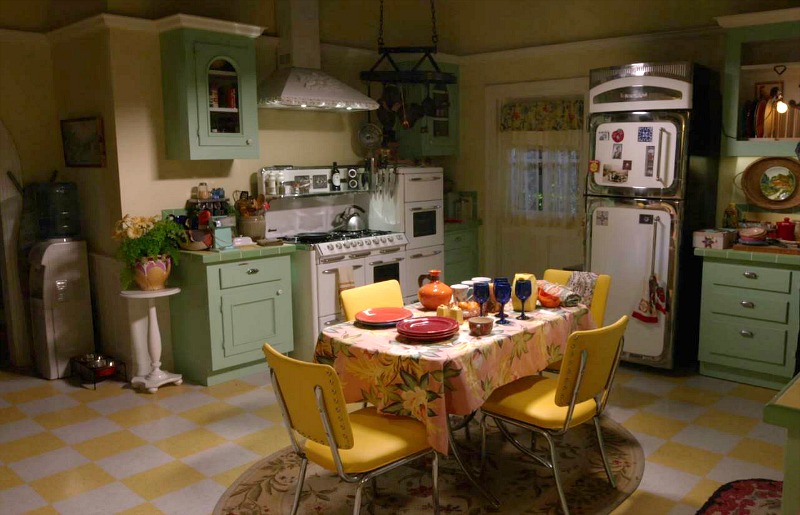 Ever notice how characters who leave through this kitchen door somehow
come out on the porch on the left side of the house? It's TV magic!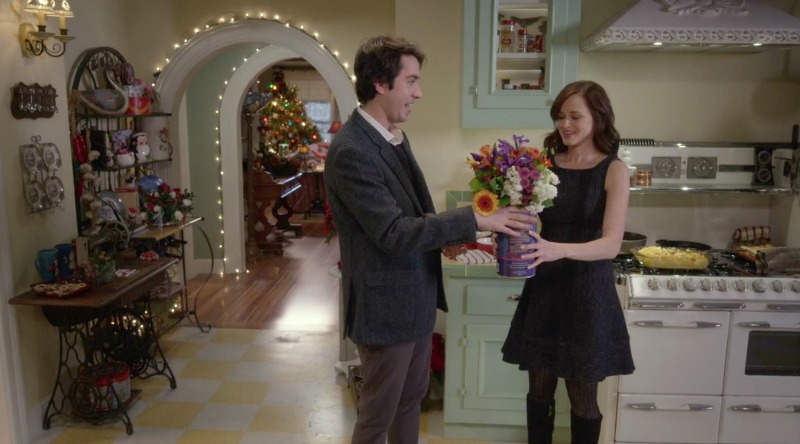 Rory's room hasn't changed much since the original series: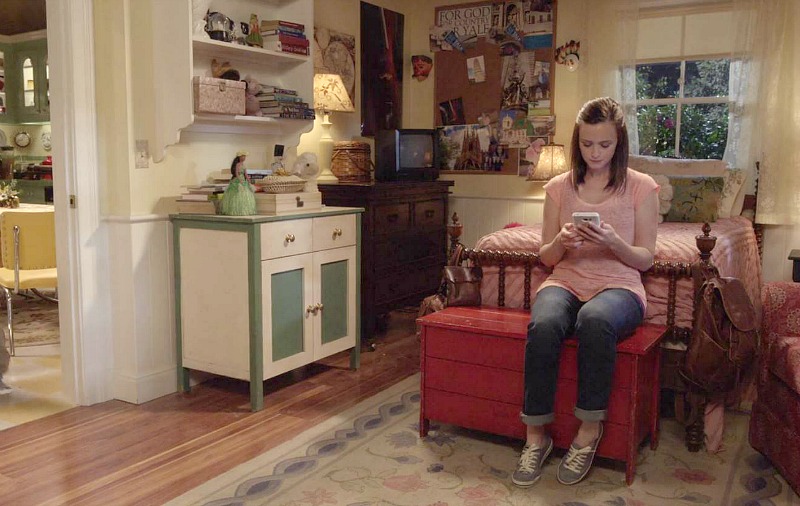 There is supposedly a first-floor bathroom that Rory uses, but I don't remember seeing it, do you?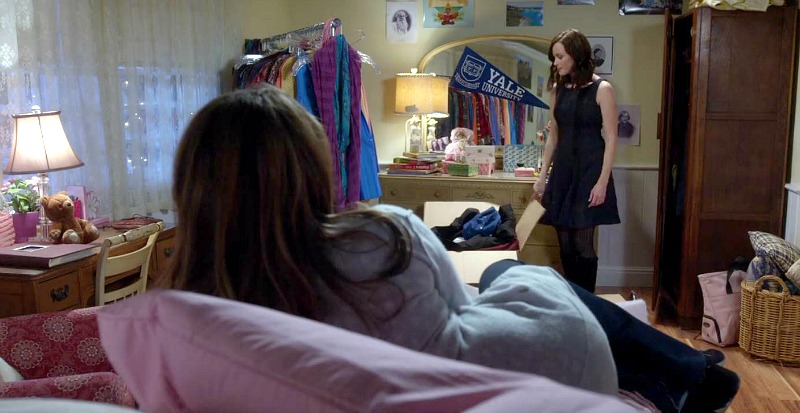 It may look like a fairly large house, but it only has two bedrooms — Rory's off the kitchen and Lorelai's upstairs: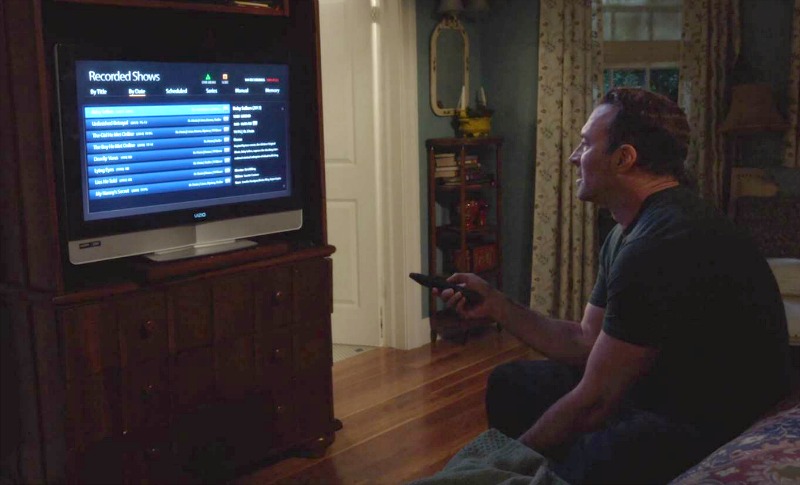 You may recall from the original series that Luke had "surprised" Lorelai with his family's heirloom furniture: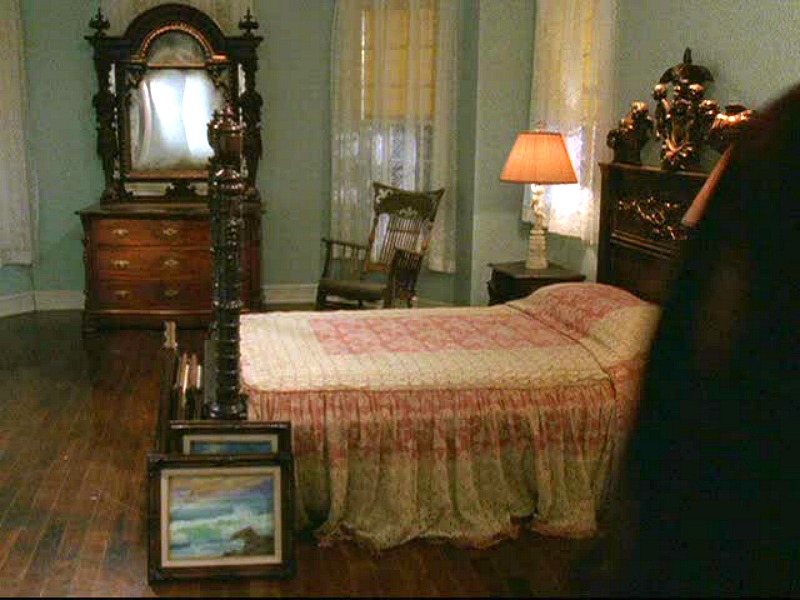 They've gotten a new bed since then: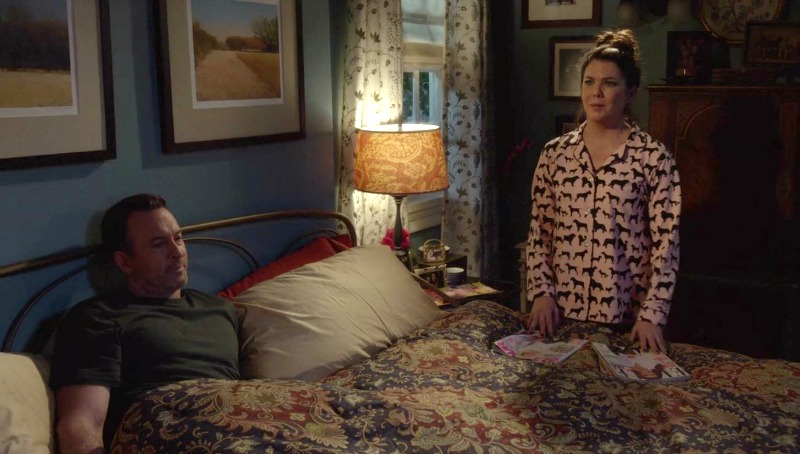 The only time we saw the real exterior of Richard and Emily Gilmore's house was in the pilot: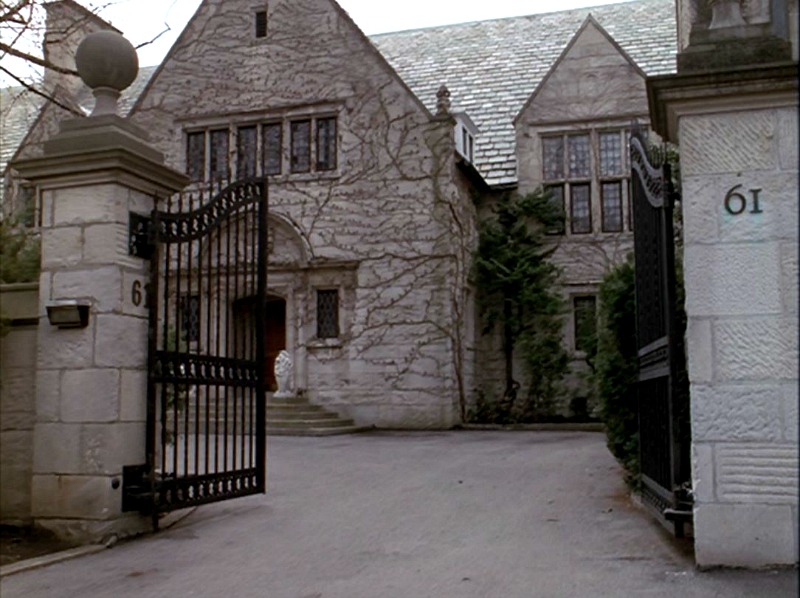 They shot those first scenes at a real house in Toronto, Ontario. Here's how it looks today: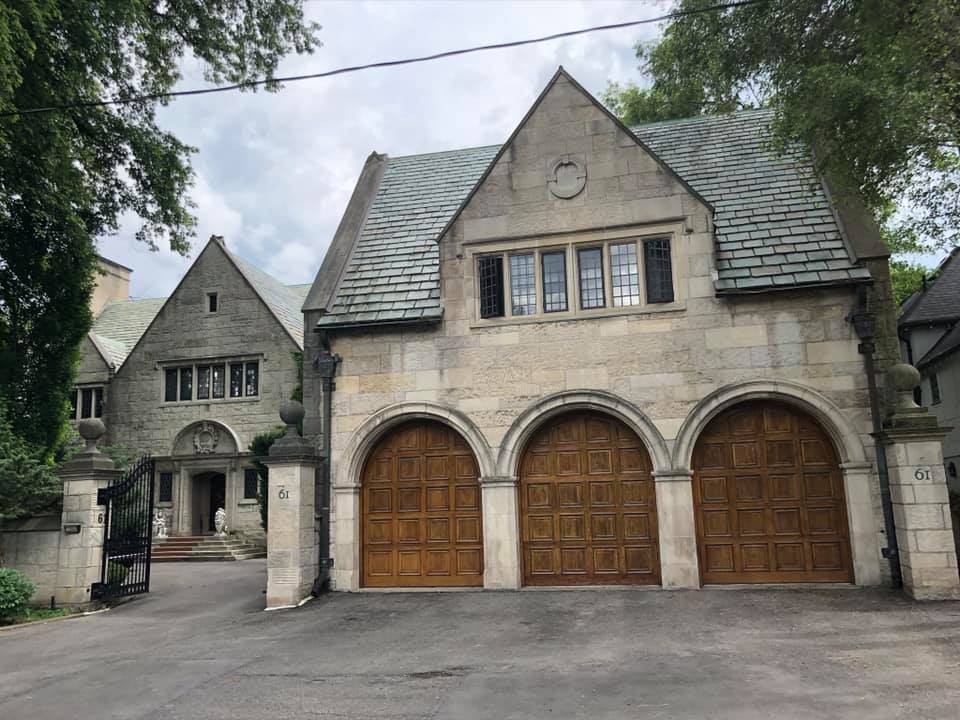 Derrick Henry took this photo of the house and says, "The original Gilmore mansion is located in the Rosedale part of Toronto. Beautiful house. Lots of history. Once had a great fire where this massive garage stands. The house also has a pool in the back. But sorry. No separate pool house like what Rory lived in for a short time. I've always preferred this house exterior to the one they carried on through the series."
The front drive and door were recreated on a soundstage: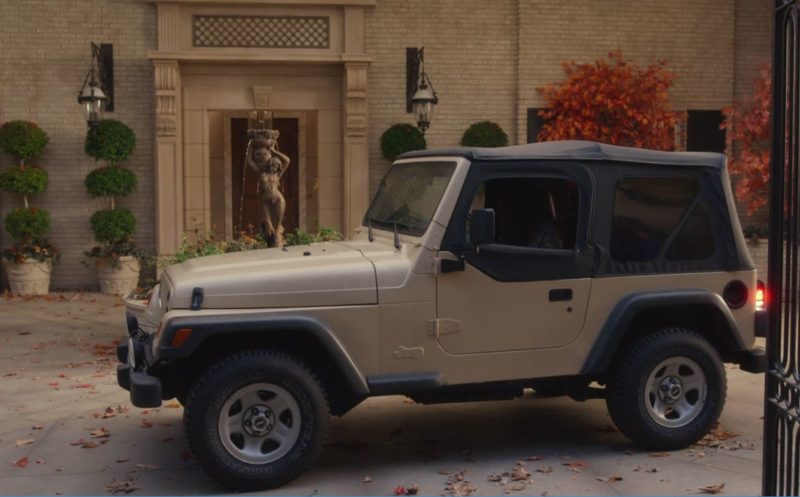 Early scenes were filmed inside the real house, and the living room looked like this: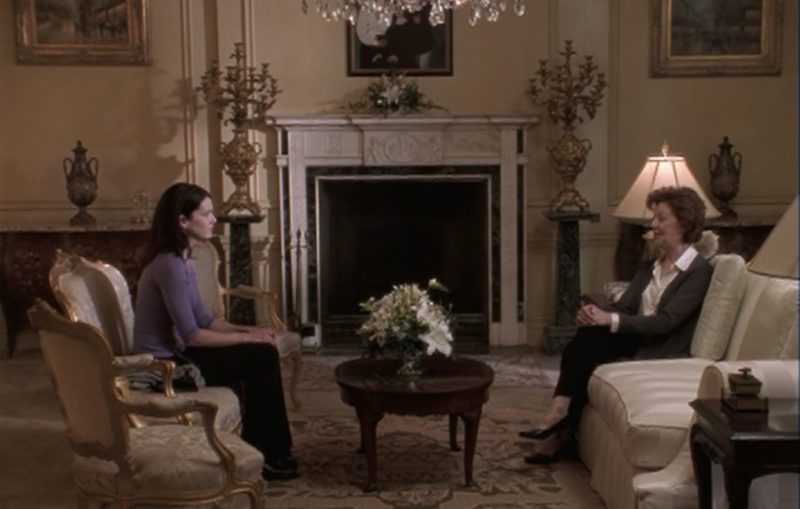 The interiors were then recreated in the Warner Bros. studios for the series: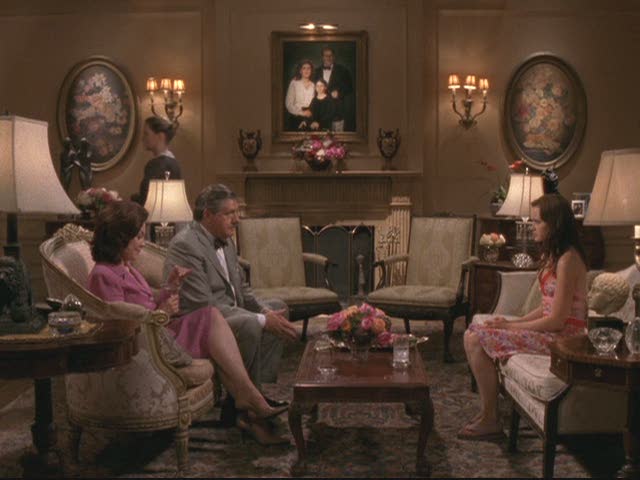 After Richard's death, Emily commissioned this (very large) portrait of her husband: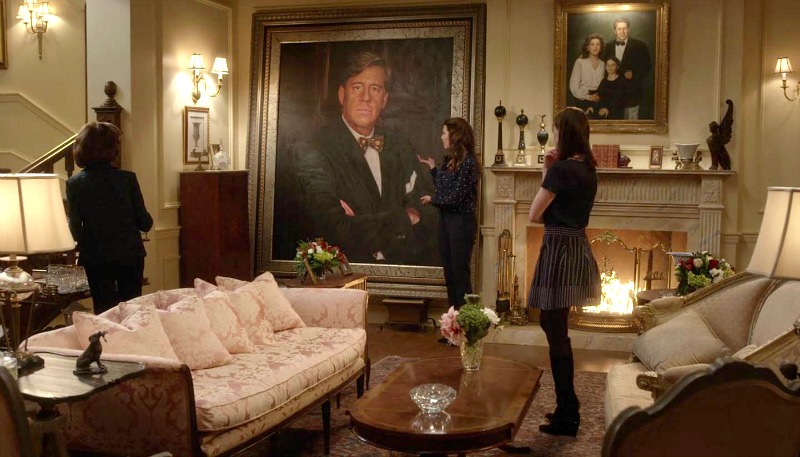 They often kept the cameras still during scenes in this house to reflect its formality: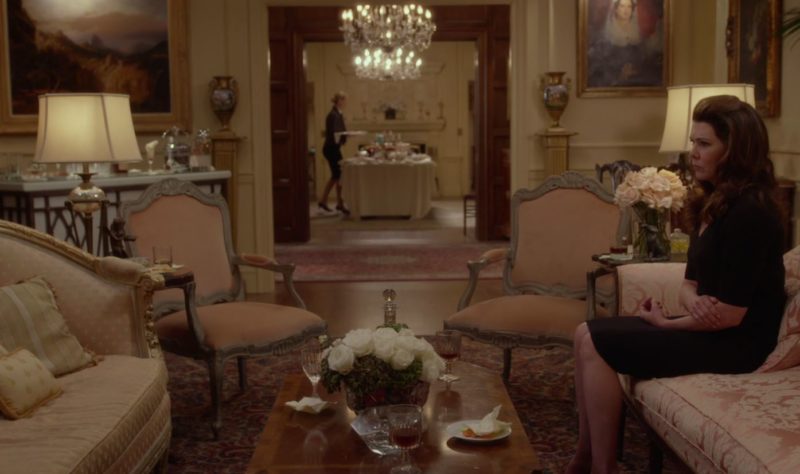 In contrast, the cameras follow the characters and move around a lot in Stars Hollow.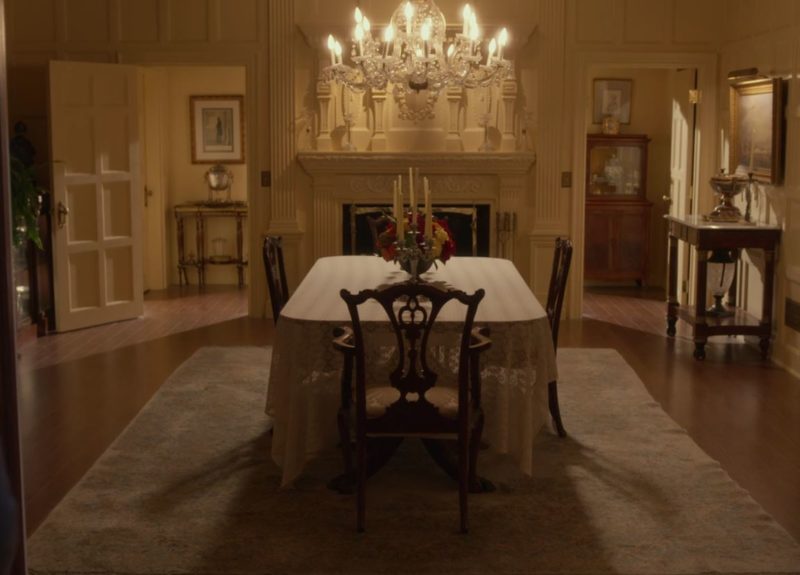 Did anyone else wish we'd gotten a glimpse inside the cool pool house where Rory once lived?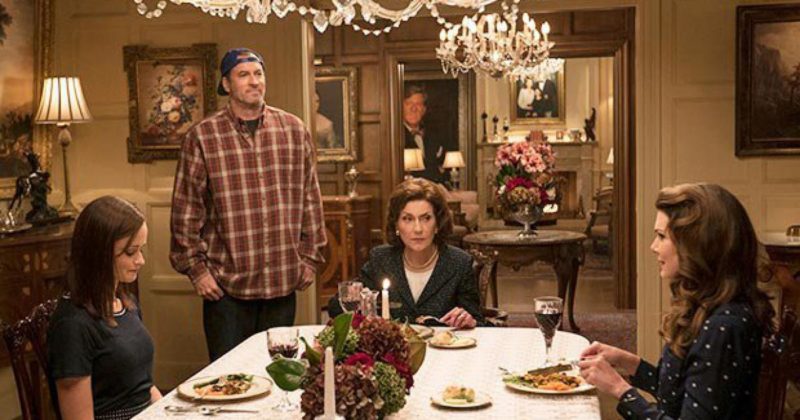 The Dragonfly Inn was originally built for several "Waltons" reunion movies filmed in the 1990s.
For "Gilmore Girls," they transformed it into a colorful and cozy inn: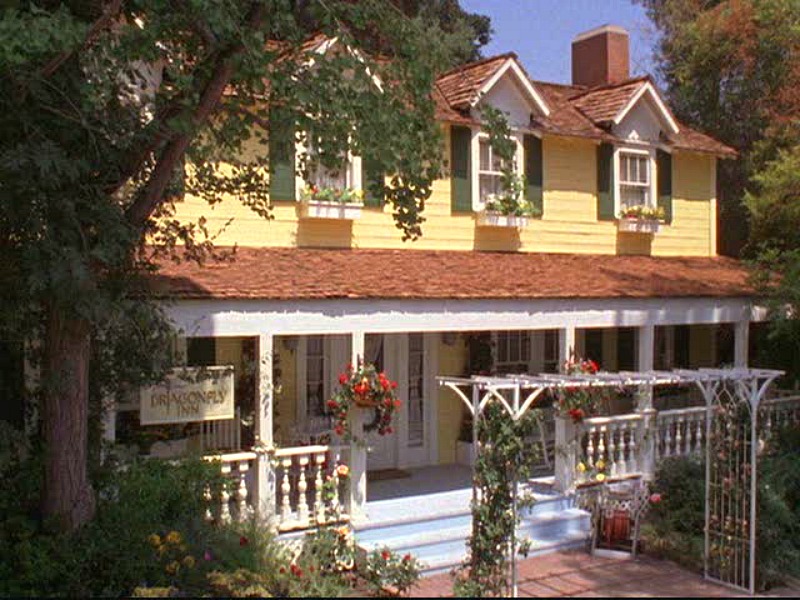 In "A Year in the Life," we only see the sign hanging on the porch (no full exterior shots, darn it):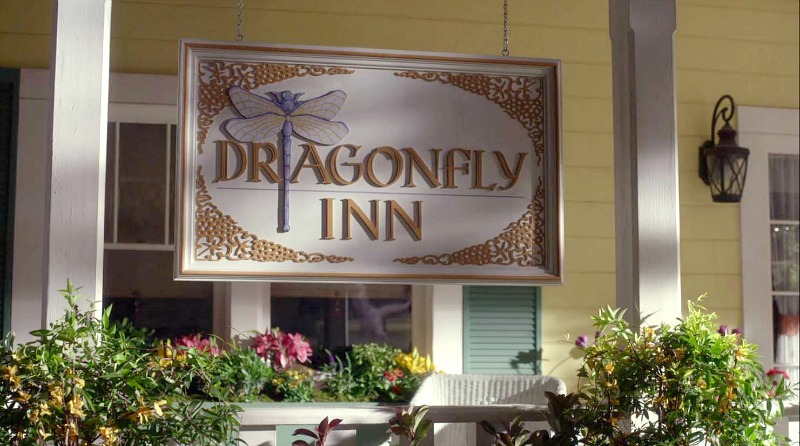 It's been over 10 years since Lorelai realized her dream of opening the inn, and now she's growing restless.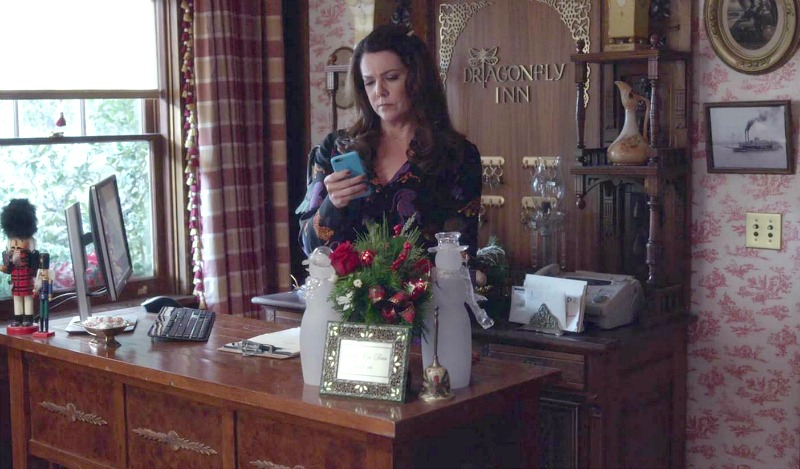 It's amazing how little has changed in the inn's decor since 2007.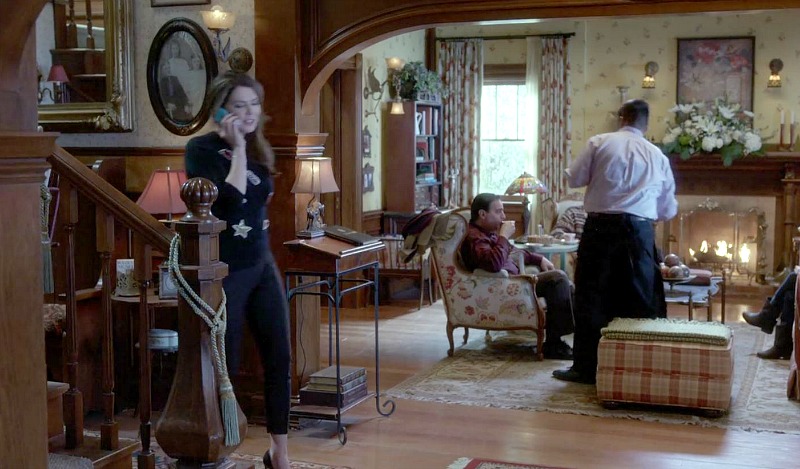 It must have been a challenge to recreate these rooms with so many details involved in each one!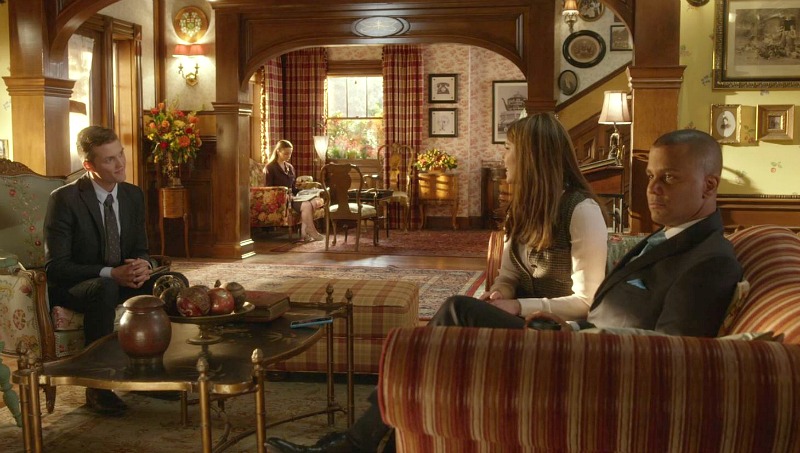 Some of my random thoughts and questions after watching the new episodes:
Richard Gilmore (Edward Herrmann) was definitely missed. Pass the tissues!
Since when does Stars Hollow have a community pool? Or a secret bar? (Of course it would only be hidden from Taylor, ha.)
I was shocked when I realized Emily's new maid Berta was played by "Gypsy" (Rose Abdoo). Didn't recognize her!
Made me laugh when they did the whole bit about the first-floor bathroom in Lorelai's house since we've never seen it.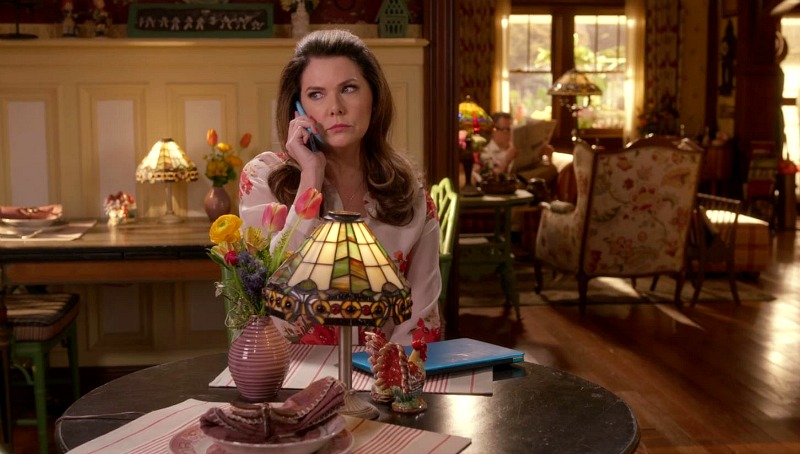 So there really is a Mr. Kim! Where's he been hiding all these years?
If Lorelai didn't send that nasty letter to Emily, then who did?
Loved that Emily bought that beach house and created a new life for herself there. I wanted to see more of it.
Why was Emily in Nantucket the night before Lorelai's wedding, though? She was planning to attend, right?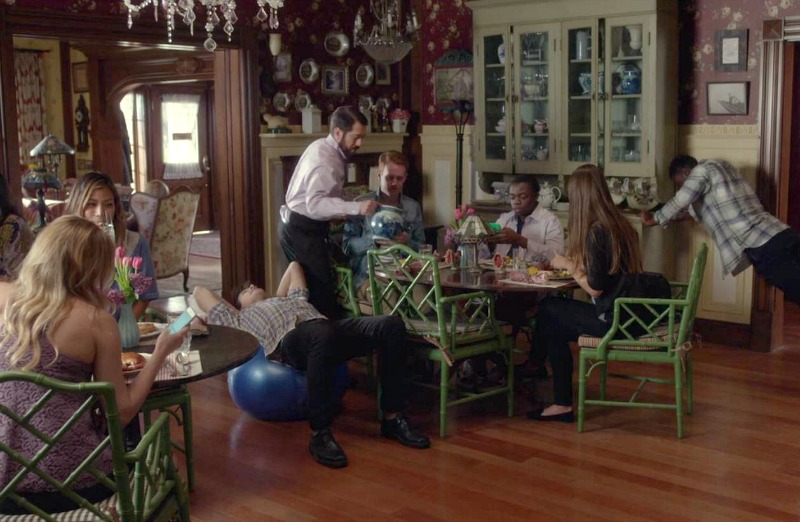 If there's going to be a Stars Hollow musical, I want to see some Stars Hollow residents in it. And not have it go on for quite so long!
How does a freelance writer afford so many plane tickets back and forth to London? And who flies home to the States for one day and then flies back again?
For most of the Life and Death Brigade sequence I thought it was just a bizarre dream Rory was having.
Why didn't we see Rory reading books or talking about literature like she used to? Who ARE you, Rory Gilmore? I'm not sure anymore.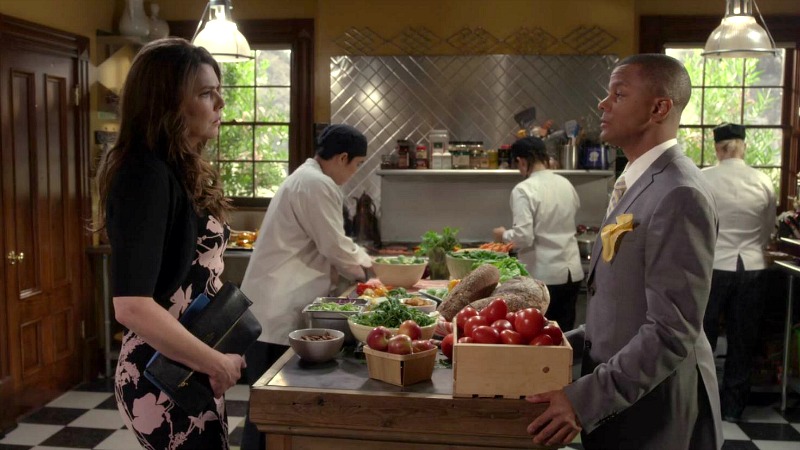 It was good to see most of the old gang in the new episodes, but I really needed more of Sookie.
Where are Sookie's children, BTW? Why would she leave them — let alone Lorelai and the inn — for two whole years? I don't understand!
I wish there had been more scenes with Jess, too. (Milo is so good in his new show "This Is Us." I'm obsessed with it.)
What's next for Rory after that bombshell she dropped on her mother? How will Emily react? The father is Logan, right? Will he ditch his French fiancee when he finds out or will Rory go it alone? Will we get more episodes to find out??? So many questions!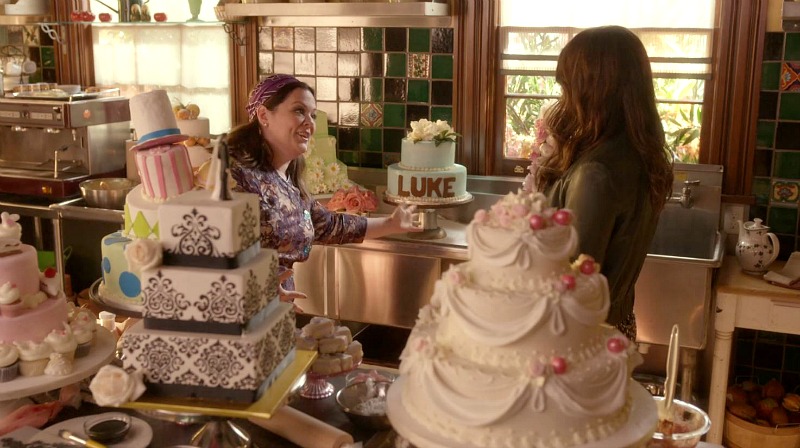 Overall, I enjoyed the revival a lot. I laughed and I cried. And wrote this very long post about it. 😉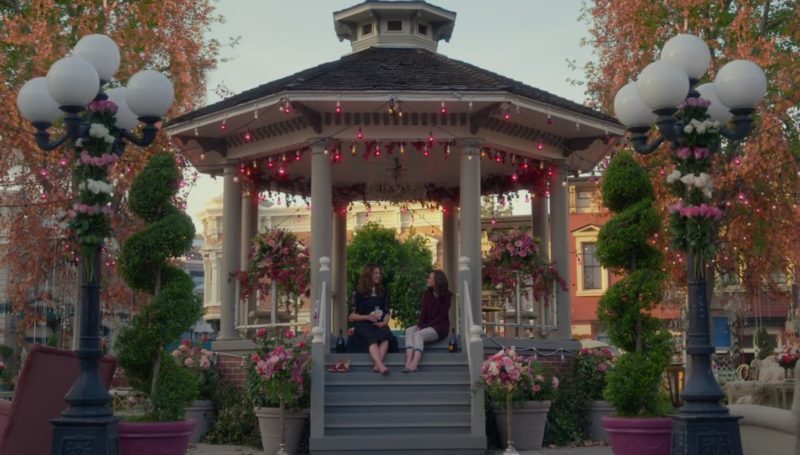 *Be sure to pick up a "Gilmore Girls" souvenir or two before you leave!*
(Amazon affiliate links below)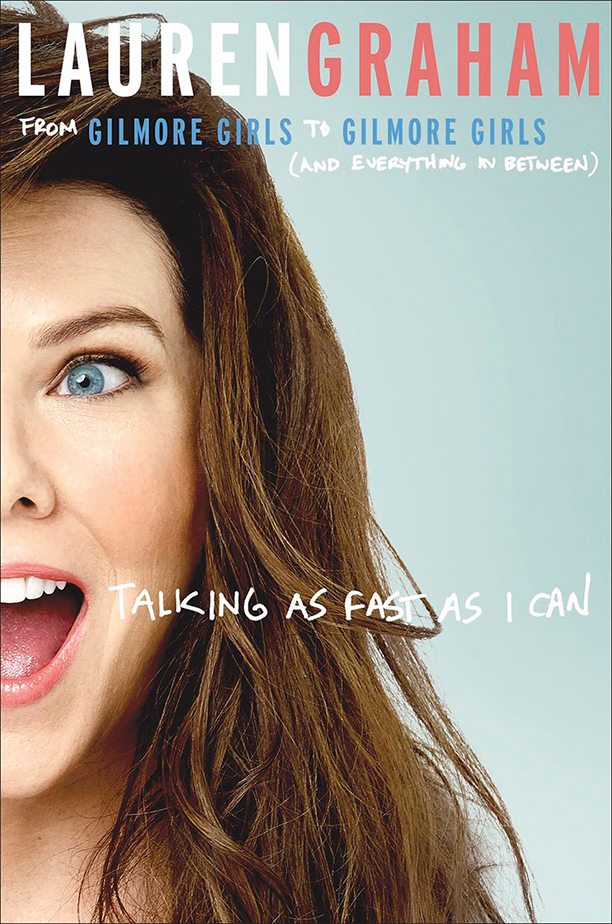 1. Can't wait to read Lauren Graham's new book, Talking as Fast as I Can.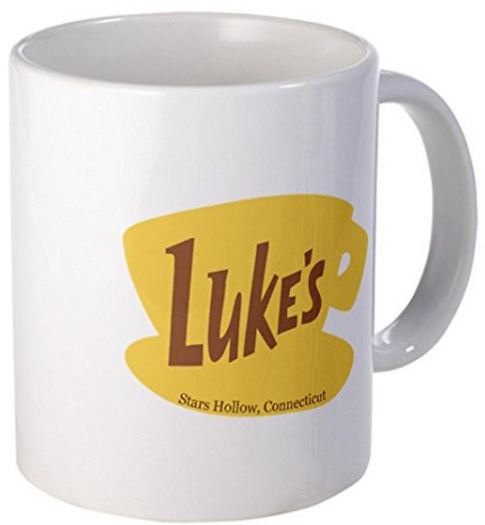 2. A Luke's Diner Mug. (Check out what it says on the back of the mug.)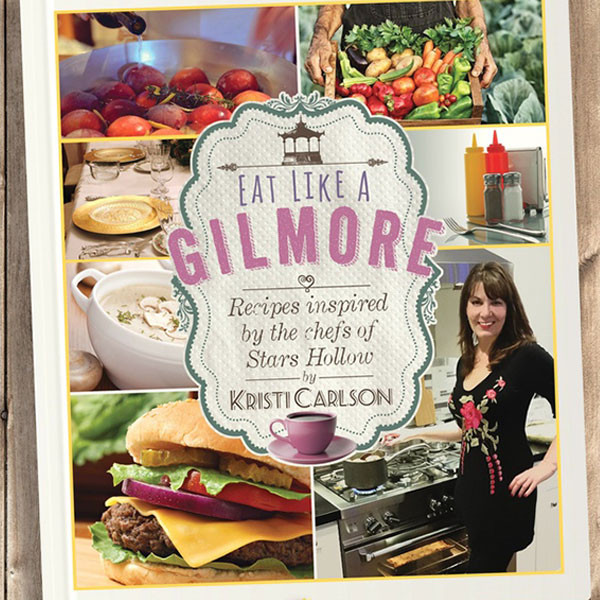 3. There's even an Eat Like a Gilmore Cookbook (but will I look like them if I do??)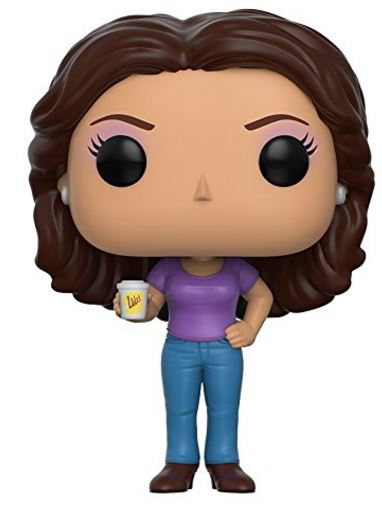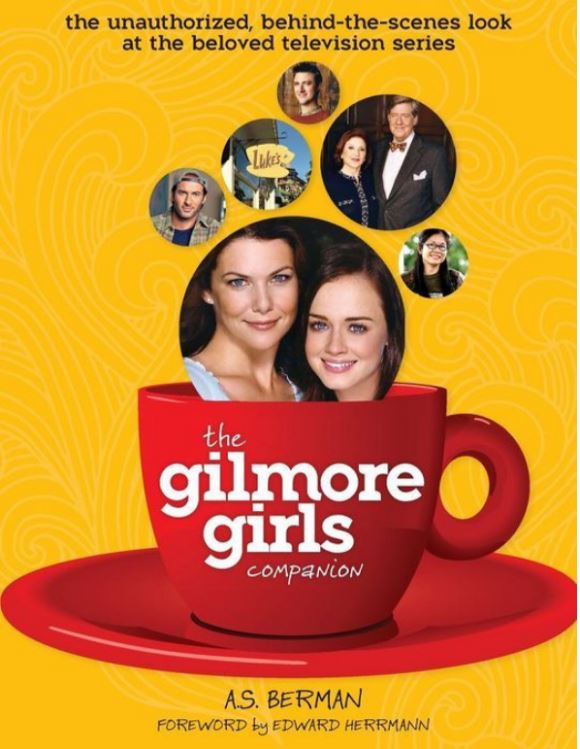 5. I refer to my Gilmore Girls Companion all the time — it's got the scoop on every ep!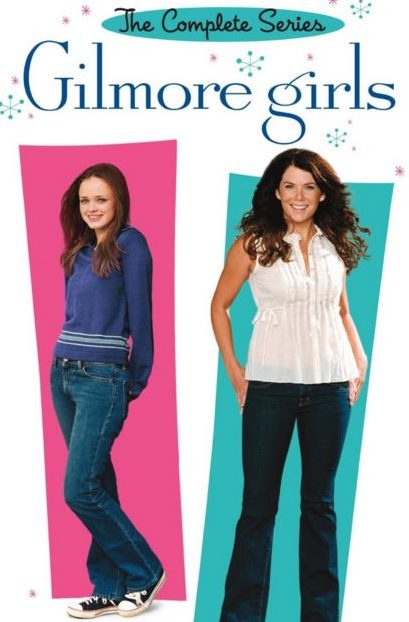 6. I own every season on DVD, and they have tons of special features.
What did you think of "A Year in the Life"? Did you enjoy revisiting Stars Hollow as much as I did? Were you shocked by those final four words or did you see them coming?
For more show trivia and photos from the original series,

Visit my Houses Onscreen page to see the others I've featured, listed A-Z.