I questioned how helpful those Success Path Seminars were and asked to hear from those of you who had attended. Many of you wrote in to share your stories.
A reporter recently attended one of the seminars in Dallas and wrote an article saying he "felt duped" by the experience. He had a sense of humor about it, though. When Tarek and Christina didn't show up, he resorted to taking a selfie with their poster. 🙂
3. Did you know John & Sherry of Young House Love now have a Coloring Book and a Podcast?

4. Melissa of The Inspired Room has her own Coloring Book, too–> Creative Spaces to Decorate
6. I'm a little obsessed with BBC's "North and South" miniseries (and Richard Armitage, ahem).
So I got a kick out of a series on KC Kahler's blog, where she combines screenshots from "North and South" with fake news headlines from The Onion. She also has a series from Jane Austen movies, like this one from Emma:
7. Julia Child's cottage in Provence is now a holiday rental, which means you can cook in her kitchen!
A Few Things I'm Loving Right Now:
These shoes. I walked all over Seattle in them and they were the comfiest ever.
This novel. It may be the first one everyone in my book club liked. No argument!
On a personal note, I've been trying to restore some much-needed life-work balance this year. This book inspired me to make some changes. A friend recently said, "Last year you were a big ball of stress, but you seem a lot happier now." So true. 
As part of my ongoing attempts saving time and sanity, I'm going to close comments on the blog from time to time and give my inbox a breather. Moderating them keeps me tethered to my computer, and I need to take more breaks from it.
I'm also posting less frequently than I used to, so you might want to subscribe to my newsletter if you want to be notified whenever I have something new to share! 🙂
*Yep, this post has affiliate links. Thanks!
Hi guys! Hope you had a nice weekend. Crazy high winds knocked out our power for a big chunk of it. We were grateful for…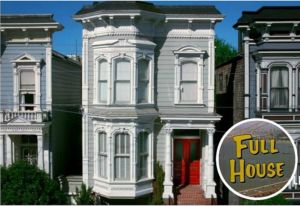 1. The "Full House" Victorian is back in the Tanner Family! In this edition of "House News," I've got some stories to share with you, starting with an…