Hi guys! Hope you had a nice weekend. Crazy high winds knocked out our power for a big chunk of it. We were grateful for our gas fireplace, but we need to buy more of these (Amazon affiliate link)!
Let's kick the week off with some fun links, starting with a grand estate on the French Riviera where Cary Grant and Grace Kelly filmed scenes for Alfred Hitchock's romantic thriller To Catch a Thief.
Note: The links to products on Amazon in this post are affiliate links that may earn me a commission but won't affect the price.

Sanford Villa in "To Catch a Thief"
More "To Catch a Thief" filming locations and info here.

Speaking of Cary Grant, I loved this charming story told by a woman who met him.
The most-searched-for Cary Grant movie house on my blog is this one…
But this one's my sentimental favorite!

You can stay here–> A 19th Century Converted Windmill in France.
The Tudor-style cottage where Orson Welles lived while working on "Citizen Kane."
Hard to believe this castle is on the West Coast instead of Europe.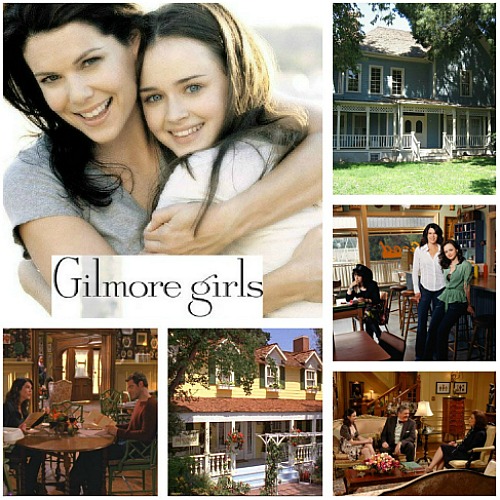 I'm following the latest news and updates on the "Gilmore Girls" reboot here.
Did you know they also make Stars Hollow tote bags and t-shirts?
Gonna pass on this one, though. 🙂
Anyone else excited about the "Gilmore Girls" return on Netflix? Can't wait! I started watching the series again from the beginning (the DVDs have great behind-the-scenes features and interviews) and just found this book about the show with a foreword by the late, great Edward Herrmann (aka Richard Gilmore).

*Links to Amazon products are affiliate links. Thanks!
Let's kick off the week with some fun links and "house news," starting with singer Linda Ronstadt's pink house. I featured it when it went on the…
1. You can rent this adorable white cottage for your next vacation in South Carolina. 2. Remember when I told you about Christina & Tarek's Real Estate…