This sweet little Spanish bungalow was built in 1928 near the beach in Ventura, California, but hadn't been updated much in the decades since. Thanks to the Roger Understiller Family, it recently got a beautiful remodel. Here's how the house looks now…

The Spanish Bungalow Today:
Dorie, whose blog I've followed for years, worked on the house with her family and says they bought it from a woman who had lived here since the '70s.
The Porch Before:
"I knew the second I saw this little house that I wanted to strip the paint off that wood on the front porch and stain it to add some warmth," Dorie says.
After:
Front Door Before:
They painted the door "Lagoon" (Sherwin Williams):
The house has 3 bedrooms, 2 baths, and 1,474 square feet
Living Room Fireplace Before:
Fireplace Wall Today:
They replaced the old wall-to-wall carpeting that had been throughout the house with hardwoods.
Hallway with Original Built-ins Before:
Hallway After:
The Tiny Kitchen and Nook Before:
They knocked down walls between the old dining room and kitchen to create one big space.
They used a pretty, patterned Merola Tile on the backsplash.
The former kitchen nook is now a laundry/mudroom:
The Back Door:
One-Car Garage:
The Private Walled Backyard:
Before and After:
Dorie says "It was only on the market for about 2.5 seconds before someone snatched it up," and I can see why! Visit her lovely blog Tuesdays with Dorie for more photos and information about the project and to see more houses she and her family team's fixed up over the years. 🙂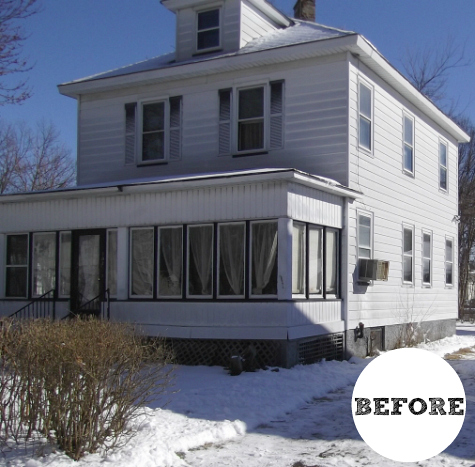 (Visited 1,693 times, 2 visits today)