Hi, friends! To kick the week off, I thought I'd share some of the house stories and other things that caught my eye over the weekend, starting with an abandoned mansion from the 1930s in New York…
Note: This post contains affiliate links that may earn me commission without changing the price.

A Mansion Frozen in Time
Abandoned since the 1970s, this house has a "frozen in time" creepiness with closets full of shoes, pianos, abandoned dolls and toys, and others signs of former life to be found in it. There's something hauntingly beautiful about empty rooms like these.

Adding a Porch
Melissa is a reader who runs a space planning and organization business in Boston, and she wrote me about how she added a generous porch across the front of her house. Visit her blog to see how it turned out. Hard to believe it's the same place!

What Happened to Target in Canada?

An in-depth look at why Target didn't work in Canada. My Canadian readers will have to let us know what it was like shopping there when they were still open and whether it as bad as the article says!

Vintage-Style Light Fixtures
When we moved into our house, the builder had installed those dreaded "boob lights" everywhere in brassy gold. I couldn't get rid of them fast enough. There are so many better options now, though, that almost wish I'd waited!
I stumbled across these vintage-style fixtures today, and they're on sale (Amazon affiliate link).
They also have Drop-Down Pendant lights in this stylein both the black/rubbed bronze look and in chrome (Amazon affiliate link). I already replaced all mine, but maybe you could use them! 🙂

The House of the Seven Gables
Considered one of the Great American Novels, Nathaniel Hawthorne's The House of Seven Gables(Amazon affiliate link)) was inspired by this one. It was built in 1668 and is still standing in Salem, Massachusetts, where it's now a museum.
In preparation for its 350th anniversary, they're raising money for a $200,000 renovation project. You can watch a video of the house and its secret staircase (mentioned in the novel) on CBS Boston's website and read more at the Secret Rooms Project.

John Steinbeck's Former Writing Studio
Speaking of great American writers, John Steinbeck used to work in this charming writing studio. It's now a vacation rental listed on Airbnb.

Choosing Absence Online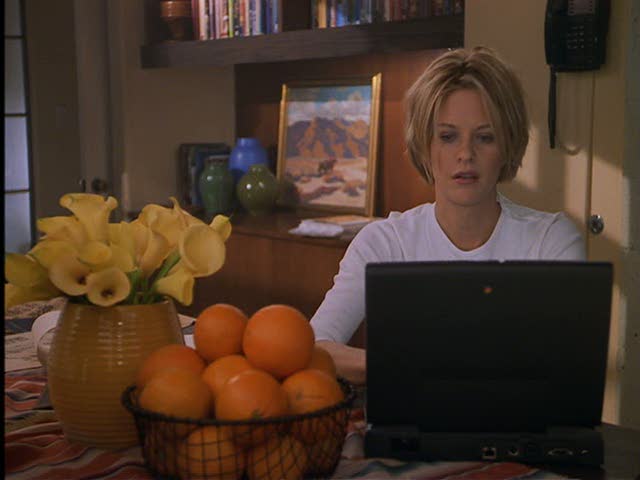 (BTW, I look just like Meg Ryan when I'm working on my laptop. 😉 )
When I read Kate's post about Choosing Absence Online, I did a double-take because I felt like I could've written it myself. I've even been blogging the same amount of time she has — a little over 8 years.
I used to kill myself trying to post 5-6 days a week, saying yes to every opportunity that came my way, and being active on all the social media hot spots. I was stressed out pretty much all the time because it was impossible to ever keep up.
I've taken classes and read a million articles on Pinterest, Instagram, and Facebook, etc., and the advice they give is often Crazytown to me, like "Post 20-30 times a day while simultaneously patting your head and rubbing your stomach in a counter-clockwise direction."
It can be so discouraging to be told you should be doing a million other things when you're already struggling just to get blog posts written and email answered each week. Sure, there are bloggers who can do it all brilliantly, but I learned I'm not one of them! So these days I try not to worry about keeping up with everyone else. Blogging is a lot more fun that way.
Whether you're a blogger or not, I think it's smart to remember that much of our online time is optional. This book (Amazon affiliate link)was a real eye-opener for me last year and changed my perspective on a lot of things. I realized I don't want to spend so much time writing about houses that I never have a chance to enjoy my own life at home! 🙂

*Affiliate links in post
(Visited 38 times, 1 visits today)