Hey, there! I've been enjoying some time off this week, hanging out with my son Jake, who's on his Winter Break, and working my way through a stack of great books.
I've also been keeping up with the real estate listings. This sunny yellow Gothic Revival-style home caught my attention, so I'm popping in today to share it with you. It was built in 1845 on a hill overlooking the Hudson River in Nyack, New York. Take a look!

The William Dickey House on the Hudson
The Entry Hall:
The listing says:
Since the middle of the 19th century, the William Dickey House has been the centerpiece of what many consider Nyack's most desirable block. The mansion has been beautifully restored, preserving its Gothic Revival detail while adding features including new heating systems and a Vermont slate roof.
Living Room:
One of the original fireplaces in the house:
His 1892 obituary reported that William Dickey was a prominent boat builder:
"Mr. Dickey was actively identified with the early history of Nyack, and was one of the few who have been permitted to watch its growth from the time it was a mere hamlet until it is now a flourishing town, with bright promise of becoming a city in the future. He was born in this place on September 2, 1808, and has nearly always resided here.
"In his boyhood he had a strong taste for boating, which he gratified to the fullest extent. From this he acquired a desire to built boats in accordance with his own ideas, and he learned the trade. He was a boss builder here for about 25 years, during which he constructed many popular boats, several of which are yet running and doing good service."
I imagine as a boat builder he enjoyed the river views from the bay windows…
…and the second-story balcony:
It's a big house with over 6,500 square feet.
According to Circa Old Houses:
"It is currently configured for three families with a three story, 4,900 sq. ft. owner's residence. Legally a four family, the inherently flexible design can be adapted to many possible uses while retaining the home's historic charm." So, hey, you could earn some rent money while you lived here, too!
Could those windows be any bigger? – Channeling Chandler. 😉
The house has three stories and a 19th-century carriage house on the property.
It's on the market and there are more photos in the listing. I like yellow houses, but this is a bit bright for me. If I had a Gothic Revival I'd probably go the classic route like this or this. I think it has a lot of potential, though. I'd kill to have that much natural light in my house! How would you decorate it if you lived here? 🙂

P.S. There are some gorgeous old houses in Nyack. Remember this one?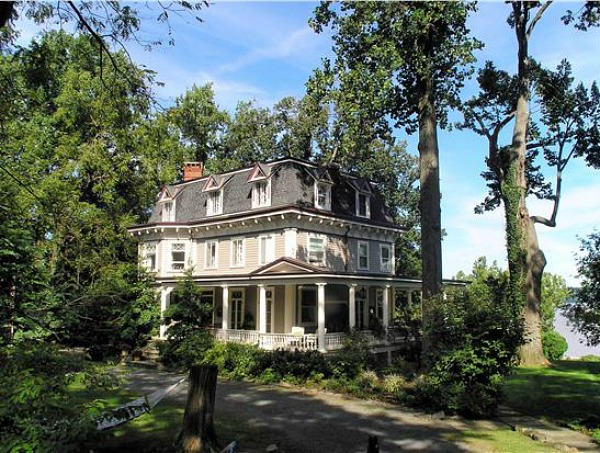 When a reader told me about this one-story house built in Ross, California, I was intrigued by its H-shaped floor plan. It was designed by…
The Schoenborn Residence in Los Feliz, California, was one of the first houses designed by the celebrated architect Wallace Neff in the 1920s. When it went on…