I made a "dream collage" years ago with photos of pretty lake houses I'd like to live in. Two of the houses I've owned since then have had drainage issues in the backyard, so maybe I should've been a little more specific when I said I wanted a house on the water (ha). This lovely 1920s lake house is for sale in Connecticut and would go on my collage if I were creating one today!

A Lake House in Riverside
It was built as a farmhouse in 1921 but has been updated since then.
The Sotheby's listing says:
This artfully updated and expanded Riverside beauty incorporates all the essentials for a busy household. Enjoy an idyllic lakeside setting on a quiet crescent with approximately two acres of grass surrounding the water, and sunset views from the front porch.
"A wide center hall off the front vestibule is flanked by living and dining rooms and opens through to a new family room with fireplace and French doors to terrace and yard beyond."
"Classic elements of high ceilings and great light from long windows of the original farmhouse have been retained, and important features for today's lifestyle have been added and upgraded."
 It has 5 bedrooms, 3.5 baths, and 3,500 square feet.
A Sunny 3rd-Story Playroom:
This family room has not one but two bay windows:
A cozy green kitchen:
It looks so friendly with the kitchen nook and big bay window, doesn't it?
The back of the house has a brick patio and beautifully landscaped yard:
The lake, which is surrounded by old houses:
The listing says, "Extras include a mudroom, wine room, exercise area, and a private garden-side patio. Shared green space and winter skating on the lake add to neighborhood enjoyment."
For more photos and information, check Heather Platt's Sotheby's listing. I think it's time for me to create a new "dream collage" and add this house to it! They're asking $2.7 million, but might as well dream big, right? 🙂

P.S. Visit my Waterfront Houses page to see more favorites, including…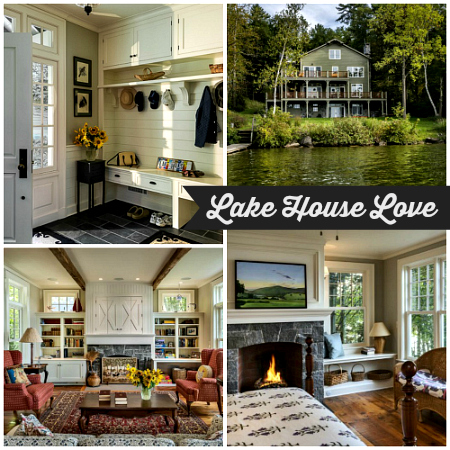 This charming old house is on the market in Searsport, Maine, a town known as "The Home of the Famous Sea Captains." This Victorian, which was…
The listing for this $14.9 million mansion in Franklin Lakes, New Jersey, dares you to "Be moved by the Russian Empire-inspired interior, which exudes a myriad of…