Naomi Watts and Liev Schreiber are selling their former vacation home in the East Hamptons. The listing describes the shingle-style house in Amagansett as "A charming blend of beachcomber chic and traditional style."
Sounds good to me. Let's take a look!

Naomi Watts & Liev Schreiber's House in Amagansett:
They bought the house in 2007 for $6.1 million. They're asking $5.8 million.
Living Room with Vaulted Ceilings and a Bluestone Fireplace:
Dining Room:
There are 5 Bedrooms and 7.5 Baths:

The listing says, "The master bedroom suite with spacious sitting room and terrace occupies
its own wing accessed by a private staircase."
The couple, who never married, announced recently that they have separated after 11 years together.
Their official statement read:
"Over the past few months we've come to the conclusion that the best way forward for us as a family is to separate as a couple. It is with great love, respect, and friendship in our hearts that we look forward to raising our children together and exploring this new phase of our relationship."
Naomi Watts played Princess Di in the 2013 biopic Diana.
When it came out, it was widely panned and didn't do well at the box office.
She later said about the movie, "With risk there is every chance it's going to fail.
If you have to go down with that sinking ship, so be it."
The Kitchen with Marble Countertops:
Great Room with Stone Fireplace:
Liev Schreiber stars in the Showtime drama "Ray Donovan." A few of you have written to ask me to feature
his house from that show. Have you seen it? I like his real house better. 🙂
Long before he headlined "Ray Donovan," he was in the Meg Ryan-Hugh Jackman comedy Kate & Leopold.
Liev Schreiber played Stuart, a character that couldn't be much more different from the one in "Ray Donovan!"
Liev Schreiber and Naomi Watts have two young sons, Alexander and Samuel.
According to the Sotheby's listing about their vacation home in the Hamptons:
"This sublime 6,061 sq. ft. shingle-style cottage is set privately on one of the largest parcels in the heart of the Amagansett Lanes.
"Enjoy sun all day outdoors where bluestone terraces, separate green spaces and a gunite pool are integrated with beautiful gardens and lush evergreens. A delightful pool house offers a pergola covered terrace with outdoor brick fireplace, an interior fireplace, full bath, central air and heat."
For more photos and information, check the Sotheby's listing. Some of their famous neighbors whose houses I've featured include Jerry and Brooke. Visit my Celebrity Houses page to see them all! 🙂

Oprah Winfrey just paid $14 million for this amazing high-tech "treehouse" that sits on over 3 acres in the Telluride mountains. She bought it from…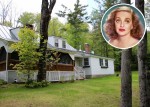 I'm always fascinated by anything to do with Old Hollywood, so I was excited to learn about the property that screen legend Bette Davis owned in the White…