I thought I'd kick the week off with some stories that caught my attention, starting with a replica of Bilbo Baggins' hobbit house (above) that was built in Pennsylvania (below).


A sneak peek at the new Tanner house they're building for "Fuller House."
Homeowner gets fed up with crazy fans, closes "Goonies" house to public.
Inside the English manor that may have inspired Charlotte Brontë to write Jane Eyre.
Anyone else like to revisit Thornfield Hall on cold, rainy days in November? 🙂
A house in Michigan that's perfect for cold days when your kids are climbing the walls (literally).
A listing for a house in Connecticut that had me truly puzzled. Would love to know the story behind it!
Many thanks to the readers who sent me some of these links! If you have something you'd like to share with the group, you can contact me here. 🙂

1. Cindy Crawford's Vacation Home on an Island in Ontario was Featured in Vogue 2. A year after closing their blog Young House Love, John…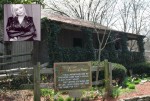 Did you see the sweet TV movie "Coat of Many Colors" about Dolly Parton's childhood? She grew up with her 10 siblings in a small one-room…