Muskoka Living Interiors designs dreamy waterfront "cottages" in Ontario. This lake house is called Windover, and it comes with a beautiful boat house where guests can stay in style.

Windover Lake House:
Muskoka Living describes the project: "Stunning views of the northwesterly shores of Lake Muskoka inspired this iconic design build project, where the natural beauty of the external surroundings led to the graceful serenity of the internal aesthetic."
Blue Kitchen:


Inside the Boat House on the Water:
Muskoka Living says, "A seasonless nostalgia is exemplified in this space, a structure reminiscent of double-slip boathouses from bygone eras complete with perfectly appointed nautical embellishments. Layers of texture, greyed woods and weathered furnishings warm the crisp palette of a welcoming guest retreat."
The minute you see the painted floors, you know this isn't an ordinary boat house!
Visit Muskoka Living to see more of the houses they've designed and learn more about their work (photography credit: Michael Graydon).
I love all the shiplap and other kinds of woodwork they put into their houses. The problem with a vacation home like this is that I'd never want to go back to my real life! 🙂

P.S. Visit Lake Houses to see more, including…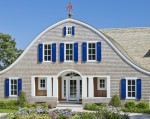 This waterfront home makes me smile. It was inspired by classic 19th-century shingle-style summer houses but has a touch of whimsy about it, from the unexpected swoop of…
HGTV tried something different with their Dream Home for 2016. Instead of building a new house, they remodeled an existing one in Merritt Island, Florida. Take…