I like a classic white kitchen with white subway tile as much as the next girl, but sometimes when I'm scrolling through Pinterest and seeing one after the other, they all start to look the same. This one got my attention because designer Katie Rosenfeld brightened up her client's white kitchen in Atlanta with a pretty green backsplash and pink accents.
Rosenfeld calls the project "The Pink Lady," and says, "This top to bottom historic renovation and decoration project was completed over a two-year period and is one of the most bold color stories I have ever worked with. My mandate: use hot pink in every room. Mission Accomplished."
The dog-silhouette wallpaper in what appears to be a hallway off the kitchen made me smile:
A new butler's pantry was created as part of an addition to the house designed by architect Frank Neely with honed marble countertops Benjamin Moore's "Rosemary Green" on the cabinets:
Homeowner Katie Newsom says she always loved happy color combinations like kelly green and pink but originally planned for an all-white kitchen.
Then she fell in love with the Osborne & Little fabric "Maharani." Rosenfeld says, "It had that preppy vibe Katie loves and looked great against the white."
I have some of this happy shade of green as an accent color in my own white kitchen, and this makes me want to add more of it! For source information about the "Pink Lady" project: Atlanta Magazine and Katie Rosenfeld's website (Photos by Emily Followill.)

P.S. Visit my Kitchens page to see more, including…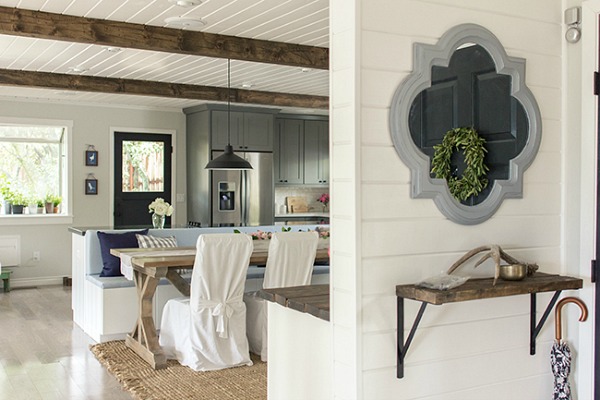 Jenna Sue's
(Visited 5 times, 1 visits today)