This traditional shingle-style home sits on Further Lane Farm in the Hamptons. It was designed by architect John B. Murray and decorator Victoria Hagan, so it's pretty darn dreamy. Take a look…

Further Lane Farm in the Hamptons
"Prestigious Further Lane Farm built in 2010 on gated 5.8 acres with sweeping views of over 41 acres of protected farm reserve."
I like how they broke up the white walls and the tall ceilings in the two-story entry hall with stained-wood trim:
I've been trying to figure out what to do with my own two-story foyer, so this gave me some ideas. Love the built-in bench and Dutch door, too!
It reminded me of the entry hall from the house where they filmed the pilot for the TV show "Revenge," so I looked up the screenshots I took of it in 2011 when it first aired: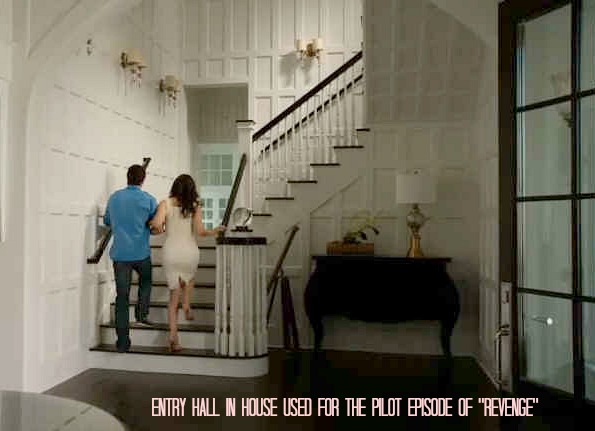 I guess they're not as alike as I remembered, but there are some similarities. That house was actually in Wilmington, North Carolina (not the Hamptons).
When the show was picked up for a full season, they recreated the rooms on a set, so the Grayson foyer looked a bit more grand after that: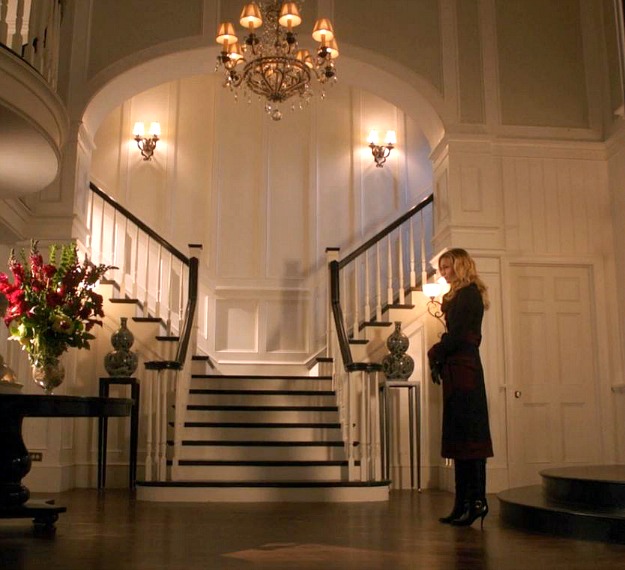 (You can see more photos of the original Grayson Manor where the pilot was filmed here.)
Okay, back to the real Hamptons:
I think this living room is so pretty:
A back staircase:
The house has 10 bedrooms.
Master Bath:
It's hard to go wrong with a blue and white-striped rug in the Hamptons (see: SGG):
Butler's Pantry:
Kitchen:
Down the hall to the guest wing:
Is real mud allowed in a mudroom like this?
Love the big sunroom. Wish we could fit a table this big in mine:
Big houses aren't usually my thing, but I think I could make myself right at home in this one (assuming the owners didn't mind, ha).
For more photos and information about Further Lane Farm: Sotheby's International Realty, Jake Rajs Photography, Home Bunch, John B. Murray Architect, and Victoria Hagan Interiors.

(Visited 44 times, 1 visits today)