I'm in a vacation state of mind now that my kids are home for the summer, so this house on Lake Geneva got my attention. Imagine how many boats must linger a little as they go by! I know I'd be trying to get a better look at the porch and balconies, myself. Here's what the front of the house looks like: 
The side facing the lake is where the real action is at, though:
It just sold at auction, and the website says, "Welcome to Lake Geneva, Wisconsin – nicknamed the 'The Newport of the West' because of its glorious summer mansions, historic country clubs and timeless elegance."
"Since its inception, the Lake Geneva community has attracted prominent families including the Wrigley's, Kelloggs and Schwinns who have all called it home. And now it's your turn."
"No expense was spared in the design and construction of this one-of-a-kind retreat. Built to entertain indoors and out, enjoy 1.83 acres of meticulously-landscaped grounds with indoor and outdoor pools, putting green with tee boxes, extensive patio areas, outdoor kitchen, fireplace and covered porch. Perfect for entertaining."
There are 6 bedrooms and 6 full baths.
The house has lots of fun details, like this loft in the girl's bedroom, complete with a picket-fence railing:
When I saw this photo of the hallway posted on Pinterest, it reminded me of the house from the Kerry Washington movie Peeples:
They filmed Peeples on location at a lake house in Connecticut, so I know it's not the same place, but it had a similar vibe: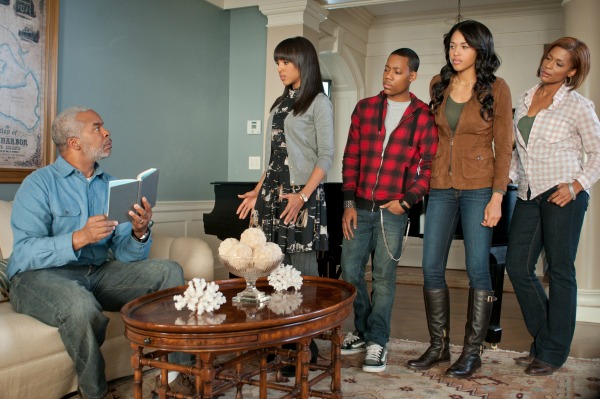 Back to the lake house in Wisconsin:
The real attraction for me is the exterior and views, though:
It has a private dock with 2 boat slips and walk-out access to the lake. It's also "a short boat ride to Geneva Yacht Club."
It sits on nearly 2 acres on the lake and just sold at auction for $5,885,000. For all the photos and information about the property, visit Grand Estates Auction. The agent is Diane M. Taillon.
Happy June! I took last week off to spend some time with my kids now that school is out. My son is home from college and starts his summer internship today, so I knew he wouldn't be around much after that. We didn't go anywhere or do anything, really, but it was nice hanging out and being lazy together. 🙂
P.S. Click here to see more lake houses I love, including…
(Visited 57 times, 4 visits today)