Designer and builder Clark Collins' adorable 2-bedroom home in Laguna Beach, California, was built in 1946, but many of its original details had been lost. His goal was to restore its cottage character and give it a relaxed, beach-house vibe.

Clark's California Cottage:
Collins says these kinds of cottages that were once common in Laguna are disappearing from the area because so many are small and in disrepair, and he's passionate about "saving" as many of them as possible. This was his 10th restoration project, and he clearly has a gift for it!
They were generally built as weekend or holiday beach houses, so they were pretty small and simple to begin with. Today, most are owned by full-time residents, and he wanted it to be functional and easy to live in year-round.
The curio cabinet above was original to the house, and many of the light fixtures are vintage. He found the original oak floors underneath old wall-to-wall carpeting and was able to restore them.
They couldn't salvage the original pine paneling behind the drywall, so he replicated the original look by adding it to both the walls and ceilings. The kitchen counters are soapstone, which were also common in the '40s.
He says, "For me, it's the older homes that make the charm flow in Laguna and keeps it special. And if I can add to that, if only one cottage at a time, I am happy and satisfied."
I just love this house! For more photos and information, you can read interviews with Collins about it here and here. To give you an idea of what small beach cottages in Laguna go for, you can see the listing for this one when it last sold in 2013 here. (Photo credit: Grey Crawford.)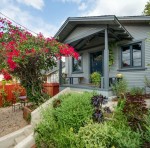 When a photo of this little blue bungalow popped up in my Instagram feed, I had to learn more about it. It's on the market in Los…
I'm in a vacation state of mind now that my kids are home for the summer, so this house on Lake Geneva got my attention. Imagine how many boats…