This luxury vacation home rental sits on Amelia Island's Fernandina Beach in Florida. The views are amazing, but the first thing that grabbed my attention was the pretty blue front door…
The color reminds me of the blue door in the movie Notting Hill. Remember that one?
A little trivia that I can't resist mentioning: the door they used in the movie belonged to screenwriter Richard Curtis's actual home, but the interiors were sets on a soundstage.
But back to this house…
The fence around the front of the house gives you enough privacy that you could have your morning coffee outside in your jammies. 🙂
Love that they painted the inside of the door and sidelights blue, too. This seems to be the big trend now, doesn't it? I haven't painted the inside of mine yet, but I like the look.
Love the built-in bookshelves on the upper landing. All it needs is a comfy chair…
Check out the view from these windows…
The house has 4 bedrooms, 4.5 baths, and over 5,000 square feet.
The board and batten in the kitchen makes it feel a little beachier:
Hard to beat the views and proximity to the beach from the back of the house!
S'mores, anyone?
Have you ever been to Amelia Island? I haven't, but this makes me want to visit!
For more photos and information about this house or others you can rent in the area, visit Amelia Rentals (photo credit: (East Coast Photography). And I have to say thanks to Kelly, who writes the lovely blog Talk of the House, for bringing the house to my attention in the first place!
Still lots of work going on behind the scenes of my blog. The migration to a new server took two full weeks, and it lost some blog comments along the way, but otherwise everything seems to have survived the trip. Whew. Thanks for hanging in there with me as we try to get things running more smoothly around here! 🙂
P.S. I featured an historic house on Amelia Island that you can see here:
A Beach House with a Turquoise Porch!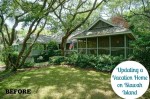 A reader named Mary Margaret wrote me about the year-long renovation of her Kiawah Island vacation home rental in South Carolina, calling it "a labor…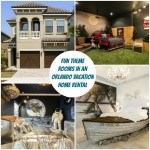 This looks like such a fun place to spend a family vacation in Orlando, Florida. Check out the creatively themed spaces they decorated, from a "Castaway"…