Are you hooked on books? I am. In fact, the biggest downside of blogging for me is that it doesn't leave me time to read as much as I'd like! I love seeing houses that make room for books like this one on Camano Island in Washington does. How many bookshelves (and book stacks) can you count?

A Book-Lover's Retreat on Camano Island
The listing says, "Sequestered in a gated waterfront community, this well-planned home is one of a kind, a true masterpiece. Nature surrounds you in 11+ acres with almost 300 feet of waterfront. Stunning views of Mt. Baker & North Cascades."
The island retreat was built in 2000 with 3 bedrooms, 3.5 baths, and a little over 6,000 square feet.
This next photo made my jaw drop. An entire upper landing lined with bookshelves. And they're all filled with books — not artwork or knickknacks or anything else! Wow.
Even though there are so many bookshelves in the house, you'll still find stacks of them in other rooms,
as well, like the bedrooms:
There are only a couple of rooms where books aren't visible, but I imagine they've got a few stashed somewhere… 🙂
The property also comes with lush gardens and a greenhouse:
This would be my dream vacation spot. Plenty of books to read and serene water (and mountain!) views.
Want it? Check the listing for more photos and information. (Thanks to Kim for telling me about it!)
P.S. This reminded me of the fabulous upstairs landing library designer Eric Ross created: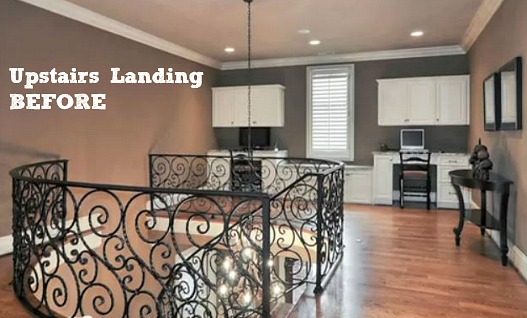 You can see how that project turned out here. Love it! 🙂

(Visited 3 times, 1 visits today)