If you drove past this farmhouse in the Northwest corner of Connecticut, you might assume it's been there for generations. Although it's new, its design was inspired by historic houses in the area with bold color and Shaker style. 
A reader named Alison told me that the homeowners hired Rafe Churchill to help them design it: "What I love is that it looks like a traditional house, but it incorporates many modern elements, as well as several sustainable features."
Their goal was to build a house with "green" technology that was respectful of the historic architecture in the area. It has the layout of a classic New England farmhouse with a center hall surrounded by the public rooms.
"They wanted a clean, simple, spare and utilitarian look inspired by trips to Hancock Shaker Village. The use of strong color was also inspired by these visits."
You wouldn't even need coffee to fully wake up in a yellow kitchen like this each morning! So cheery.
One of my favorite details in the house was this fireplace wall with the paneled woodwork and built-ins:
To make it as environmentally friendly as possible, the house has a metal roof with solar panels, as well as a geothermal system and drainage cisterns.
The screened porch has day beds covered in Sunbrella ticking fabric and doubles as an extra sleeping area in the summer.
For more photos and information, check American Farmhouse Style magazine's Fall of 2014 issue and visit Rafe Churchill's website to see more of his work. (Photos by John Gruen; styling by Heide Hendricks.) Thanks to Alison for telling me about their project!
P.S. Hooked on New Houses with Classic Style? Click the pics below to see more: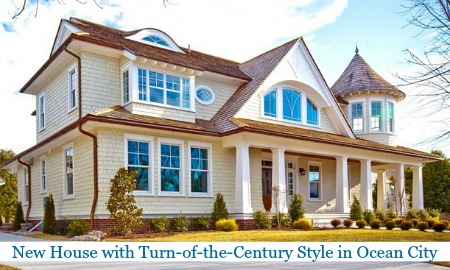 To see it now, you'd never guess that this house was once an outdated 1970s ranch, would you? The homeowners transformed it into an almost…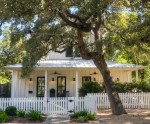 Architect Steve Zagorski designed this charming "modern farmhouse" within walking distance of downtown Austin. The listing for Milton House, as it's called, says, "From its wraparound front porch…