Actor Josh Hartnett is selling his 1887 Queen Anne Victorian in Minneapolis overlooking the Lake of the Isles. He's not able to spend as much time here as he'd like, his publicist says, and he wants this historic home to be "properly loved and lived in." Take a look!
Note: This post contains affiliate links that may earn me a commission without changing the price.

Josh Hartnett's House: A Victorian in Minneapolis
A book was written about it in the 1980s by a former homeowner named Katherine Chrisman. She fell in love with it when it was a neglected, broken-down house that had endured some pretty awful 1950s remuddling along the way. She and her husband bought it and spent two years restoring it.
It was called Dreaming in the Dust: Restoring an Old House, and featured a cool old photo of the house on the cover that shows what it looked like 100 years (or so) ago:
How the house looks today:
I was sad to learn that Katherine died of breast cancer shortly after the book about the house was published.
Her family sold the house and moved on.
Hartnett purchased it in 2002 and made additional updates, including the kitchen.
Hartnett has already moved out of the house, so this isn't his furniture.
It was staged by Laurie Fleming of FIX Staging & Design.
The house has 3 stories with 4 bedrooms, 3.5 baths, and 5,000 square feet.
These big windows on the third floor overlook the lake:
The updated kitchen is one I'd love to cook (and eat!) in.
He's asking $2.395 million, which is pretty much what he paid for it in '02.
BTW, this is the same lake we see Mary walking along in the opening credits of The Mary Tyler Moore Show:
Loved the house on that show! It's still on the market for $2.25 million — you can see it here:
As always, I'm here to help you spend your millions (even if you didn't know you had them, ha). Here are three pretty fabulous ranches…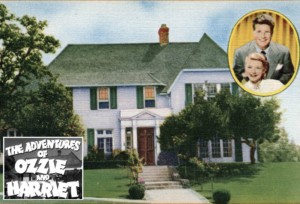 Whenever I ran across reruns of "The Adventures of Ozzie and Harriet" on TV when I was a girl, I'd have to stop and watch.…