This 1913 Craftsman in Seattle's Ballard neighborhood is one of my favorite kinds of houses, so it made me happy to see how its owners restored it with beautiful period details. Thanks to some help from talented architect Tim Andersen, it's come a long way since they bought it.
Back of the House BEFORE:
In order to expand the once-tiny kitchen, they bumped it out and created a walk-out terrace on the roof above it that's accessible from the study upstairs.
Back of the House AFTER:
The new exterior colors really give the formerly all-white house some personality (Benjamin Moore "Mountain Lane" with "Barely Yellow" trim).
Architect Tim Andersen explains, "Our restoration was true to period and style of house, but not always original design. For instance, we added a colonnade between living and dining rooms. Although a common feature of Craftsman houses, we found no evidence of one here."
The buffet in the dining room is original to the house, but the doors were long gone. Craftsman James McKeown created leaded-glass replacements. The owners discovered original box beams in the ceiling hidden behind newer drywall and removed it. They also added the arch above the bay window. Beautiful.
The second-floor stairwell was opened up and skylights were added to bring light into the center of the house (Andersen says, "Hey, this is Seattle!").
The homeowners collected and restored period fixtures for the bathrooms.
They vaulted what had been a flat ceiling in the master bedroom and used Douglas fir to match the rest of the woodwork in the house.
The bedroom opens to a roof terrace over the front porch:
With the expanded kitchen, the house is now about 2,000 square feet with 3 bedrooms and 2.5 baths.
The Kitchen BEFORE:
Andersen explains, "This was extent of kitchen prior to renovation, sandwiched between a half bath and back porch with basement stair behind it." It's hard to believe the transformation from that, above, to this, below:
I'm almost giddy about this kitchen. I love that they gave it some period-appropriate charm and detail it was missing before with a restored Wedgwood range, painted beadboard (BM "Pale Sea Mist"), and custom cabinets, island and breakfast table in American Black Cherry.
Visit architect Tim Andersen's website for all the details and more photos by David Whelan.
I became a fan of his work when I was researching an awesome Greene & Greene Craftsman that he helped restore in Pasadena. As gorgeous as that one is, I've gotta say, I'm a sucker for a bungalow like this.
The Bolton/Culbertson House in Pasadena was built in 1906 by notable architects Charles and Henry Greene, but many of the original details had been lost over the years.…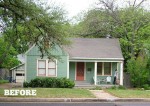 This small two-bedroom, one-bath bungalow in Austin, Texas, was pretty darn cute, but just too darn small for the family of four who lives there.…