Singer-songwriter Carole King is selling her sprawling property in Idaho known as Robinson-Bar Ranch. The main house was built in the 1870s and sits on nearly 130 acres with charming guest cabins and a private recording studio overlooking Warm Springs Creek.

Carole King Selling Robinson-Bar Ranch
The property is within the Sawtooth National Recreation Area.
The listing says, "The building compound includes a beautifully restored 7,337 sq. ft. lodge, owner's residence overlooking Warm Springs Creek, caretaker's home, guest cabins, equestrian facilities, greenhouse, and a professional recording studio."
The original house was built in 1870. According to Architectural Digest, King spent nearly 20 years transforming the ranch into an environmentally friendly residence heated by hot springs.
She told the mag, "Home is very important to me and consistently shows up in my lyrics. But this house, more than any I've had, gives me the sense of being wrapped in the warm blanket of nature."
King has had a prolific music career writing hits like the 1960s song "Will You Love Me Tomorrow," and her album "Tapestry" was the top-selling record until Michael Jackson's "Thriller" in 1982. She also holds the record for the longest time on the charts for an album by a female.
"The 5-bedroom, 2-bath main house still retains its rustic quality with exposed log walls and ceiling, handmade wood furniture and wood-burning stone fireplaces."
King first put the property on the market in 2007 for $19 m. Now she's asking $9.9.
How adorable are these guest cabins? I want one!
Private recording studio with an upper level guest apartment:
I found this photo of her at the piano in the studio on The Land Report blog:
Geothermal springs produce hot water for two pools and radiant heat for the lodge and studio.
The ranch is surrounded by national forests that provide "solitude, private trails, and panoramic mountain views." There's also "great fishing and whitewater rafting on the adjacent Salmon River."
Of course, as a huge Gilmore Girls fan, I have to mention that Carole King sang the theme song "Where You Lead." The show is streaming on Netflix now if you want to revisit it. I'm excited to rewatch from the beginning again myself!
I wrote about the houses on Gilmore Girls here: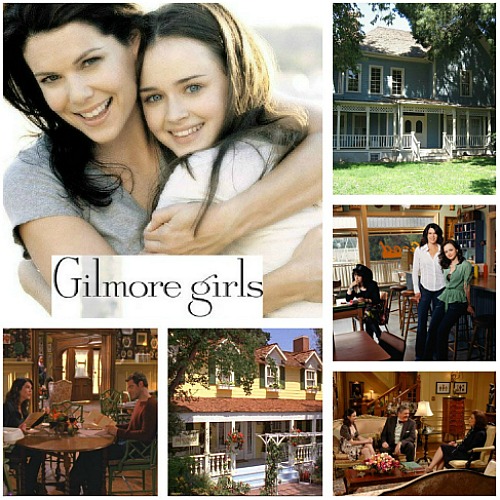 King also had a recurring role as Sophie Bloom, the acerbic proprietor of Sophie's Music shop in the town of Stars Hollow, who always makes me laugh: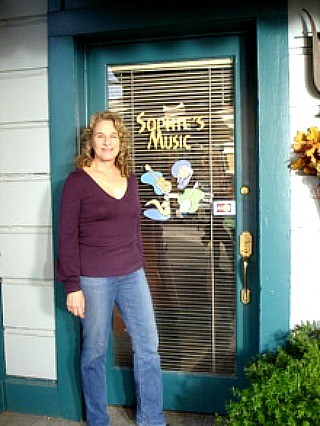 Want to live in Idaho? For more information about the ranch, visit Coldwell Banker, Zillow, and Architectural Digest (photo credit: Mary E. Nichols).

(Visited 32 times, 1 visits today)