Annie Potts is selling her charming Spanish Revival-style hacienda in Tarzana, California, which is filled with colorful tile and vintage personality.
Other celebrities have owned the house over the years, including both Robert Young and Robert Wagner.
No gray and white minimalism here. Take a look!

Annie Potts Selling Colorful Hacienda in Tarzana

Annie and her husband, director and producer James Hayman, bought the property in 2003 for $2.5 million.
They're reportedly selling it now because they're spending most of their time on the East Coast.
She told the Wall Street Journal, "I've only been in Tarzana six weeks this year," adding that it's the kind of house that deserves to be lived in and loved.
Potts says she oversaw the meticulous renovation of her house: "I stood over every workman and made sure every screw, every nail was done right. I'm a deeply demented person and I had to do that."
Yahoo! Homes describes the style as "very old-school L.A., where Spanish and Moorish influences rub elbows with a bit of Hollywood Regency style."
The 5 bedroom, 5.5 bath house with the red clay tile roof sits on about 1.5 acres.
The house was built in 1934 and still has the original vintage tile in the bathrooms.
The brightly tiled kitchen has vintage appliances.
I could picture Potts' character Iona from Pretty in Pink living in a house like this today:
Although she might add a few records to the ceiling… 😉
Potts now has a recurring role on the ABC Family show The Fosters: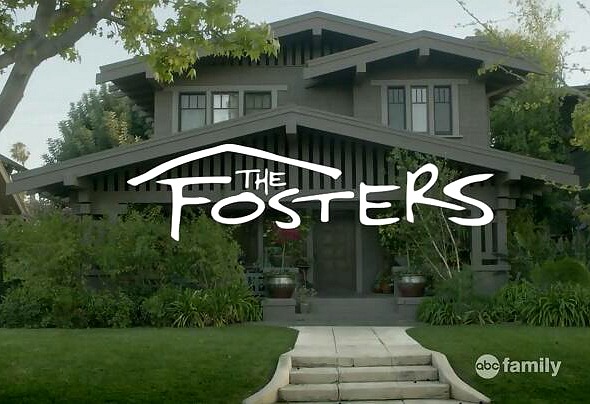 I'm kind of obsessed with that house (love the show, too).
On it she plays Stef's mom Sharon.
But I can't talk about Annie Potts without mentioning the Sugarbaker house from Designing Women. It was was set in Atlanta, but the exterior they used was actually the Villa Marre house in Little Rock, Arkansas.
Did you know she was originally cast as Alex in the movie Fatal Attraction but dropped out to play Mary Jo Shively on Designing Women? That movie would've had a very different vibe without Glenn Close starring in it. And Designing Women wouldn't have been the same without Annie Potts, either!
For photos and information about Annie Potts' house, check the listing

and the article in the WSJ. Photos by Shooting LA.
(Visited 337 times, 1 visits today)