1. An 1880s Carriage House in Darien
Confession: I've had a crush on Captain von Trapp Christopher Plummer since the first time I saw The Sound of Music. So when I heard that this waterfront home in Connecticut used to belong to him, I had to take a look…
Listing agent Eileen Hanford says it has a few things in common with the von Trapp family home in the movie. Both have water views and flagstone terraces, for instance, and "an Old World feel." That may be stretching things a bit, but let's just go with it. 😉
You can read more about the property at AOL Real Estate and the listing. Plummer bought this house in the 1970s but now lives on a farm in Weston, Connecticut.

It needs some work, sure, but in the right hands, this house could be a gem. The listing says, "Natural light fills each expansive room. Hardwood floors and soaring ceilings throughout. 3rd floor ready to be finished. Nestled in a walkable neighborhood close to parks, shopping and restaurants."
I love that the listing included this old photo of the house with the original awnings:

3. A Country Retreat in Connecticut
A reader named Norah sent me this listing of a family member's house for sale in Easton and says, "The home use to be a school house, and I was told Helen Keller was once an educator there." Although it was built in the 1800s, it's been updated over the years and looks a lot younger than that inside.

A reader named Laura is selling her beautiful 1930s home in Macon. She says, "It has taken the proverbial blood, sweat, and tears to bring it back from its previously neglected state, and my hope is that its next owner continues to honor this old house and its history." (You can see what it looked like before here.)

5. A Nantucket Shingle-Style Colonial in Connecticut
A reader told me about this listing of hers: "This home is one of a kind in Greenfield Hill. A Nantucket Shingle Style Colonial beautifully sited amidst sweeping lawns and stone walls on almost 2 acres. Custom mill work & built-ins grace every room."

6. An "Earth-Sheltered Home" in Colorado
This may be one of the most unusual listings a reader has told me about: "There's nothing like it. Structurally, Asterisk is a monolithic thin-shell concrete building. Its exterior surfaces are of wood, stone, stucco, glass, and earth. Architecturally, the main portion of Asterisk is made by joining six barrel-vaulted vertical-walled branches at a central intersection."
"Its floor plan resembles the typographical character '*'; hence, the name Asterisk. Its roof lies under at least three feet of earth. It, therefore, is an underground dwelling."
Check out the construction photos on the Asterisk website to see how this unusual house was built.

7. A House in Hudson's Historic District
This wonderful old home, which belongs to a reader named Ann, sits in Hudson's Historic District in Ohio on nearly 3 acres. Gotta love a house with character like this…and a sunroom:

8. A Post & Beam Farmhouse in New York
A reader named Tom wrote me about his farmhouse that was built in the early 1700s and is on the National Register of Historic Places. It evolved over the years to reflect different architectural styles of various times and owners, including Colonial, Victorian, and more modern influences. (Update: it's off the market now.)

Would any of these houses tempt you to move? Thanks to all the readers who sent me these listings and best of luck to those of you who are selling them. If you've got one to share, feel free to leave the link to your listing in the comments so we can check it out (or send it to me!). 
P.S. I've still got a crush on Christopher Plummer, who's been in a couple of "house movies" I've featured:
The listing details for this property sold me before I even saw the photos: "In the idyllic town of Acworth, New Hampshire, located at the end…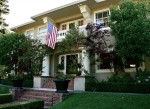 Delores Arabian's blog Vignette Design often showcases her lovely old house in San Mateo, California. It was built in 1906 as a summer home for a family looking to escape the…