Eleven years ago we moved into our house, and it's fun to look through old photos and see how the kids have grown and the rooms have changed since then. For instance, this is how my family room looked on move-in day…
I had to laugh at a couple of things in these pics. First, I was apparently putting Lily in front of the TV a lot in order to get things unpacked and put away (Mother of the Year here!).
And two…take a look at that stack of electronics on top of the TV cabinet in our family room:
Yikes! Looks a little dangerous. Don't worry, we got a bigger cabinet and took care of that.
It was obvious to us that the furniture from our previous house was not going to work here, so in early 2004 we bought a new sofa and chairs:
In an effort to warm things up a bit, I painted the room a color called "Natural:"
It still felt blah, so I tried Eddie Bauer's "Pecan." My kids were very excited about it…
Our house was brand spankin' new when we moved in. It was truly a blank canvas with very little character or details. So Dave hung crown molding around the room and trimmed out the windows and fireplace to give that wall a little more "focus."
A few years ago I started swapping out the blues and greens in the room with orange each fall:
You'll notice we also added a dog to the house that year…and we made sure to get a black and white one to go with the rest of the room. 😉
This January we decided we were ready for a change. We started by painting the walls Sea Salt…
…and ripping out the old carpet…
We installed new hardwood floors that match the adjoining kitchen and entry hall:
If you subscribe to my newsletter, you saw how the room looked after I put it back together:
Jake was 8 when we moved in but he's in his sophomore year at college now. He told me he showed my blog to his friends at school and they couldn't get over how clean our house looks.
"Don't worry, Mom," he said. "I told them it's not usually like that!" Ha. It's true. I clean up the backpacks, dirty socks, and piles of remote controls before I take the pics. You're welcome, Internet.
Lily has grown up so much since moving day in 2003. Here she is celebrating her 12th birthday:
Time goes so fast, doesn't it? It's bittersweet looking through the last 11 years of photos. Lots of happy memories, though.
Remember how I confessed to you how many unfinished spaces I had in my house? I finally got some things hung on the walls, including this silver trophy plate my grandpa George won in a car show (he restored old classics and we'd ride in parades with him), and one of my son's drawings:
This is the first year I've decorated the house for fall with the Sea Salt paint on the walls instead of the Pecan. The walls kind of took on a more gray-ish tone without the blues and greens I decorated with over the summer.
I wasn't sure how well the orange would work with it, but I kind of like the contrast of the warm accents with the pale walls. I'm not sure how I'll decorate for Christmas this year, though. I might have to try something new!
We've never lived in one place as long as we have here. We've all changed a lot, along with our house.
But after 11 years, it's at the point where a lot of things need to be fixed or replaced, from the roof to the kitchen stove. Rooms we painted when we first moved in all need to be repainted. You know how that goes!
So sometimes I get the urge to move and start over somewhere else, but this house has served us well. So maybe we'll stay put just a little bit longer. Make a few more memories first…
Thanks for taking this trip down Memory Lane with me! I'm feeling very nostalgic. What's the longest you've lived in one place? BTW, I'm sending out my weekly newsletter this afternoon, so click here or fill in the form below to join my mailing list. You'll get a confirmation email to respond to, so be sure to click the link they give you (they want to make sure your address is correct). I'd hate for you to miss anything! 🙂

P.S. Visit My House to see more, including…
Decorating the Rest of My House For Fall
When I saw Dimitra Anderson's colorful California ranch in a recent issue of Better Homes and Gardens, I liked it so much that I tracked down…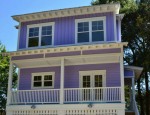 Katy is a single mom with three kids whose big dream was to build a tiny purple beach house on Tybee Island in Georgia. She says, "I…