Becki is a reader who lives with her husband and daughters in this 115-year old house in Missouri. They bought it two years ago and began updating it to suit their family. When she told me it was featured in Vintage KC magazine, I had to check it out…
Their newly remodeled kitchen made the cover. It's come a long way since they bought the house. It had an awkward layout with an inoperable old chimney running through the middle of one wall:
Becki says, "The chimney removal only added 10 feet to the kitchen work space but it made all the difference in the world." They added a pantry in its place:
"We had a wonderful contractor to help us with the project that took around 5 months. I am not a professional decorator but tackled the decisions and design on my own."
She painted bread boards for her kitchen with her house numbers on them as part of her fall decor: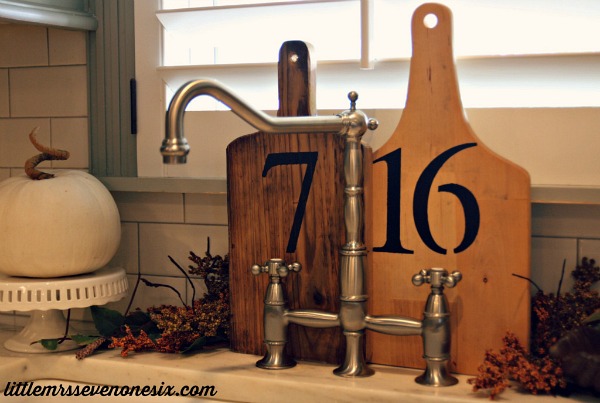 I love that they have a staircase off the kitchen:
They found a couple of old, original windows in the garage and put them in the stairway to let in more natural light.
"We essentially did a complete remodel but tried to salvage as much original woodwork, doors, hardware, etc as possible."
The mag also featured her daughters' rooms upstairs:
Check out the summer issue of Vintage KC to read the article by Kim Antisdel and see more photos of the house by William and Jill DiMartino. Thanks to Becki for sharing it with us! You can follow her on her charming blog Little Mrs. 716 and on Instagram.
I love hearing from readers and seeing where you live, whether your house was featured in a magazine or not. If you'd like to share your own remodeling project, shoot me an email.
Click here to see more Readers' Houses, including…
Boy, was this old cottage in bad shape when the Morgan family bought it. The tiny farm manager's house was one of four buildings on auto magnate Henry Ford's…
When designer Alison Kandler told me that her Santa Monica cottage was going to be featured in HGTV Magazine, I couldn't wait to see it. I'd already…