Here are 8 real estate listings that caught my eye this week…
1. Susan Lucci's House in the Hamptons
Lucci and her husband Helmut Huber built this house 25 years ago, and the exterior does have a bit of a late-80s vibe:
According to Yahoo! Homes, the house sits on 1.4 acres on the water and that it has a European-style castle door, a turreted library and a "spectacular catwalk above the living room where you'll feel like you're in a lighthouse." You can see the listing here.

2. Architect Richard Landry Selling Unique Estate in Malibu
The listing describes this house, which was once featured in Architectural Digest, as "a contemporary interpretation of a classic barn house on approximately 11+ acres on a promontory overlooking the Pacific."

3. "Quaker Hill" in Nevada City
A reader named Anne wrote me about her family's gathering place on Quaker Hill: "We have owned this sweet spot in California for the past 15 years. This has been our family's camp, our retreat, our gathering place."
Now, six grandchildren later, it is time for our gathering place to become the next family's. Our family album is full of great memories."

This picturesque "Classic Hollywood Estate" has been owned by Betty Grable as well as Jaclyn Smith and Stephen Stills of Crosby, Stills & Nash.

5. "Country Colonial Farmhouse"
This house in L.A. was built in 1940 by noted architect Gerard Colcord who popularized the Country Colonial Farmhouse style with signature details like peg-and-groove wood floors, exposed beams, wood-paneled walls, and Dutch doors.

6. Charles Ponzi's Former Estate in Massachusetts
Charles Ponzi bought this Colonial Revival in Lexington in 1920, just months before his arrest for the fraudulent investment operations now commonly associated with his name.

This unusual house was designed to blend into its surroundings in Joshua Tree, California. It reminds me of Dick Clark's "Flintstones House," which was also designed to blend into its surroundings.

8. Gestelhof Castle in Belgium
The listing says that this historic castle was built in the 16th century "in Neo-Flemish Renaissance and Neo-Baroque style, and is conveniently located to major cities like Antwerp and Brussels in a beautiful park on the river Nete."

Do you have a favorite? I loved looking through the slideshow of the castle, which has been beautifully restored. I'm totally smitten with the Country Colonial Farmhouse. And it would be a dream to own a family retreat like Anne's, wouldn't it?
Thanks to all of you who shared these and other great links with me. I get so many that I can't possibly feature them all, but I appreciate every single one you take the time to send me. I hate to brag, but I've got the best readers in the world. 🙂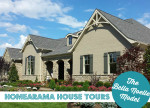 This is the final house tour from the Homearama I had a chance to attend in Liberty Township, Ohio, which is about halfway between Cincinnati and Dayton. The Bella…
Anderson Cooper just bought this sprawling Connecticut mansion known as Rye House, and now he's selling off two smaller properties in the Hamptons. So I thought it…