Moving on to the third house tour in this year's Homearama at Carriage Hill in Liberty Township, Ohio, we have the Virtuoso model by Daniels Homes. The program says, "With its floating stairs and old barn beam ceilings, this three-level, four-bedroom house is modeled in the contemporary style."
The first thing you notice when you walk into the house is the modern floating staircase and all the interior brick walls.
It kind of felt like you were in a city loft or something instead of the suburbs. Or maybe an advertising office. I could imagine Michael Steadman and Elliot Weston working here today. 😉
It's pretty standard to find a study right off the foyer these days. What isn't is seeing one like this behind glass walls:
I'm not sure if that was a faux finish or wallpaper in the master bedroom, but I wasn't digging it:
Or the color in the master bath, for that matter:
There are two small bedrooms and baths upstairs with open loft space they call an "upper great room."
This is the only thing I got a photo of in the loft. Not entirely sure what those egg things were about but had to share…ha.
The bedrooms kind of felt like afterthoughts in the scheme of things. Not a lot going on upstairs.
A view of the kitchen from the staircase:
The whole kitchen was just kind of unusual. Take this wall of ovens lined up against the side of the stairs, for instance:
And there were, like, three islands, I think. More islands than you could shake a stick at!
My mom dubbed this house, "The one we shouldn't like but like anyway!" It was just fun to hang out in. And always just nice to see a builder try something outside the usual Homearama house mold.
Downstairs is a bar, game room, family room, and an exercise room:
The house has 6,300 square feet, and a lot of the space is in the finished lower level.
An industrial-looking half bath:
The covered porch with outdoor kitchen, fireplace, and TV-watching area was huge. Lily was excited to try out that big swing, but there was a "DO NOT SIT" sign on it that thwarted her (womp-womp):
Doesn't it look like fun to nap on? I thought so, especially at that point in the tour…
Here are the floorplans:
The house was built by Jim Daniels of Daniels Homes. I found some of these photos on their Facebook page and you can see more there. The architect was Mark J. Dierkers and interiors were by Nancy Paul and Julie Bell.
P.S. Stay tuned to see more from this year's Homearama. The first two were: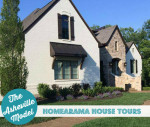 Continuing on with our tour of model homes at this year's Homearama in Liberty Township, Ohio, we have the Asheville model built by Arthur Rutenberg…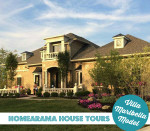 Welcome to Day #4 of Homearama House Tour week. Today we're taking a look at the Villa Maribella model built by Justin Doyle Homes. The…