Ever find yourself wondering what you're going to do with all those millions of dollars in your bank account? Well, I'm here to help you spend them! Take a look at these three celebrity-owned houses and see which one you'd most like to live in…
#1. Tom Brady & Gisele Bundchen:

Tom Brady and his model wife Gisele spent four years and $40 million building a European-style country estate in California. So it was one of those "Seriously?!" moments when they put it on the market a year later.
Sitting on four prime acres in Brentwood, the property comes with a 14,000 square-foot main house.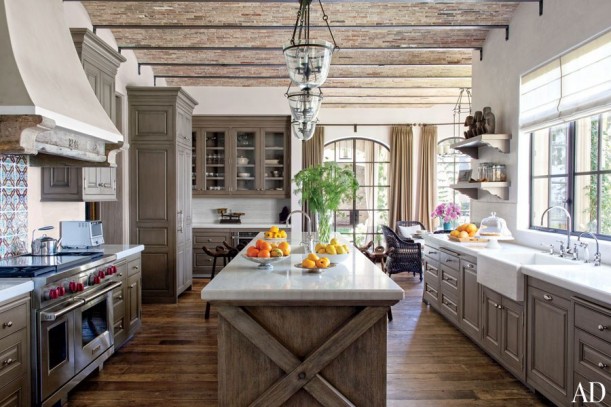 When it was featured in Architectural Digest last year, the kitchen was one of my favorite rooms.
Asking price was $50 million, but Dr. Dre is reportedly buying it for $40 (bargain!). For more photos and information, check the listing and Architectural Digest. (Ones via AD taken by Roger Davies. Rest are from the MLS.)

#2. Selena Gomez:
The Wizards of Waverly Place star and singer Selena Gomez is selling her house in the Tarzana neighborhood of L.A. It was built in the 1950s but totally remodeled in 2012 with over 6,600 square feet.
You can tell it was redecorated with the gray trend in mind because there's an awful lot of it.
Asking price is $3.495 million. For more photos and information, visit Realtor.com and the listing with Craig Knizek.

#3. Megan Fox and Brian Austin Green:
Actors Megan Fox and Brian Austin Green are selling the walled and gated 5,300 square-foot "Mediterranean Villa" in the Los Feliz neighborhood that they share with their sons.
The house was built in the 1930s and boasts some killer views of the city below.
Love that there's a Darth Vader helmet in the powder room above and an R2-D2 that Brian reportedly built himself in the game room below.
One of my favorite things about their house is the green tile in the kitchen and the big window over the sink.
Asking price is $3.995 million. Check the listing and the article on Yahoo! Celebrity for more information.
Now that you've taken a good look at all three Celebrity Houses, it's time to choose. Which one would you spend your millions on? Decisions, decisions…
P.S. Visit my Celebrity Houses page to see more, including…
(Visited 8 times, 1 visits today)