Do you ever get stuck when decorating a room? Paralyzed with indecision about where to even start? Man, I do. I can spend months mulling over all the possibilities for a space but doing nothing about it.
That corner of my bedroom in the photo above was boring and blank for years before I finally figured out what to do with it. Now I've got a couple other areas of my house that are starved for attention, including the TV wall in our family room:
Sometime last year I propped some pieces of artwork and framed photos that I thought I might use against the empty wall…and then left them there. They're gathering dust on the floor. And they've been there for so long now that I've developed a weird blindness to both the stacks on the floor and the bare wall itself.
I had kind of forgotten about the stacks and the wall, to tell you the truth, until my son Jake came home from college and asked why I hadn't hung anything yet.
Oh, yeah. I meant to figure that out! Oops.
I occasionally hear from readers who are just now seeing my post from January (has it really been that long??) about the new hardwood floors we installed in there who either write to tell me, "Your family room really needs an area rug!" or to ask if I ever got one. Ummm…
Let's just say that rug shopping has become a kind of hobby of mine this year. I've been making regular visits to places like Home Goods to see if anything new has come in that I like, and I've spent hours searching online. I've even found a few that might work, but I just never pulled the trigger.
Apparently I have decorating commitment issues.
While we're at it, I might as well admit I also have an undecorated corner in my kitchen that I can't decide what to do with, either. I have lots of ideas, but then I can't seem to settle on just one of them. So if you walked into my kitchen right now, this is what you'd see: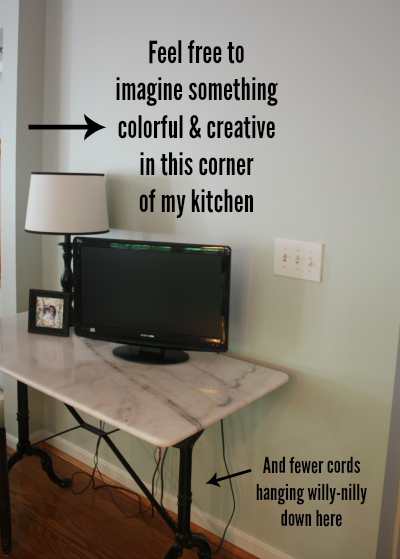 (I don't even want to tell you how long it's been like this.)
A Few Things That Can Make It Hard to Start (or Finish) Decorating a Room:
Pinterest Paralysis. You keep searching for inspiration and finding it…but wait, if I scroll down a little more…
Wishful thinking. It's hard to deal with the reality in front of us as long as we're wishing we could have a bigger room, better furniture, more money to spend, etc. Or I'll think, "I'll do that in my next house," which I'm convinced will be much easier to decorate. (We have a running joke that my solution is always, "Maybe we should just move!")
Fear of messing up. Admit it. Sometimes it's easier to just leave a space "blank" and imagine how great it'll look someday than take a chance on doing the work, spending the money, and hating the result. I'm definitely guilty of this one.
Disagreements on how the room should look. Some of us live with other people, and sometimes those people have different ideas about what colors, patterns, and furniture should go into a space.
Can you relate to any of them? I'm not alone in this, right?
I've been feeling really frustrated about how "stuck" I've felt with various projects around my house this week when I came across this quote by Virginia Woolf: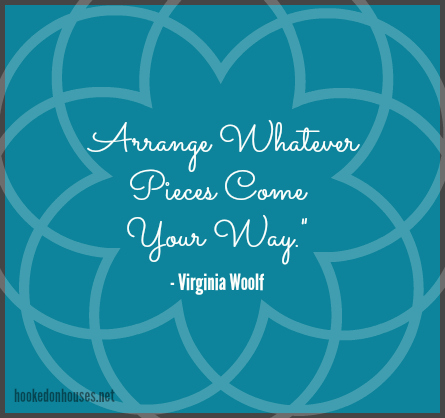 I doubt she was talking about the bare walls in my house, but the way it struck me today was:
"Just start with what you have and see what you can make with it."
I like the idea of playing with pieces of a decorating puzzle. Tinkering. Trying things. Seeing what happens. Screenwriter Tracey Jackson wrote about the Virginia Woolf quote:
"What often happens when you finally hit upon the correct pieces is that other pieces you didn't count on start appearing out of nowhere."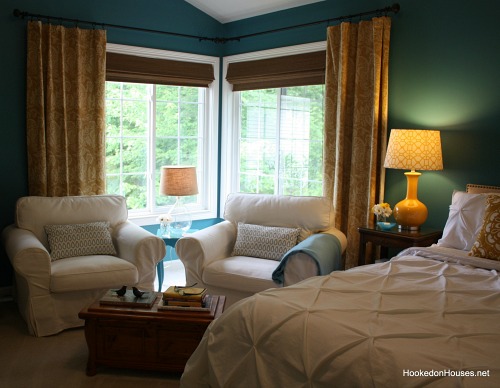 Isn't that the truth? When I finally chose a color scheme for my blank-slate of a bedroom, I started finding things that were perfect for the space. Then those things dictated the style and patterns that worked. And it all kind of flowed from there.
Do you suffer from house blindness? Got any unfinished business in your house right now? What works when you get stuck on a space and don't know where to start? 
P.S. Visit My House to see more of it, including…
The Room I'm Spending Most of My Time in This Summer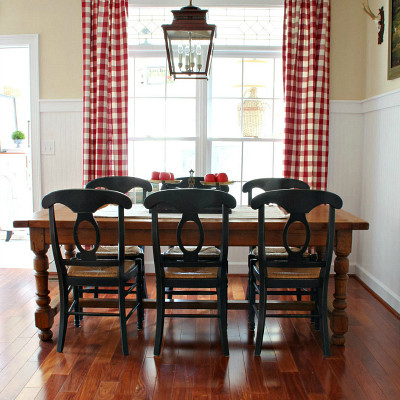 You don't always have to make a major overhaul in a room to make a difference. I was reminded of that decorating truth when I saw…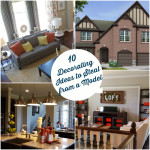 When we were visiting my parents recently, they mentioned that a new development was being built next to theirs and that it had a model home that…